The Harry Potter world has spawned an outrageous amount of spin-offs, parodies and fanfics. The last movie was released in 2011, seems like only yesterday…
Yeah, the movies have a lot of rewatchability, but sometimes it feels like you want something fresh — a break from the traditional Harry Potter.
That's what this game is — a HP like you've never seen before.
Say and do things to them that you've always dreamed of doing. There's one witch in particular, who's a naughty pussycat and needs to be put in her place.
But it's not all that easy — this porn game is a grind. Though there are some Witch Trainer tips we'll share to save time. (check out the Gameplay section)
Let's jump into the Witch Trainer porn game to review the plot, sex scenes, characters, game mechanics and much more!
Witch Trainer game in a nutshell:

| | |
| --- | --- |
| Product category | puzzle porn game, cartoon porn game, strip game, erotic game, teen porn game, fetish game |
| Genre | parody, fantasy, visual novel, hentai, voyeurism, masturbation, oral, domination |
| Platform | Windows, Mac, Android |
| Maker | AKABUR |
| Average session | N/A |
| Languages | English |
| Rating | 3.0/5 |
| Technical Specs | Minimal |
Pros:
Well-drawn illustrations
Animated scenes
Great music and SFX
Has potential to be great
Harry Potter world
Engaging dialogue
Cons:
Lots of clicking (grinding)
Very monotonous
Some parts of the game are missing
Doesn't feel like you get enough of a reward for all the grinding
Plot
Without giving away too much of the story, we can say that you play as the "Witch Trainer". A professor that takes advantage of a very specific witch — Hermione Granger. Unlike the traditional Hermione, who would never go against her principles, the witch in this game goes above and beyond to get what she wants.
Hermione and Snape don't get along and it seems that Hermione somehow found out that Slytherin chicks give sexual favors to Snape for House points. Well, you can guess where this is going. Snape vows to get back at Hermione by ruining her reputation forever.
Where will the line be drawn, and who is willing to go all in?
Characters
Our two-hour gaming session revealed only three characters: The Witch Trainer, Snape and Hermione. We're told that many of the familiar names like Ron and Harry, Draco and Professor McGonagall are around, but we never get to see them. In a nutshell, the Witch Trainer game is like a fly on the wall look into the daily routine of a teen-loving Hogwarts Professor.
You play as the male protagonist who finds himself in an unfamiliar place, in a world that is not his own. It will be your job to unravel the mystery of how you go to be in Hogwarts. Along the way, you'll indulge in some young teen witch action and learn your true identity.
Severus Snape is a real dick in this HP parody. He acts like the sleazy professor type, always making excuses and trying to get revenge on Hermione. Snape really has it out for her, so he conspires with an influential individual to fuck with her.
Hermione really got a tough break in this game. She sticks to strict moral principles but eventually concedes that the world isn't fair and sometimes you have to go with the flow. Her double life might break her. The question is, will she be able to use her unique position to win in the end?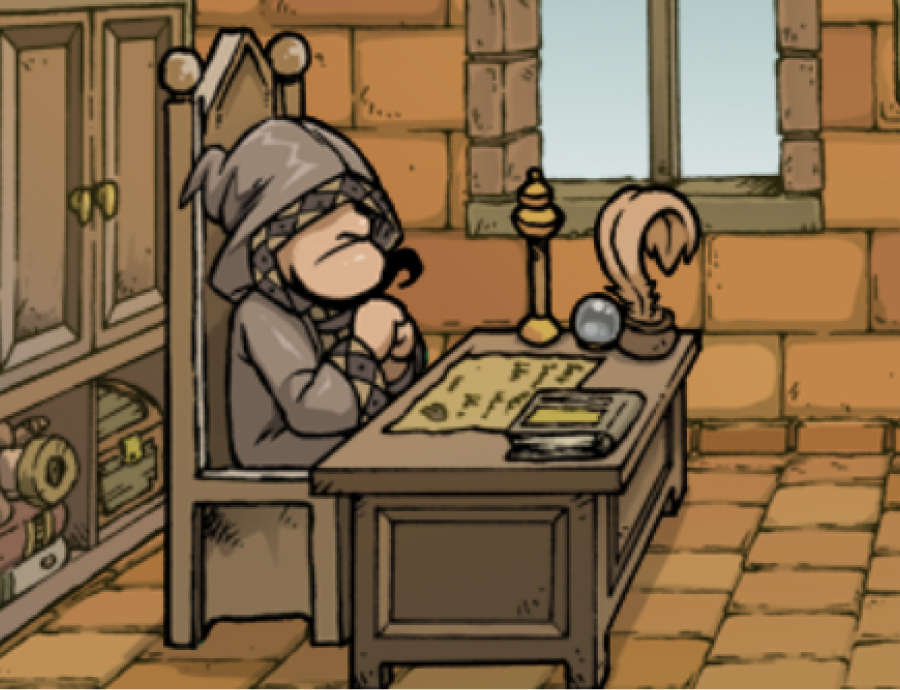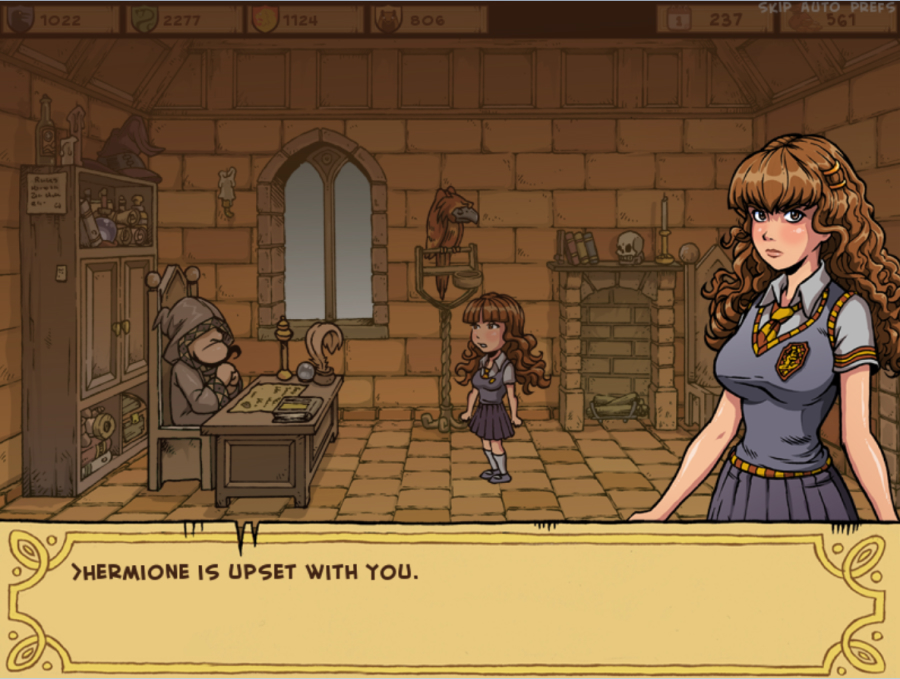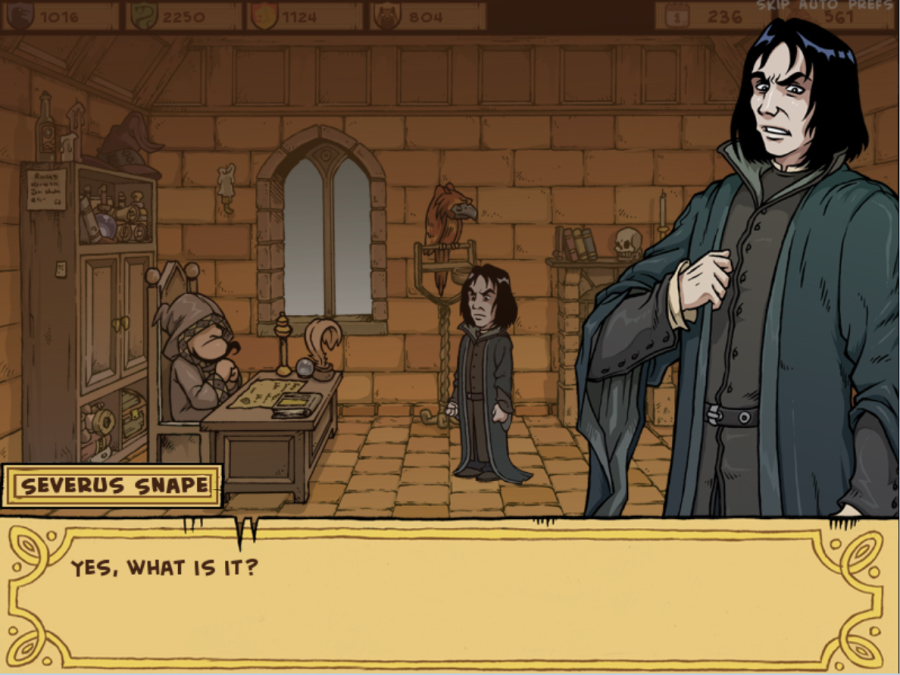 Installation
The game developer's official site is the safest place to download the game from. Scroll down a bit on the homepage and you'll see download links on the right (see screenshot below).
If the Steam link returns an error, make sure to log in beforehand. Also, if you've never used Steam, downloading the Steam client is required to play. The install instructions are straightforward. The game is 1.8 GB but when unpacked will take up 6-7 GB space. The Itch.io link will download a 1.8 GB archive. It can be tricky to find the free version (see screenshot below for where to click).
We recommend the Steam version because it updates automatically.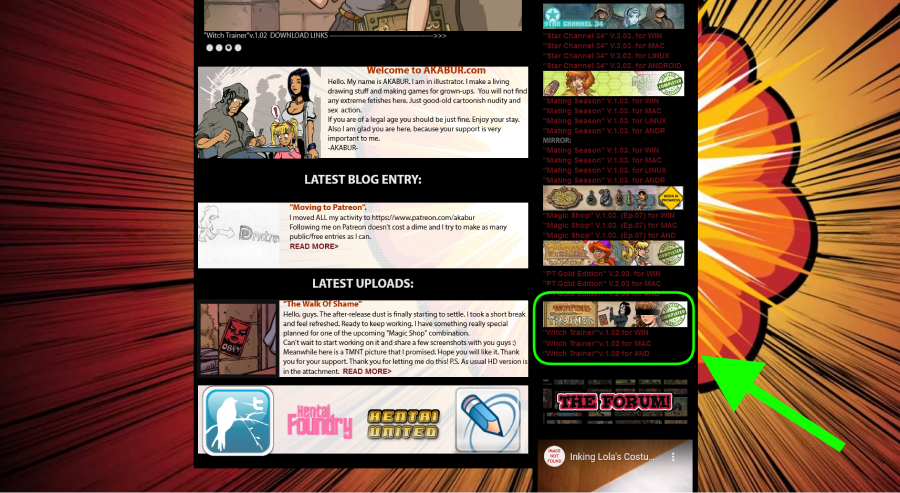 For Windows, unzip (extract) the downloaded file and click on Witch Trainer.exe

When first launching the game, it'll probably be in windowed mode. You can change this in the game settings or press Alt + Enter to make it fullscreen.
The Android version is the last link on the official website — "Witch Trainer" v 1.02 for AND
After you download the Witch Trainer apk file and tap on it, you might see a message saying you can't install third-party apps. Don't worry, it's pretty simple to change this in your phone's settings. Here's a quick guide on how to allow app install through third party apks
Free and Paid Services
The Witch Trainer adult game, like all of the developer's games, is free to download and play with no restrictions. The guy created the game by himself and encourages his supporters to only pledge money to his Patreon if they want to. He doesn't offer any special content or rewards for Patreon members, so it's more like a tip jar.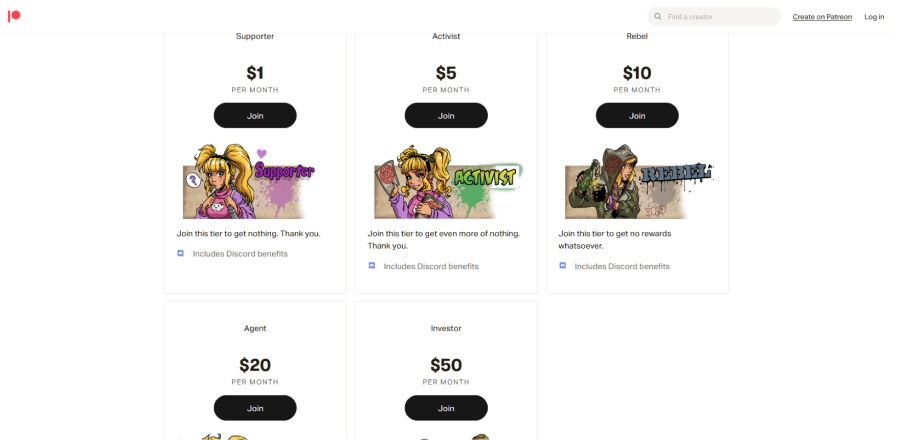 Graphics and Sound
This game runs on the infamous Ren'Py engine, which thousands of developers around the world use to create visual novel games. High-quality illustrations pop out of the screen with a 3D effect and the fight scene looked sharp and up there in the graphics department. The Witch Trainer hentai game managed to turn us on big time. The included animations were smooth and added a sense of immersion.
The title music caught us off guard. Unexpectedly beautiful and rich. Music in the game sets the scene,with a spooky melody in scenes with a negative feel and upbeat during scenes with a positive feel. Another immersive element was the sound effects. Very realistic-sounding and not overdone.
Gameplay
A lot of the game is clicking on objects and then clicking (or pressing Enter) through dialogue. The game doesn't give you any hints on what to do apart from a short tutorial in the beginning — which doesn't help until about an hour into the game. However, the controls are super easy to grasp. It's mostly left-clicking and the game highlights objects you can interact with.
The game's intro was edge-of-your-seat worthy, with an unexpected magic duel. The fight scene was tricky to win (hint: make sure to check the cupboards every day). Getting the hang of what to grind isn't easy at first — sometimes you need to grind out meetings with people, other times it's grinding out money or reading books. The clicking gets boring after a while, but if you're patient, you'll get to slowly undress a hot Hermione and do nasty things to her.
Our top-10 tips for this game:
Press and hold Enter to progress the dialogue faster (but beware, this may lead to unfortunate consequences if you miss something).
Save the game by right-clicking anywhere on the game screen or pressing Escape.
Interact with people as often as you can.
Do plenty of rummaging (especially in the beginning).
The only way to make money is writing Ministry reports (7 chapters = 1 report).
Stay aware of Hermione's mood.
Read educational books to make money faster.
Read fiction books to improve creativity and imagination (for more sexual ideas).
If you feel like you're not progressing, try doing previously performed actions over and over.
It's said there are two Witch Trainer endings and our guess is it depends on which path you take — personal or public favors.
All the sexual favors Hermione performs can be split up into two groups: "personal favors" and "public favors." so Witch Trainer sex scenes can take place in the Professor's office (private) or during classes and breaks (public).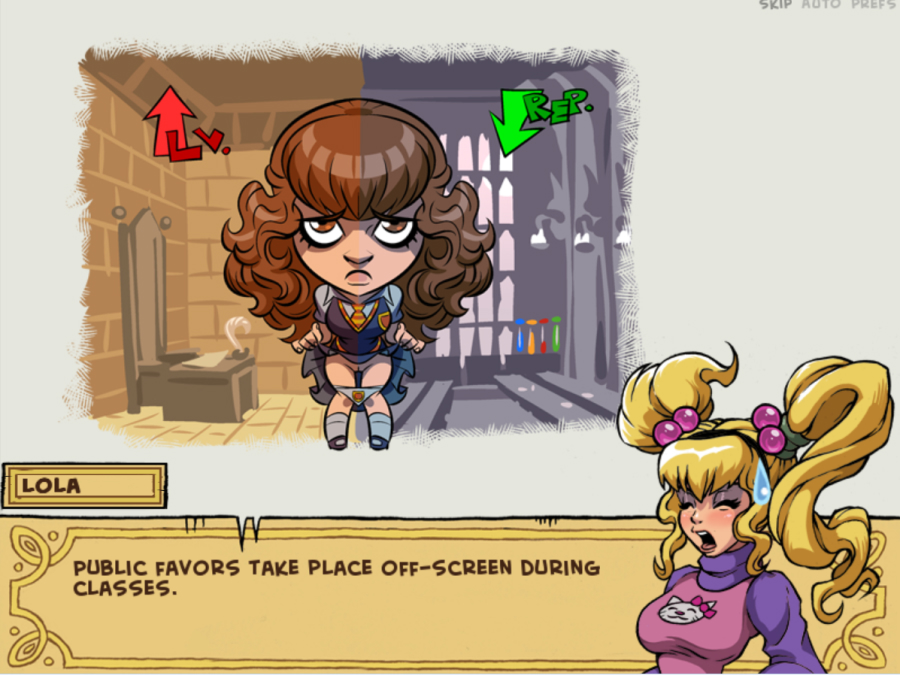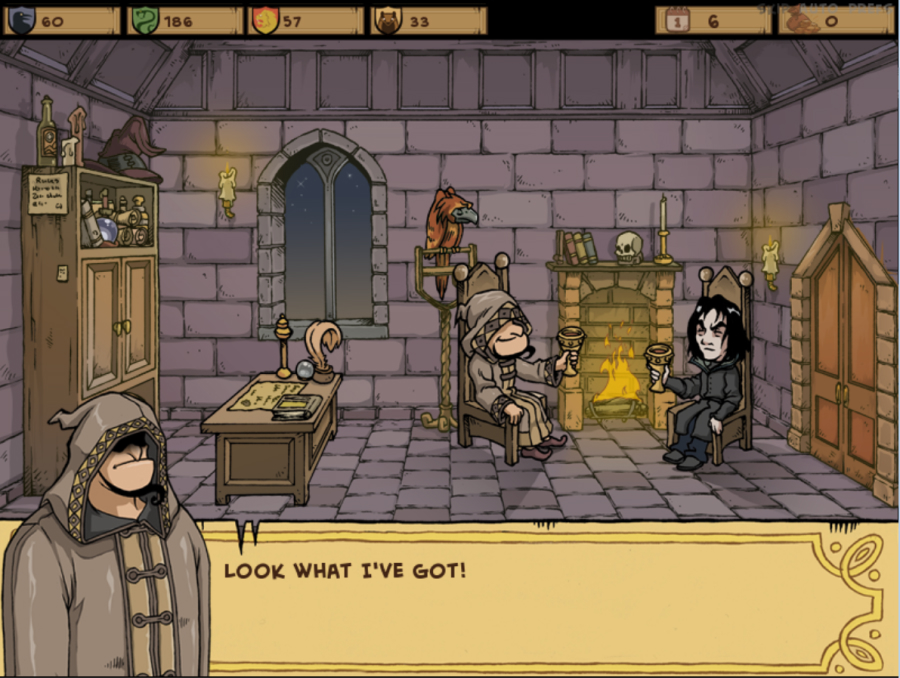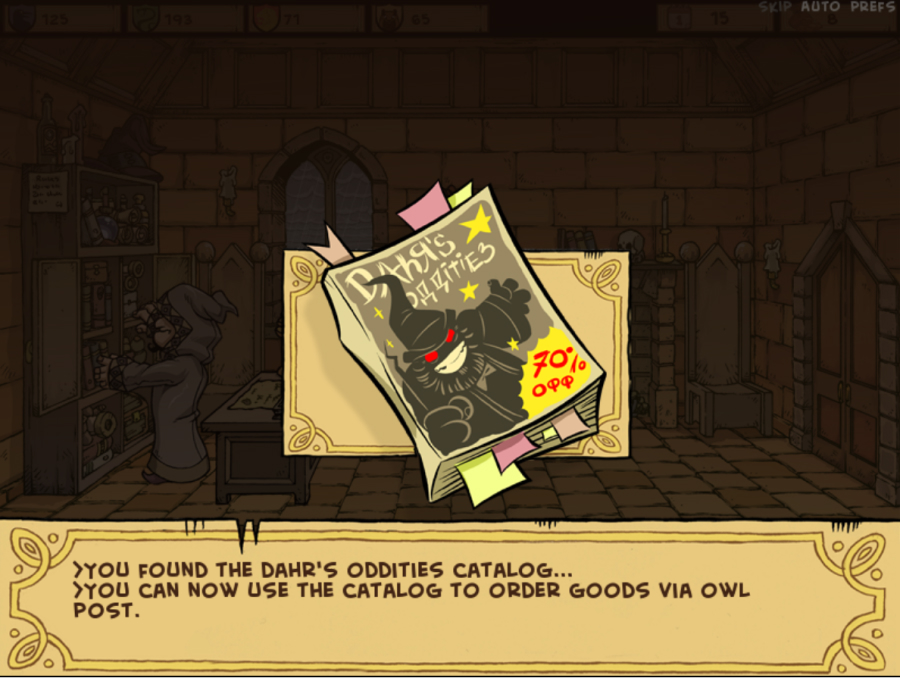 Features
Branching dialogue
Not only are there two endings, there are a number of various outcomes possible depending on your choices. If you make the wrong move, you'll have to start over, so choose wisely.
Harry Potter inspired
Hogwarts on viagra — the school of witchcraft and prohibited relationships. That's the feeling you get playing this. The only thing we wished there was more of is other HP characters. The hot ones, obviously.
Hot sex scenes
Witch Trainer hentai scenes feature a prude, big-breasted witch that wants something in return for showing you the goods. The sex scenes are hot as hell, they're animated, and it takes a lot of time to get to the good bits.
Visit Site
Conclusion
Even though the Witch Trainer sex game impressed us with the cool graphics and sounds, it really disappointed in gameplay and mechanics.
If you found the Witch Trainer pictures in this review intriguing and grinding is your thing, don't listen to us and give it a shot — it might be just the thing you're looking for.
And if you're not into grinding but love Harry Potter, look elsewhere.
FAQ
What's the Witch Trainer Reddit?
There's no Reddit page. The best place to ask questions is the developer's Patreon page. If you're stuck try YouTube
Where can I find Witch Trainer Android?
You can download the Android version on the game's official website . The link will be on the right as you scroll down the homepage.
Is there nudity in Witch Trainer?
Yes, there's nudity, lewd acts and sexual content.
Can you play Witch Trainer online?
No, not that we're aware of.