Monster Girl Island Review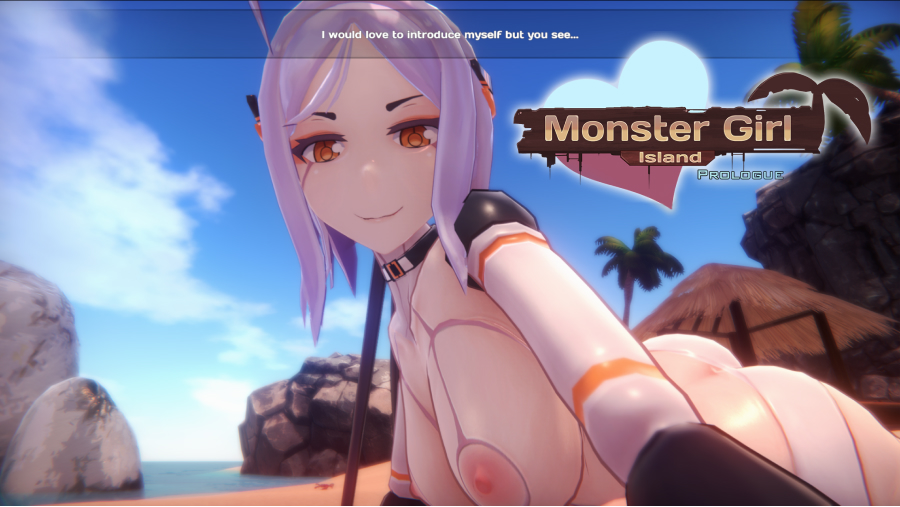 by WizzLust
4.9/5
Visit Site
Have you ever downloaded a game and been completely blown away? This is what we felt with this game. From the very first scene, you're thrusted into a whirlwind of action. You're still groggy, you wake up on a beach of all places, and what do you see? A sexy android and a reptilian queen battling it out.
If you've been living under a rock and you haven't heard of this game yet, you're in for a treat. We'll try to be as unbiased as possible in this Monster Girl Island review, and we'll show you everything you need to know before you play!
Monster Girl Island in a nutshell:
Product category
hentai game, sex adventure, sex simulator, puzzle porn game, nude sex game, 3d porn game, interactive porn game, quest porn game, fetish game, monster sex game, vr sex game
Genre
hentai, anal, face-sitting, domination, oral, voyeurism
Platform
Windows
Maker
Redamz
Average session
Depends on playthrough
Languages
English
Rating
4.9/5
Technical Specs

MINIMUM:
Requires a 64-bit processor and operating system
OS: Windows 10
Memory: 4 GB RAM
DirectX: Version 9.0
Storage: 6 GB available space
Additional Notes: You can probably run this on very low end PCs with min settings/no grass/reduced draw distance.

RECOMMENDED:
Requires a 64-bit processor and operating system
OS: Windows 10
Memory: 8 GB RAM
DirectX: Version 11
Storage: 7 GB available space
Additional Notes: DX11 and decent GPU required for grass.
Pros:
Engaging story
Sexy characters with actual personalities
Gorgeous 3D world
Hot sex scenes (with a VR option)
Cool puzzles and challenges
If this is the demo, the full game will be amazing
You need to keep track of events and timing
Cons:
It's only a demo
The controls can be clunky at times
Would be nice to have more camera angles in sex scenes (without VR)
Has been in development for a long time
Monster Girl Island scenes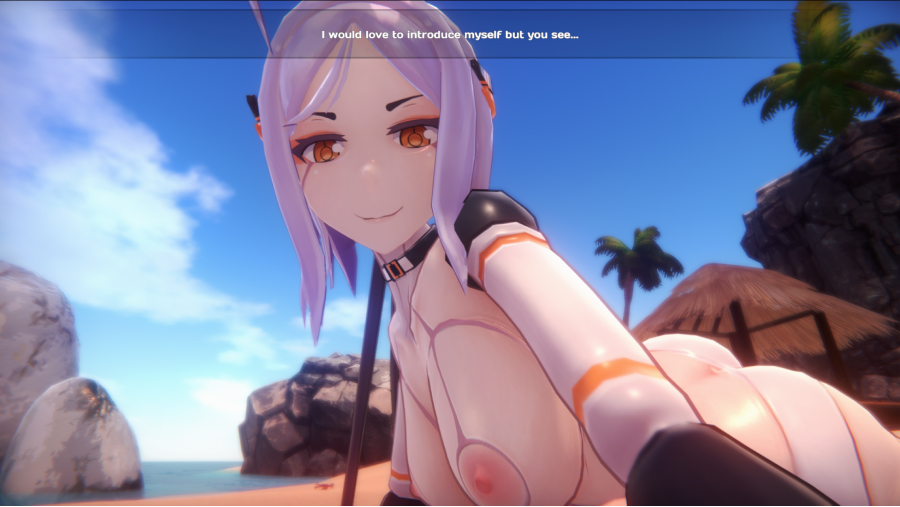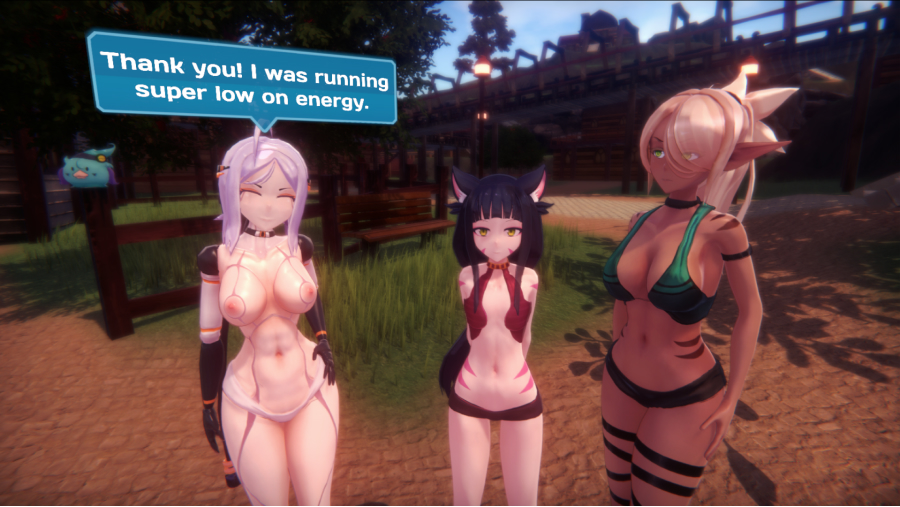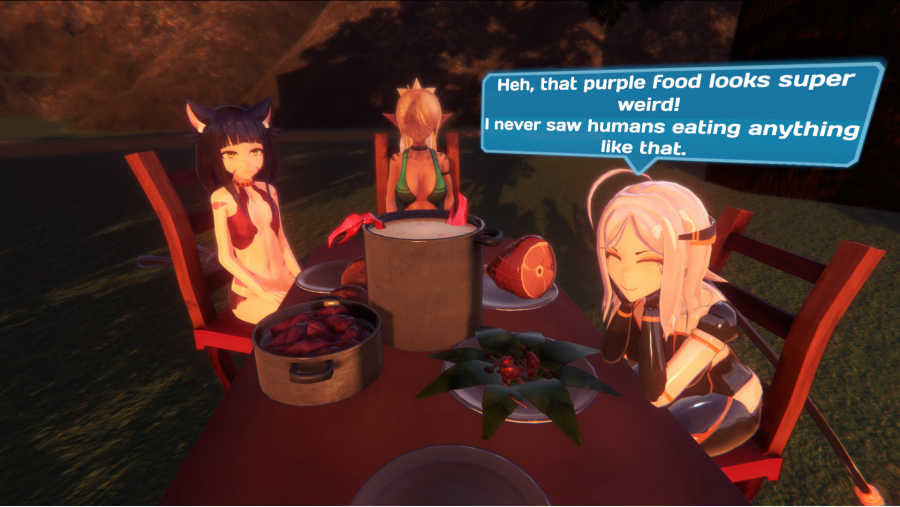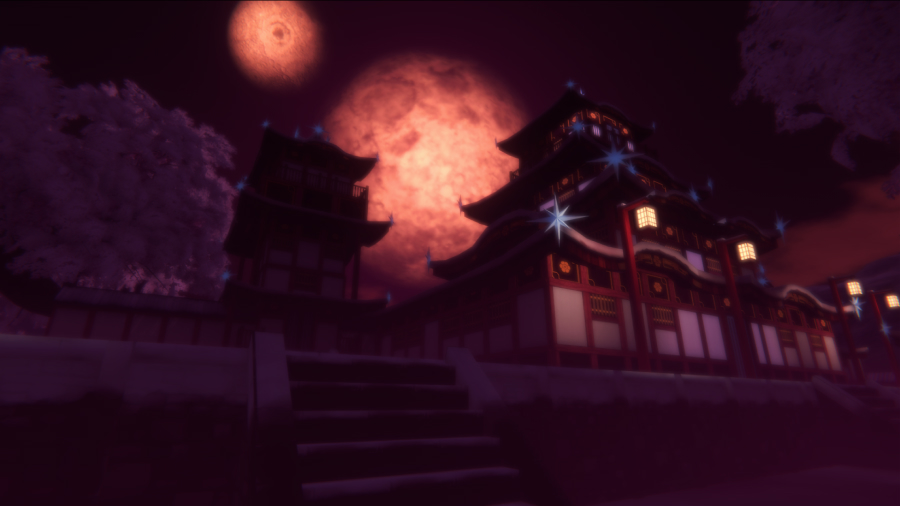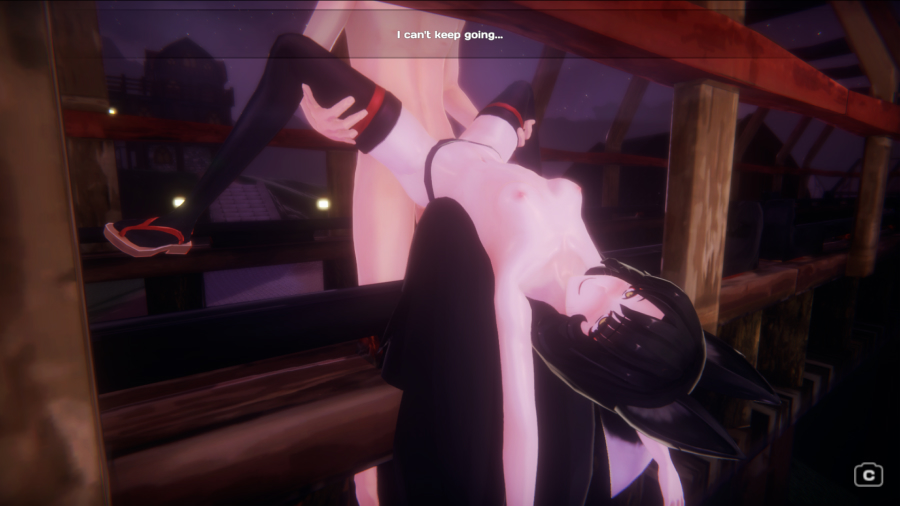 Plot
You play as a human male protagonist. The human part is important as you can guess from the name of the game. You wake up on a beach with beautiful sand and crystal clear water, but that's not the first thing that catches your attention. Still dizzy, you encounter a robot-looking female who starts asking you questions. But all of a sudden all hell breaks loose, and the robot protects you by deflecting the flames of a sexy dragon queen monster.
The next thing you know, you're knocked out again and wake up to two chicks that interrogate you about where you came from. From what they tell you, the island is basically impenetrable to human technology and there's no way someone can get there on their own or by chance. Since you have no recollection of what happened to you, you'll need to learn what secrets the island and its inhabitants are hiding.
The story unfolds bit by bit as you progress and it's not boring in the slightest. Challenges await you, so you better be vigilant and on guard.
Monster Girl Island Characters
The Monster Girl Island hentai game includes sexy monster girl characters from different "races." The three main characters are Ophelia, Ara and Faranne. In the second chapter of the game you meet more girls and all-in-all there are 20+. Reviews say that you get to fuck all the Monster Girl Island girls.
Ara is a Nekomata — which we learn is a race of humans with cat-like features. She's a spunky 19-year-old, who, oddly enough, isn't from the island. In fact, she doesn't know how she got there. From what we learn, the island is inhabited primarily by elves. Her adoptive sister, Faranne (a dark elf) has taken care of her since she was a baby. Although she's usually outgoing, her mind has been preoccupied with the disappearance of her adoptive parents and the rest of the inhabitants of the village.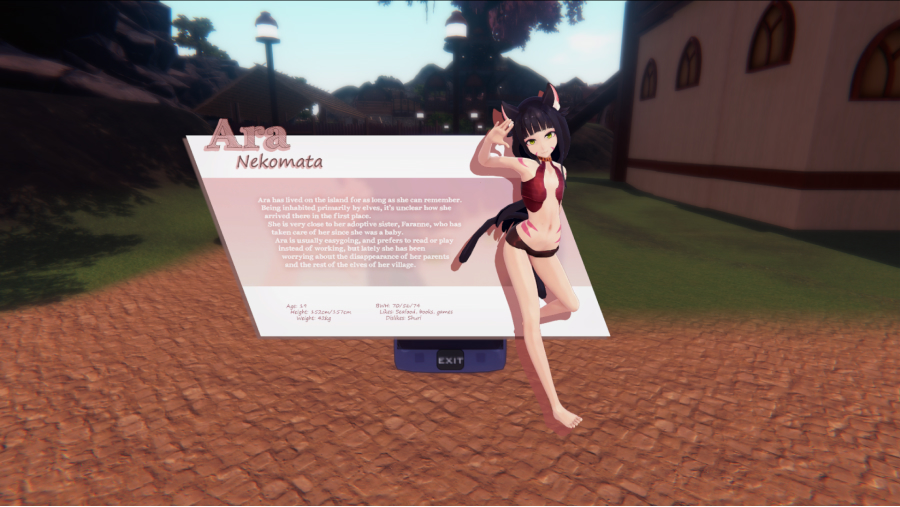 Faranne is a young, 56 year-old dark elf. Yeah, elves don't age like the rest of the characters. Her attitude is kind of bitchy at first, but she opens up eventually and turns out to be very caring and attentive. She has a pet wolf that she rides (you get to ride him too). Her hobbies include cooking and hating on humans.
Ophelia is the first "person" you meet in the game. You later learn she's a high-tech Android with a mysterious past. She happens to be on the beach when you first wake up and protects you from the evil Dragon Queen. She's the last of the obsidian guardians and essentially the second protagonist of the story. Her knack for high-tech gadgets helps you solve challenges quicker and allows you to learn more about how you came to be on the island. One of the scariest and awe-inspiring facts about Ophelia is her "dark fallen angel of chaos" mode that no villain can stop.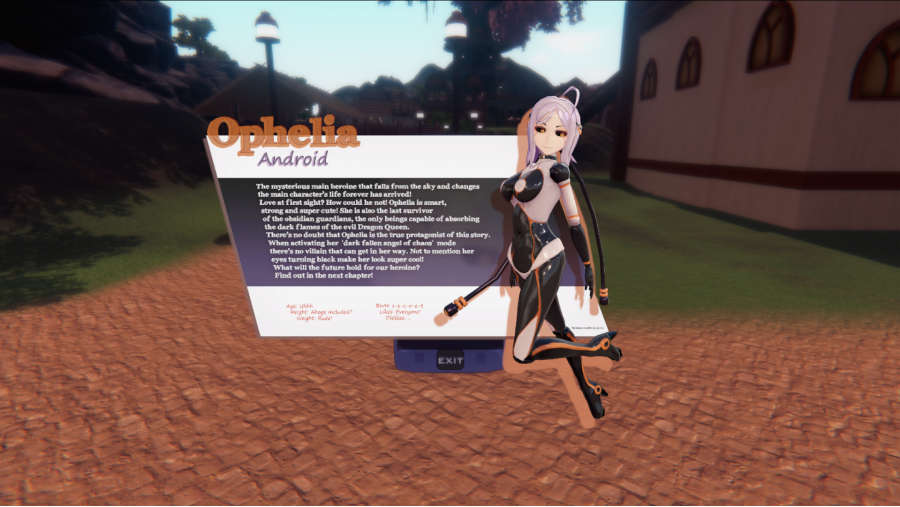 Installation
The Monster Girl Island game demo is free to download and play. The game developer recommends downloading the game from trusted sources — Steam and Itch.io.
If the Steam link returns an error, make sure to log in beforehand. Also, if you've never used Steam, downloading the Steam client is required to play. The install instructions are straightforward. The game is 1.8 GB but when unpacked will take up 6-7 GB space. The Itch.io link will download a 1.8 GB archive. It can be tricky to find the free version (see screenshot below for where to click).
We recommend the Steam version because it updates automatically.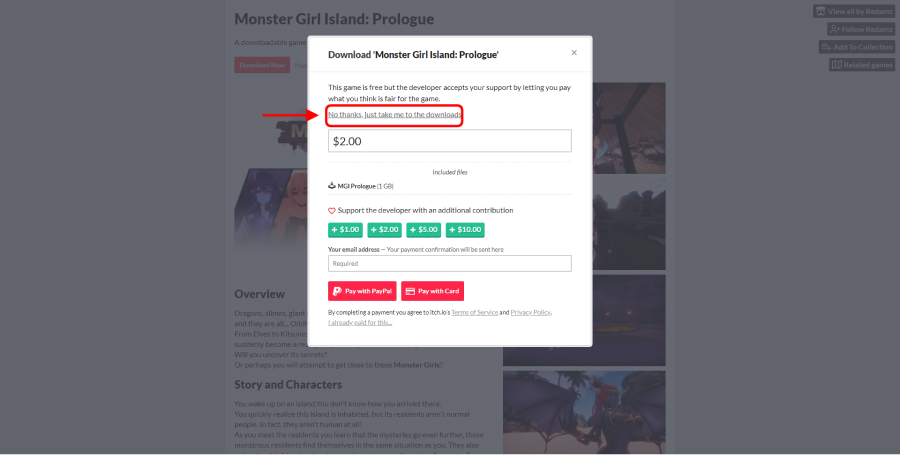 Free and Paid Services
From the very first release, this game has been 100% free. It doesn't include any microtransactions. If you're interested in the full game, the closest thing is the Patreon build which requires a donation ($5 minimum). If you buy at least a one-time $10 Patreon subscription, you get the full version of the game once it's released.
Graphics and Sound
One of the standout features of this game is the graphics. They're amazing. From the lighting to the character renders to the sex scenes, everything is on point. During our short 2 hour session we didn't notice any bugs or lag. For a game created by a single developer, it's astonishing how much detail there is. So much so that we had to tone down some of the graphics settings (motion blur in particular).
No two Monster Girl Island sex scenes are the same. Lewd scenes have VR support, but not the rest of the game (yet). We didn't get to try out the VR mode, but as you can see from the screenshots in the "Scenes" section, they're fucking hot and seeing them in VR would be even hotter.
This game includes an original soundtrack of jazzy elevator music that's unobtrusive, upbeat and changes depending on the subject of the scene. Redamz, the game developer, has publicly stated that there will be voice acting in the full release.
Monster Girl Island Gameplay
Gameplay hinges on dialogue. You progress the dialogue by left-clicking with the mouse or pressing Enter. Right-clicking makes it go by faster. However, one of the most important takeaways from this review should be — paying attention to dialogue is vital. Why? Many reasons, but to put it bluntly — if you don't, you won't get to fuck anyone. Also, you don't get second chances, like you can't go back and fuck someone once the timing is off or you decide to engage with someone else.
Picking up the game controls is a breeze, however they can be clunky (especially when using the mobile phone). It's hard to get lost or stuck — just go up to one of the characters and left-click to talk, or look on the map for exclamation points (!) which trigger events.
Missions, tasks, or whatever you want to call them, have a lot of variety. In one, you may have to find crabs (the edible kind) and in another, you could be tracking down a monster girl. You acquire money by completing tasks and you can use that money to buy upgrades for weapons like crossbows.
The style of the scenery and characters is hentai-inspired. Monster Girl Island hentai is gorgeous. You can tell a lot of work went into each scene, the characters and their personalities. Sex scenes aren't hidden, they're clearly outlined as red dialogue choices. Once you trigger the scene, it's very interactive. You control the thrusting, the camera angle and how fast or slow you want things to move.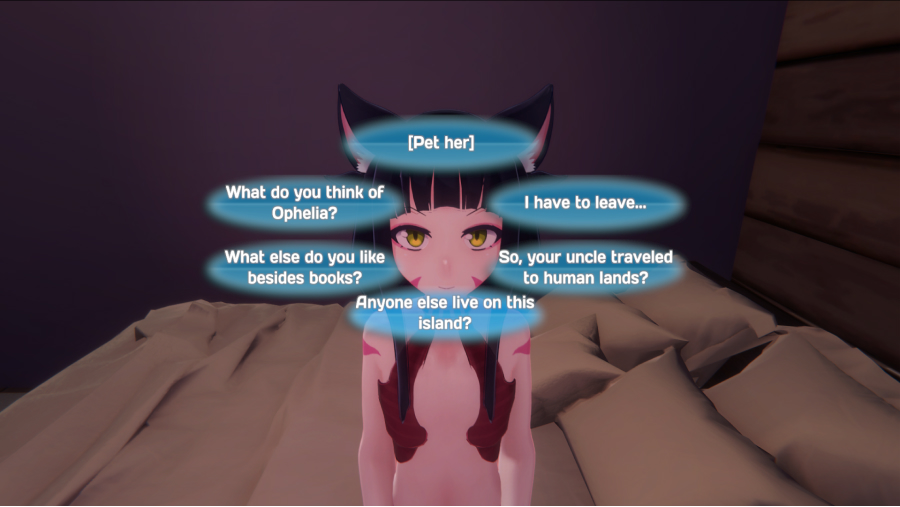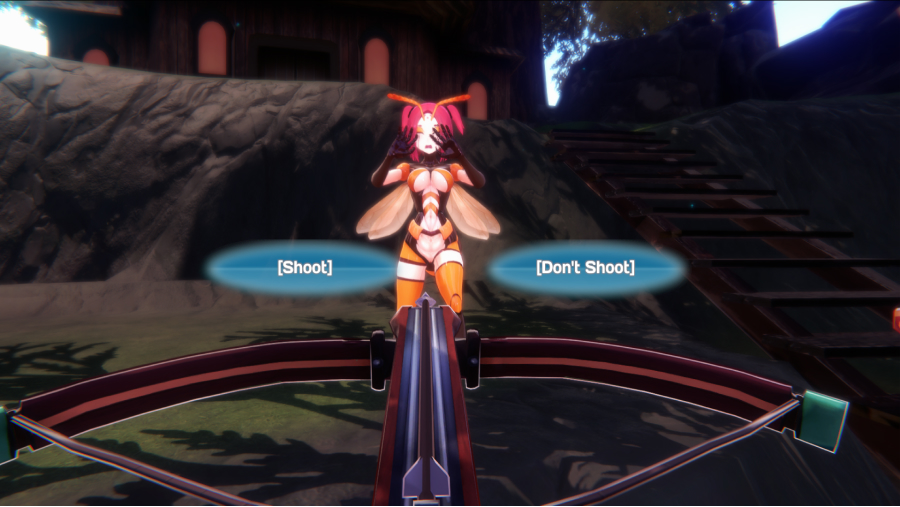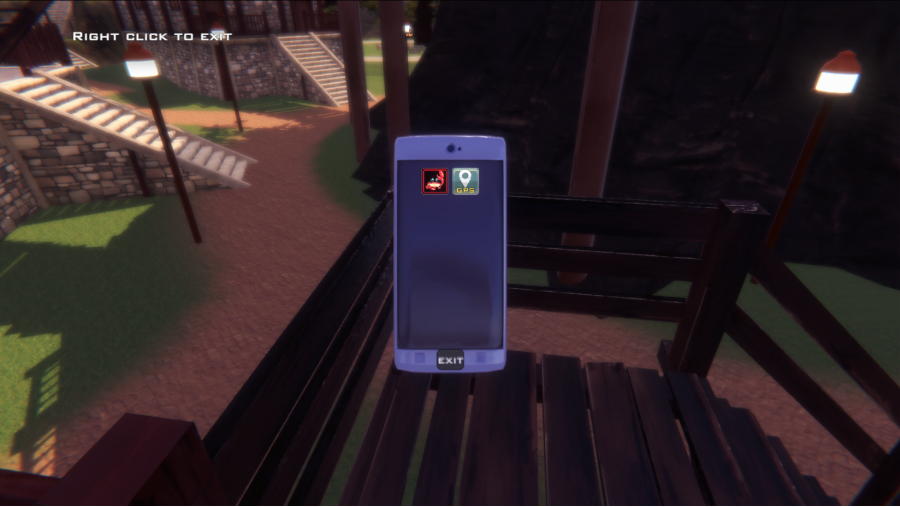 Features
Open 3D world
There's a lot to explore in the game. Houses, forests, lakes, beaches and much more. The first task in the game sort of forces you to get to know your surroundings, which are beautiful. The terrain varies throughout the fairly large area but it's easy to find your way once you have a GPS app installed on your phone.
Engaging story with branching events
A big wow factor is the story. A good measure for the quality of the story is if porn were completely removed would it still be fun to play? And the answer here is — yes. The game keeps you on your toes with unique branching events and time-dependent triggers.
Original soundtrack
You won't find generic royalty-free music in this game. The soundscape is upbeat and easy on the ears. It really sets the tone for the game, so put on your headphones when playing.
Hot sex scenes
The reason you're reading this, right? Well, you won't be disappointed. In the Monster Girl Island porn game, sexual tension builds in scenes, keeps building and finally, you reach the logical end, with a bang. Fetish-lovers will love the face-sitting and anal scenes as well as the addition of physical features not usually seen in humans.
Visit Site
Conclusion
Simply put, don't sleep on Monster Girl Island. It's true that it's been in development for quite a few years, but we feel the wait for the full game will be worth it judging by this demo.
It's much more than your run-of-the-mill porn game — the story is engaging, it sucks you in and keeps you craving for more. The game developer definitely took his time meticulously creating each character along with a unique personality. The graphics are amazing, the original soundtrack is pleasant and there's even VR support for sex scenes.
Need we say more? Try it out for yourself!
FAQ
Yes, the demo is free to play, but the latest (nearly full) build requires a Patreon subscription. The game developer has stated that there is no release date for the full game as it's still in development.
Where can I download Monster Girl Island for Android?
Monster Girl Island is currently only available for Windows. According to the game developer, there are no plans to release a mobile version. So beware of any site or links promising a mobile app.
Where can I download the Windows version?
The game can be downloaded on Steam or Itch.io (1.8 GB). Note: you may need to log into Steam to view the page.
Are there games like Monster Girl Island?
You can browse Gamcore for more games like this one.
Are there going to be more public demos?
With the release of the Prologue demo on Steam, there are no more planned public builds until the game is finished.
Is there a monster guy? Why is the game called "Monster Girl Island"?
From the developer: "Well, the island is certainly not literally a "monster girl island" since most of the characters are not native from there and the native population includes male elves. The name comes from the fact that in its current state it has YOU (a guy) and 20+ girls you can date...and a trap, I guess."