Ever played Bejeweled, Candy Crush Saga or other match-three type games?
If you have, this game is perfect for you. Puissy Saga is a puzzle-based, RPG sex game where you play as the male protagonist hero who has to save the sex goddess, Sapho, from an anal-loving demon who wants to keep her as his sexual slave. To save her, you'll need to fuck lots of women to collect their juices.
The saga begins...
Pussy Saga game in a nutshell:

| | |
| --- | --- |
| Product category | hentai gam, puzzle porn game, cartoon porn game, interactive porn game, erotic game, match-three game |
| Genre | milf, voyeurism, masturbation |
| Platform | Browser, Mobile |
| Maker | Hooligapps |
| Average session | N/A |
| Languages | English, Russian, German, French, Japanese, Spanish, Chinese |
| Rating | 3.5/5 |
| Technical Specs | Browser that supports Flash, Android 4.4+ |
Pros:
Unique gameplay for a porn game (you actually have to think)
Puzzle-based, match-three game
Daily rewards and prizes
Free to play (but with caveats)
Free mobile app version
Cons:
While the girls are big-tirred, they're anatomically like Barbies (tiny waist, huge tits)
If you don't want to grind, you'll have to pay to win
The language in the game is unnecessarily rude, vulgar and unrealistic
Not exactly a porn game, more like a puzzle game with naughty pictures
Plot
You play as a male protagonist caught in a whirlwind of craziness. You come home to find a fairy masturbating in your house. Like, what the fuck? After talking to her for a bit, she opens up and tells you that she needs your help. A nasty demon kidnapped Sapho the Pleasure Goddess. And the demon only wants one thing in return — a bottle full of human vaginal juices. To rescue Sapho from her anal torture by the demon, you'll need to collect the juices of multiple women.
The fairy gives you your first task, to seduce a young girl, but it's not that easy. Every girl wants to be wined and dined, so you'll have to take them on dates. Do you have what it takes to fuck enough women to fill a bottle with their vag juice?

Pussy Saga Characters
As far as we played the game, the male hero is the only male in the game. The other characters are big-breasted bimbos. The love fairy that helps you in the game is unfortunately unfuckable, but don't worry, the Pussy Saga girls put out after five dates and they keep putting out as long as you give them some attention.
Your goal is to save Sapho the Pleasure Goddess, which we didn't catch a glimpse of in our short playthrough.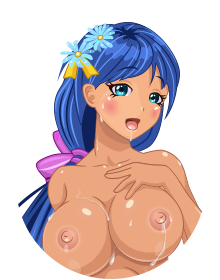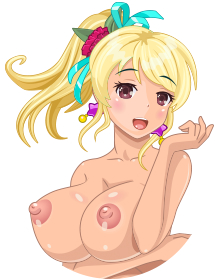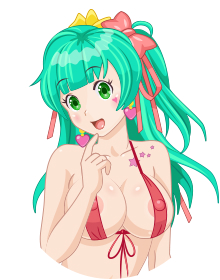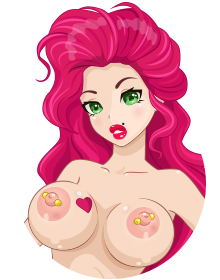 Installation
To play, all you need is a browser that supports Flash. As Flash is blocked by default on most browsers, you'll have to manually change your browser settings to play the game. A side note: while the game developer hosts the game on https://pussysaga.com/ it's also available on the Nutaku network. It really doesn't matter where you play it, but we found Nutaku to be our choice, as you can create an account and play a ton of other free games on the downloadable Nutaku client.
There's also a free mobile app version of Pussy Saga available for download. To play it, you first need to allow app install through third party apks. After you go through the instructions, you can download the Pussy Saga apk here. This will download a 97.1 MB Pussy Saga apk file.
Note: The game doesn't have a save button or save feature. From our experience, if you want the game to auto-save, don't open it in an Incognito tab, otherwise you'll lose all your progress. Also, after you've been inactive for a period of time, a message will pop up telling you to reload the game — don't worry, you'll start where you left off.
Free and Paid Services
The Pussy Saga game is totally free, no-strings-attached. You don't have to register to play, although it's a good idea and you also get a free bonus reward. The downside of the free version is you really have to play carefully, but we'll get into that in the Gameplay section.
The only paid parts of the game are microtransactions that boost your money, nectar and diamonds (see screenshot). You can pay for these boosters with any major credit card.
Before you buy any of that, you can try a free demo available on the FAKKU site. It has limited features, of course, and you won't be able to experience Honey Select porn in VR.

Graphics and Sound
Graphics-wise, what can you expect from a Flash game? They're mediocre at best and so are the characters. Drawn with a hentai-inspired style, they exude sexiness, however, they're anatomically fucked up. They have super-thin waists and gigantic tits. Without a back brace or some cyborg-like exoskeleton, there's no way they can walk around like that.
Sounds are a different story. First off, you can adjust the sound and music volume from the game settings. The background music is unintrusive, pleasant and upbeat. It doesn't get old, but it also doesn't change. When we first heard a girl moan, we didn't catch it at first. But while "fucking" a girl, it turns out there are moaning sounds. Not porn-star quality, but not terrible.
Gameplay
Each time you go on a date with a girl, you play a round of the puzzle game. Pussy Saga sex happens after the fifth date and beyond. During the puzzle phase of play, you see a wet pussy meter, which you have to fill up from her toes to her crotch to have a good date or fuck.
Pussy Saga gameplay is akin to Bejeweled/Candy Crush. You get a limited number of turns, which can be extended by matching special "lightbulb" icons. The additional difficulty of limited turns makes you think more and for a porn puzzle game, this is something new.
The primary four icons on the board are
Light blue roses for "Beauty"
Orange hearts for "Romance"
Red strawberries for "Sex"
Green Bows for "Flirt"
Every girl has one icon that gets 2x points, and one icon that gets 1/2 points.
Additional icons include:
Pink lips — increase "Passion" (increase rewards at the end of the round).
Broken hearts — negative points, however, you may have to sacrifice points in order to get a better position on the board to match three or four good icons.
Light bulbs — extra turns.
Blue masks — increase flattery. By matching blue masks, you can use the items you purchased with nectar.
Icons that appear during sex — Pussy lips and other icons. To get a girl to orgasm, you need to match a certain amount.
Pussy Saga has three types of currency — gold coins, nectar and diamonds. Gold coins are easy to get, nectar is more difficult to come by (earn them by unlocking special icons, getting awards, or after sex). Diamonds are the hottest commodity and are not earned but are given out in daily challenges. There are also special items like gifts you can buy to earn more points and boost your rewards on dates. Pussy Saga hentai girls love gifts.
After each date (and sex) the girl sends you a private pic (check out the screenshots above for examples). To view Pussy Saga all scenes go to your mobile phone (space is limited, but you can upgrade this later).
One extremely important part of this game is the dialogue. Follow it extremely closely, because you may be quizzed by the girls. And if you say the wrong thing or forget an important fact, you're shit out of luck. We recommend keeping notes.
Having played this game for a while, it seems to us like it was designed to be a bitch to play if you don't put money into it. It's possible to grind it out, but you'll have to be patient and willing to sit and strategize.




Features
Dating board
The dating board will look familiar to you — it's very similar to the well-known Bejeweled and Candy Crush Saga games. You play the dating board game when you go on dates and during each Pussy Saga sex scene. Unlike other porn games, this one makes you think through each move, as the amount of turns are limited and the end goal is to fill up the wet pussy meter (which is a successful date/sex).
RPG mechanics
The bright graphics are a nice treat, but the meat and potatoes of this game are the puzzles and the RPG mechanics. To progress through the game faster, up your stats and collect money. With enough money and supplies, you can buy property and build porn stores to attract more chicks.
Branching dialogue
Other Pussy Saga reviews don't mention this, but the dialogue is really vulgar to the point where it's almost a turn-off. However, paying attention to the dialogue is important. Each girl will tell you about her personality, what they like and dislike and if you answer incorrectly, well, you'll be jacking off at home alone. Your dialogue choices influence how the girls feel.
Visit Site
Conclusion
For puzzle lovers, this is your game. If porn games and hardcore sex are your thing, you might want to also check this out because the gameplay is refreshing and innovative. Pussy Saga sex scenes aren't that great. After dates and sex, pictures are the only thing you get. The sex isn't really sex — you get your girl to orgasm if you get a certain amount of points on the dating board.
While shitty for a porn game, as a puzzle game it's actually very cool and we'd recommend trying it out.
FAQ
Is there a Pussy Saga Reddit?
There is, but it has < 100 members and the Pussy saga scene hasn't been active in years. For info on other porn games, we'd recommend r/LewdGames and r/NSFWgaming
Do I have to pay to play this game?
No, it's 100% free. There are microtransactions that boost your money, nectar and diamonds if you want to progress faster.
When will Pussy Saga 2 be released?
We found what was supposedly Pussy Saga 2, but we seriously doubt this is real. If you google it, you'll find a cropped version of the game that doesn't seem to have any of the RPG mechanics. So, it's likely fake.