You probably won't remember 2020 as the year you went to a house party (unless you were lucky enough before the quarantine). But, a virtual "house party" with horny guests may be exactly what you need to boost your mood, have a few laughs and turn your grey day into a bright, sexy adventure.
Enter — House Party, the sex simulator, point-and-click, 3D game that, to date, has sold over 500,000 copies.
The House Party game promises a lot and the question is — does it deliver?
Let's find out!
House Party game in a nutshell:
Product category
point-and-click adventure game, 3D porn game, sex simulator, interactive porn game, puzzle porn game, erotic game, nude sex game
Genre
sex, handjob, oral, BJ, voyeur, threesome, bisexual, gay
Platform
Windows 7+
Maker
Eek! Games, LLC
Average session
Depends on playthrough
Languages
Full audio only in English. Subtitles are available for Simplified Chinese, French, Russian, Spanish (Latin America) and German
Rating
4.5/5
Technical Specs

MINIMUM:
OS: Windows 7+
Processor: Intel Pentium G4500, AMD FX8350 or equivalent
Memory: 8 GB RAM
Graphics: Direct X 11 GPU w/ 2GB Available Video Memory
DirectX: Version 11
Network: Broadband Internet connection
Storage: 5 GB available space

RECOMMENDED:
OS: Windows 7+
Processor: Intel i5 6500, AMD Ryzen 3-1200 or above
Memory: 8 GB RAM
Graphics: NVIDIA GTX 1060 6GB, AMD RX570 or above
DirectX: Version 11
Network: Broadband Internet connection
Storage: 5 GB available space
Pros:
High-quality 3D graphics
Impressive voice acting
Lots of sexy scenes
Take the game wherever you want it to go
Available in Steam (auto updates!)
cons:
Still an early access game
Some of the scenes are kind of sleazy (even rapey)
Costs $25
Plot
Without giving away spoilers, you're a young dude that's invited to a party by your friend Derek. You don't know any of the other guests, but over the course of the party, you can interact with them. Each character has a unique storyline and some of the stories are intertwined.
The House Party porn game will keep you on your toes, so pay attention to your surroundings and explore every room from top to bottom.
House party Characters
The person you know best in the game is your friend Derek. Madison, the host of the party, and her sister, Ashley, (both students) are the only siblings. The other guests range from students, like Amy, Brittney, Stephanie, Katherine, to an adult film star, security consultant, website operator, sci-fi writer, martial artist and model. Each partier has their own personality, so your interactions with them will be like in real life — you adapt to each person depending on how they act.
Installation
If you have an existing Steam account, installation is a breeze. The download is 5 GB. The upside of the game being on Steam is that you can get updates automatically. This is an important point as the game devs release updates on a monthly/bi-monthly basis.
Free and Paid Services
House Party is available as an early access game on Steam for $25 (the price varies depending on your region). Additional content, like custom stories, are free to download and play.
Eek, the developers of the House Party game, have a Patreon and if you sign up, you'll have access to exclusive content and depending on the subscription tier, you can try out the latest Alpha and Beta versions of the game before they're released in the stable Steam version.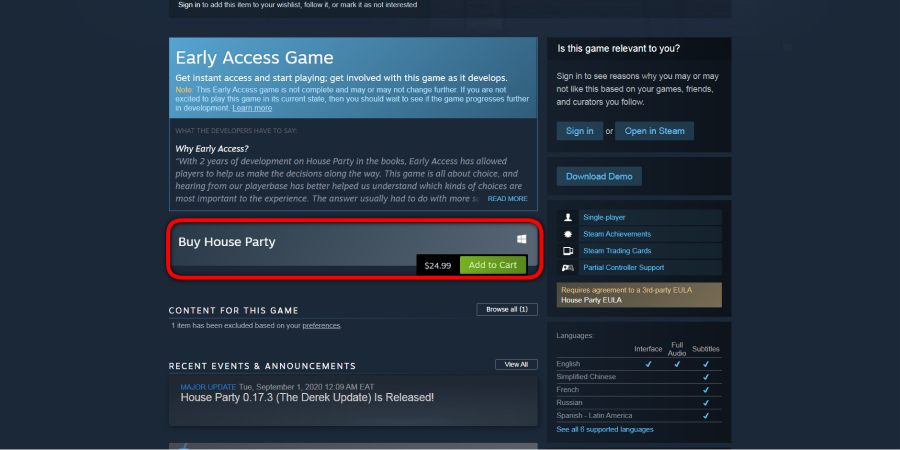 Graphics and Sound
This is not just another game with 3D renders of some chicks with big tits. This is a true 3D "house party" game you can walk around in. Just by looking at the tech specs you can see that it requires fairly new hardware to run. The screenshots above show the attention to detail, shadowing and overall texture quality. The House Party sex scenes are engaging because you have control over the sex positions and character movements are very lifelike.
One of the biggest surprises for us was the sound quality. Every line of dialogue is spoken by a voice actor. Trust us, this makes the sex scenes even more pleasurable (and memorable!).
Gameplay
This wouldn't be a complete House Party game review if we didn't look at game mechanics and gameplay. One thing lacking is a tutorial — you just appear in the house and are free to do what you please (if you can figure out the controls).
To give you a headstart, use "Shift" to move around faster. You interact with people and objects by clicking on them. For example, when you click on a person, you're presented with options to talk, interact and give them objects (you can check your inventory by pressing "I").
To move the story along, you need to collect certain items, solve puzzles to start a chain of events, and respond to dialogue prompts. You get hints in the form of social gauges on your HUD, which show you if you're progressing the story with a character or you did something wrong.
One big recommendation is to save often!
House Party gameplay is smooth and logical and we'd recommend only consulting a walkthrough if you get really stuck. There are dozens of stories to explore and complete. Some quests and side-quests can have a negative effect on certain guests, so to discover every story, you'll need more than one playthrough since some decisions can be contradicting.
Features
Open-ended story
There's no clear path written in stone that you have to follow. You can talk to whomever you want to whenever you want to. You literally have hundreds of choices and depending on what you choose in the interactions you have — you build the story.
NPCs "Non-Boring Party Comrades"
The party guests and host all have their own unique personalities, which makes the game even more interesting. They react differently to the story choices you make and a single answer can have an impact on the entire party. To understand how close or far you are from getting together with a character, you can look at the social gauges on your HUD.
Custom Story Creator
One of the most unique features of this game is the ability to create your own story or download a story created by someone in the House Party adult game community. The game developers made it super easy — simply download the Custom Story Creator, read the tutorial and make your wildest, sexiest dreams come to life. No programming knowledge required. All the third-party stories are absolutely free!
Hot sex scenes!
Finally, a porn-inspired game with great graphics and some of the best sex scenes we've seen. Solve puzzles, find the right items and choose your words wisely — and soon enough, you'll find heart-pounding, balls to the wall sexy action. Full nudity, blowjobs, handjobs, threesomes and even some guy on guy action.
Note: If you download the Steam version and you find that it's censored (this can happen depending on your age/country), there's a free Uncensor DLC available on Steam. While reading the Reddit House Party page we found that some users couldn't install the DLC, but a Reddit user linked to a Steam thread with a solution.
Visit Site
Conclusion
After getting a feel for the game, we read a lot of House Party reviews from reputable sites and were surprised with the negativity we saw. While the game does have a somewhat sleazy feel (you are after all trying to get in girls' pants), you have to remember that it's a game. And compared to other games in the XXX genre, this one stands out to us in graphics, voice acting and gameplay.
With over 500,000 copies sold, the overwhelming positive reviews on Steam and the rate at which it's updated and improved — this game is worth (at least) a demo playthrough.
We hope you found our House Party game review helpful!