Honey Select game in a nutshell:
Product category
hentai game, sex simulator, nude sex game, 3d porn game, interactive porn game, vr porn game, erotic game, BDSM sex game, fetish game, lesbian porn game
Genre
Publisher's tags:
Eroge, 3D porn game, Sex simulator, Anal, Booty, Blowjob, Handjob, Hentai, Shimapan, Squirting, Tsundere, Interactive porn game
What I would like to add based on the game:
VR porn game, Fetish game, Oral, Facial, Cunnilingus, Analingus, Boobjob, Footjob, Fingering, Doggy style, Cowgirl, Sex tools
Platform
PC
Maker
Developed by Illusion, published by FAKKU
Average session
Unlimited
Languages
English, Japanese, Spanish, French
Rating
4.0/5
Technical Specs

Minimal
OS: Windows 7 /8.1/10 (32-bit / 64-bit)
CPU: Intel Core i3
RAM: 3 GB
Disk space: 10 GB
DirectX: 11
GPU: 1 GB

Recommended
OS: Windows 7 /8.1/10 (32-bit / 64-bit)
CPU: Haswell-based Intel Core i5
RAM: 4 GB
Disk space: 12 GB
DirectX: 11
GPU: 2 GB
Pros:
Unlimited customization options
Good graphics
A Variety of positions and activities
Active community
cons:
Anime looks may not be for everyone
Can be considered pricey
The lack of customization for the male character
Plot
There's no plot as such, games like Honey Select are more about the process than reaching a specific goal or completing missions and side quests. There is, however, a premise, and it goes like this.
You find yourself inside a building with many rooms and are met by Sitri, a young woman with a beautiful cleavage on display. She seems to be running the place and organizing meetings with girls in this hotel's many rooms. So, in other words, Sitri is a guide who will help you get around while you're looking for your potentially perfect partner and interacting with the girls.
Once you select a girl and enter the room, you can basically start performing various sexual activities with your partner, paying attention to her character and preferences. How you behave and what you make the girls do will affect their attitudes toward you the next time you meet with them in private. Besides, Honey Select characters can also get jealous if you spend too much time with other girls instead of visiting them. So, it's fun enough trying to balance these things and explore how different characters behave and react.
My rating: 3.0/5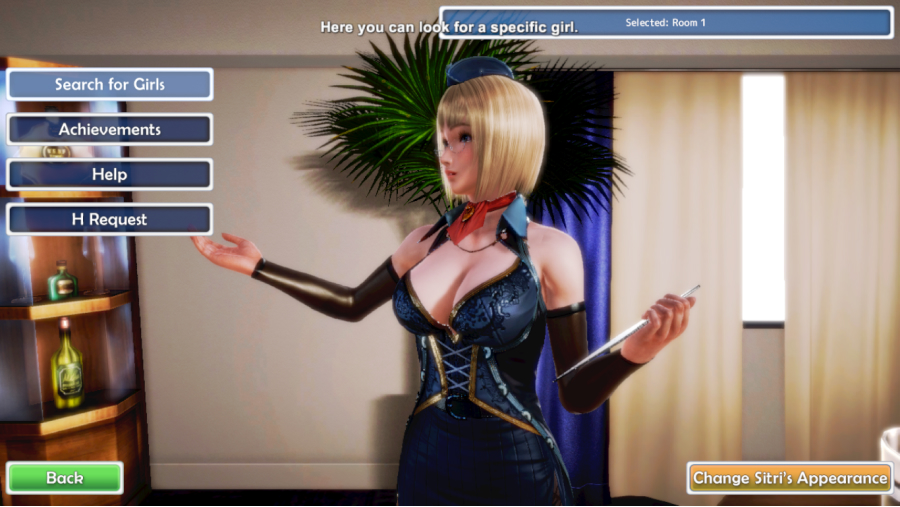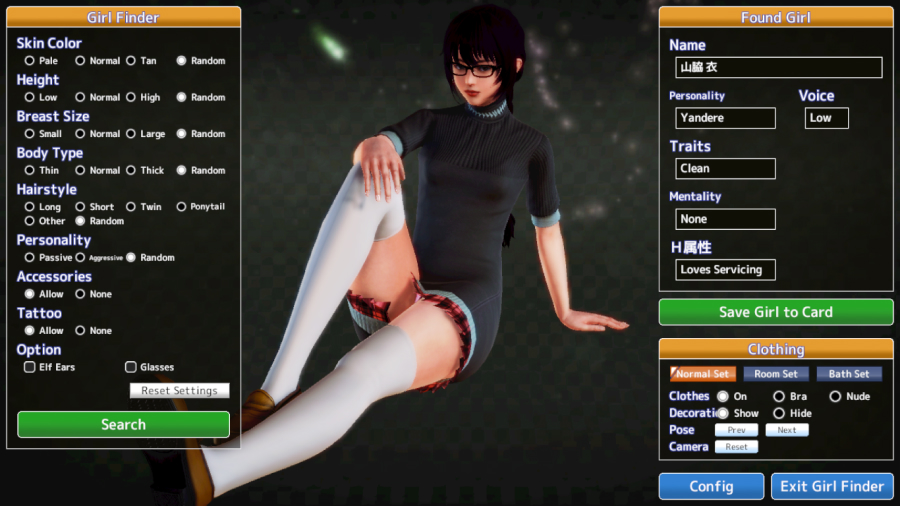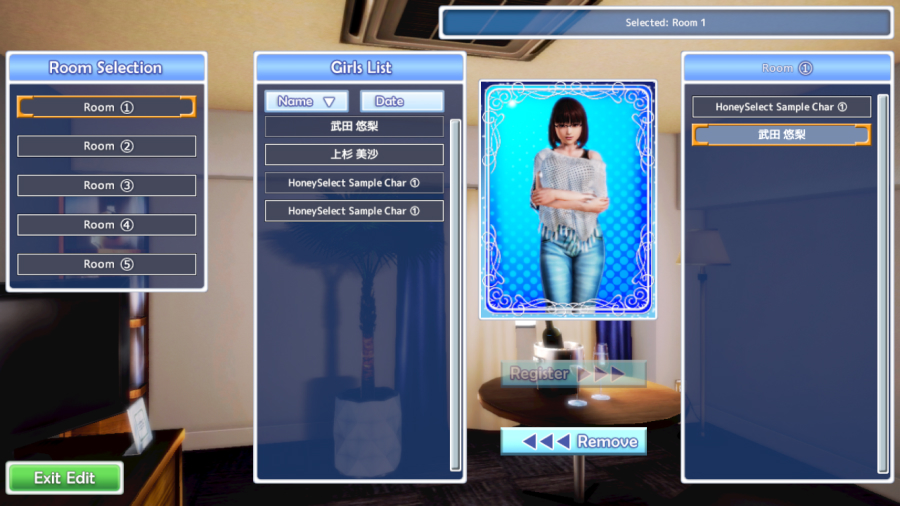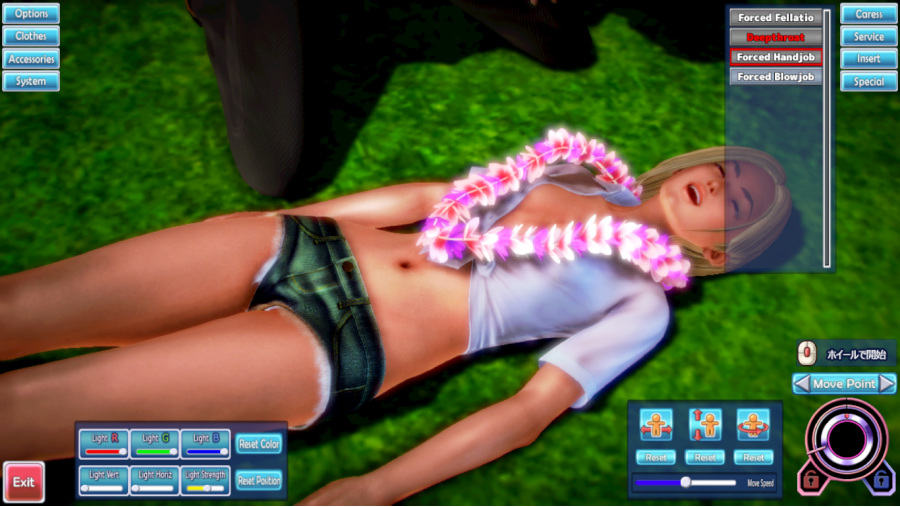 Characters
You already know Sitri. Then, there's a male character you will be playing for. There are some customization options, but not as many as for female characters. One of the most common complaints people have about this part is that there are no adjustment options for the penis.
Especially since there is Honey Select VR support with the first-person view available and an option to let nothing but the floating penis stay visible.
The game is arguably more renowned for its character creation options than for sex simulation episodes. I gotta be honest, with the range of parameters, it's easy to spend a lot of time here designing your perfect partners one after another or simply refining their looks.
Understandably, you may not want to do that right away but be eager to test the gaming process. That's why you can choose one of the default girls, and in the original game, there are 18 of them. You can take any of these Honey Select girls as they are or make a couple of tweaks and save them as new characters.
Apart from the looks, you can make characters differ from one another by adjusting the following parameters:
personality (cheerful, tsundere, strict, boyish, sincere, seductive, etc.)
traits (easily/never tired, glass heart, perverted, etc.)
mentality (affectionate, awkward, reluctant, obedient, loathing, etc.)
sex traits (horny, sensitive breasts/butt/pussy, sadistic, masochistic, sex-averse, etc.)
If you're wondering whether there's a point in creating more than one character, I'll just let you know that it's possible to get some lesbian action, as well as two guys on a girl or multiple girls on a guy. Honey Select yaoi lovers seem to be out of luck. However, there seems to be no fantasies that mods can't fix if the original version of the game lacks something you desire.
My rating: 5.0/5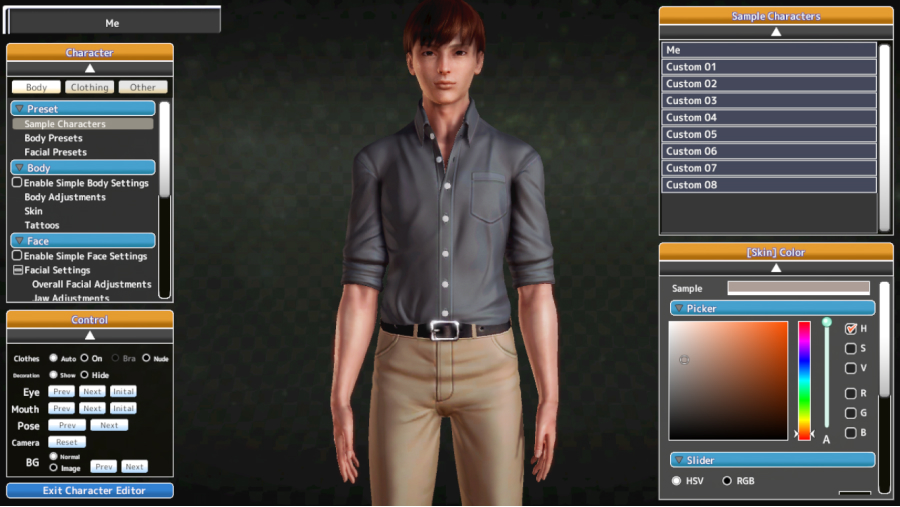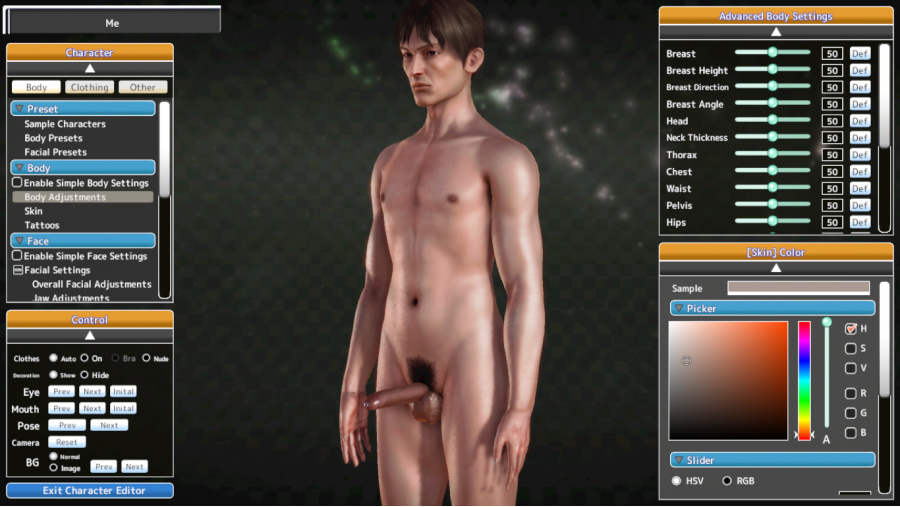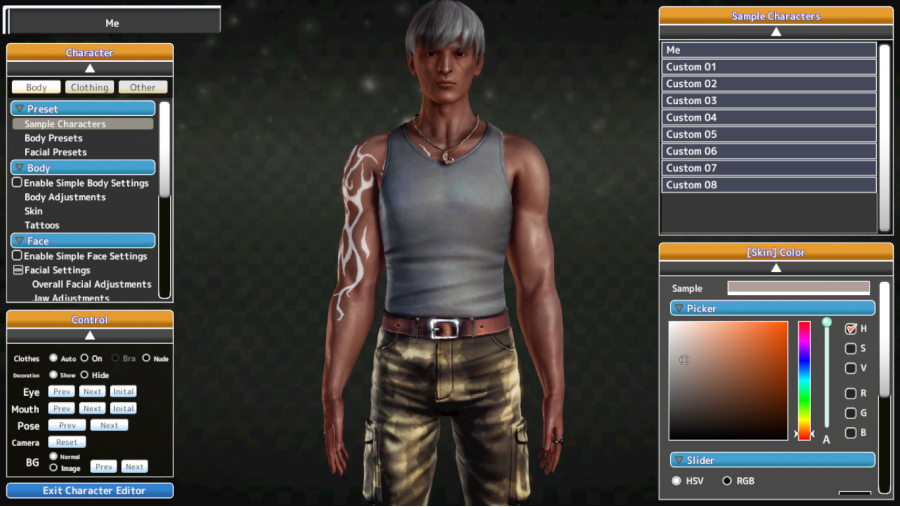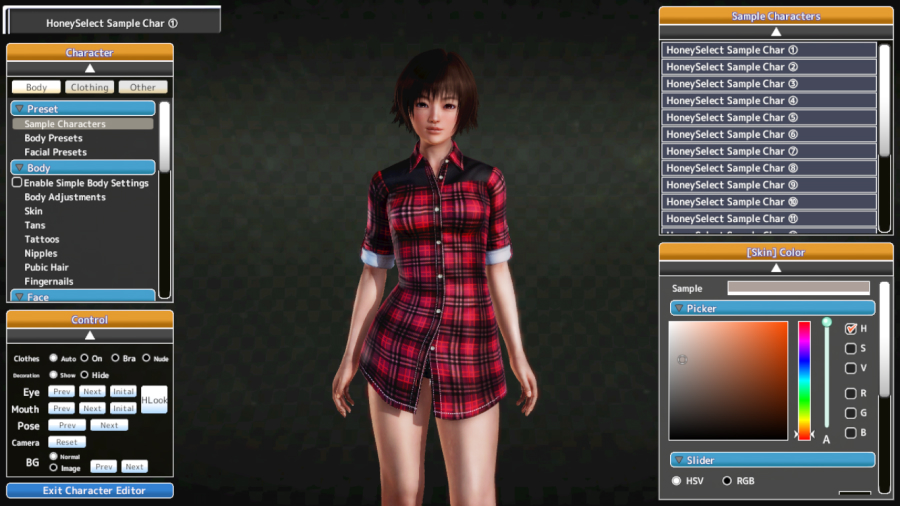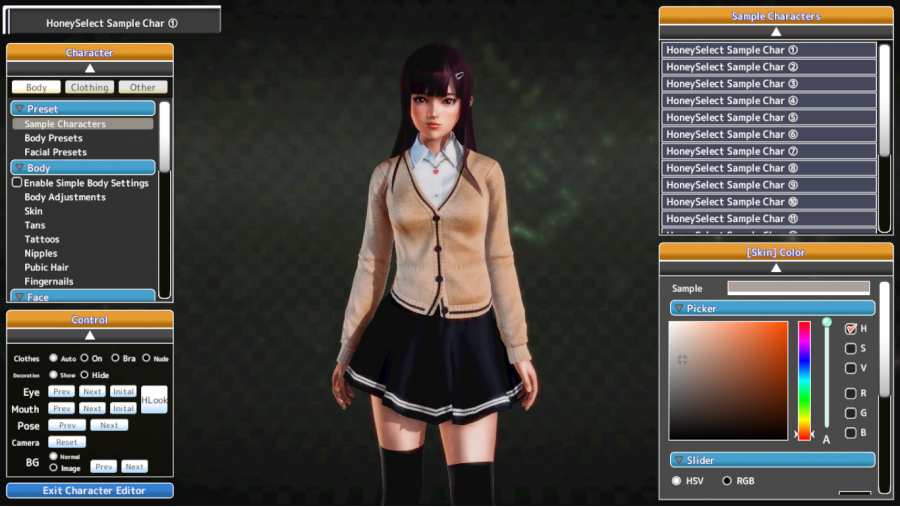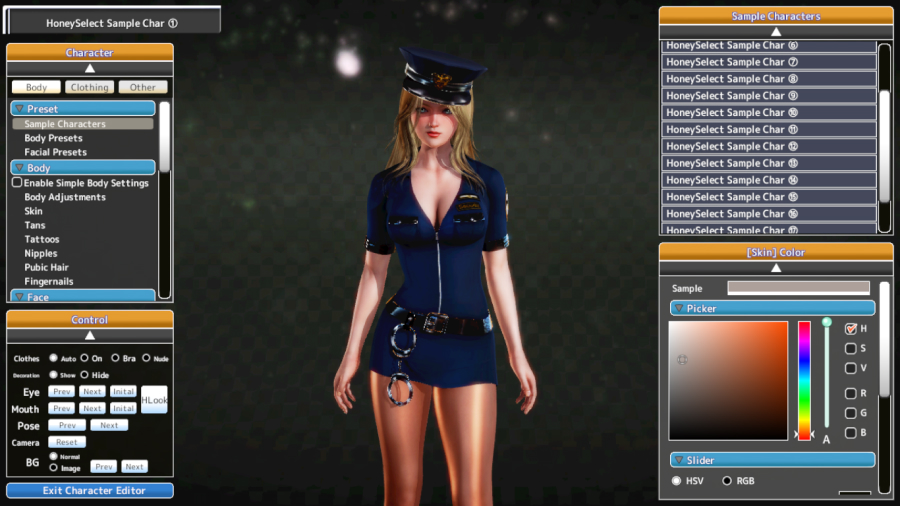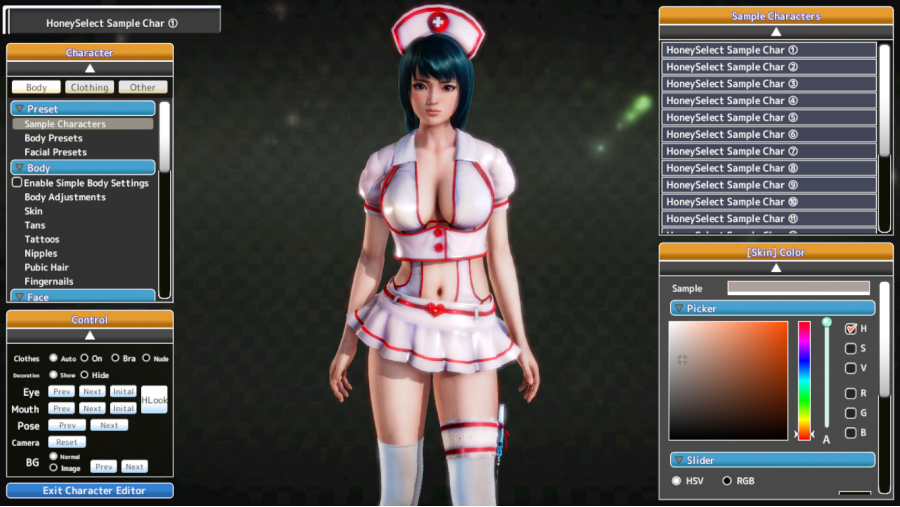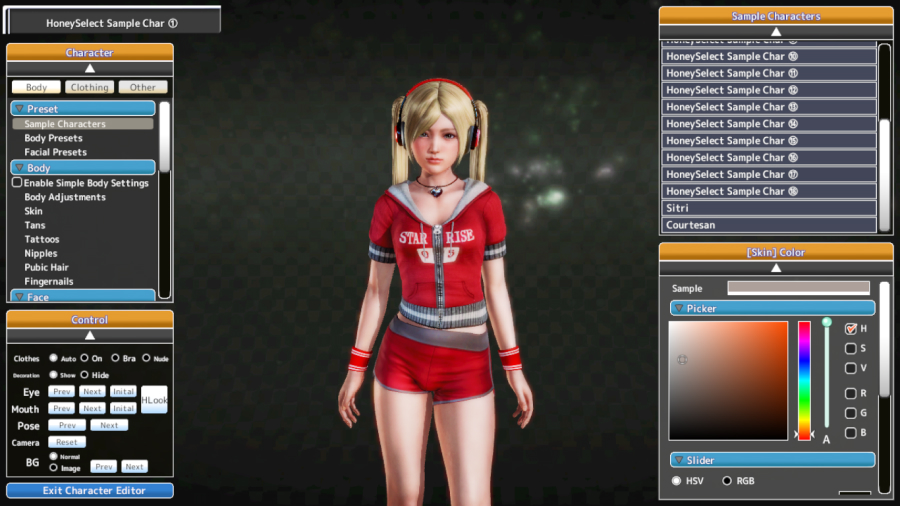 Installation
Once you purchase the game, it can be downloaded from the FAKKU website. The installation process is nothing special, but keep in mind that you will need 12 GB of free space to install the game. And if you buy and download an expansion, the files should be just placed into the original folder, exchanging the existing ones if that question pops up.
It may not be as effort-free with installing mods, you will have to check the version of the Honey Select game and lots of other stuff to make sure they work. Luckily, there are plenty of instructions for specific mods, and you can always seek help on dedicated forums.
Free and Paid Services
I'd like to point out that this is actually a Honey Select Unlimited review. The only unlimited thing about it is the translation though, and that's good enough because I'd be very limited without it. The voiceover is still in Japanese, but since the game clearly has an anime style, that may even be seen as a good thing by many. So, this version, which is the same game as the original one in every other regard (okay, there's one new girl wearing the FAKKU t-shirt), costs $60.
Another package is titled "Honey Select Unlimited Extend + Studio Neo", and it's a considerable expansion that comes at the price of the original game, which is another $60. So, for it to run properly, you would have to purchase both first, spending $120. After that, however, you would be all set, because there are no additional purchases in the game. And with this expansion, you get more than 170 clothing items, hairstyles, and accessories, as well as three more personality types with new events, new animated sex scenes, 11 new maps, and vast upgrades to the Studio, which is probably the most attractive thing about this expansion (more on it later).
Before you buy any of that, you can try a free demo available on the FAKKU site. It has limited features, of course, and you won't be able to experience Honey Select porn in VR.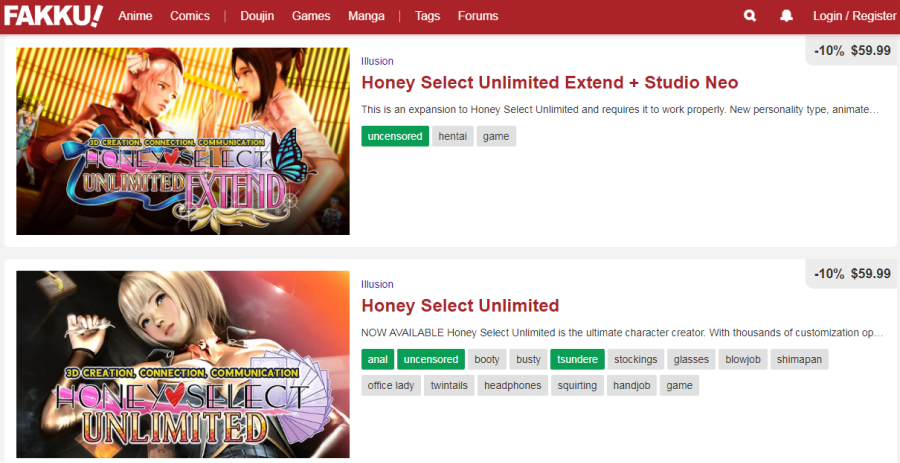 Graphics and Sound
Despite the game offering real customization galore, you won't be able to break from that anime look the characters have. If you're fine with that, though, you'll be amazed at the level of detail these 3D-models have. That comes in handy since you can spin the room and change the viewing angle during the Honey Select scenes to anything you like. The textures are quite detailed, and the lighting is smooth and dynamic. Keep in mind, the game was originally launched in 2016, and for its time and genre, it really is one of the best looking ones.
The sound, for the most part, consists of pleasant melodic music and the girl's speaking or making all kinds of noises you would expect. Hopefully, you are used and prepared to Honey Select hentai moans and gasps, because you will hear a lot of this. I'm quite tolerable to that, and the sound quality is fine, so it sounds quite realistic. And the sound, as we know, is no less important than the image in making you believe something is happening.
My rating: 4.0/5
Gameplay
Now that you know what the game is about, it may be easier for you to get around. I was just a bit confused at first, but luckily, a couple of minutes of clicking around gave me the idea of how things work, and then came Sitri and filled the gaps.
So yeah, once you're in a room with a girl, you can go ahead and select what you want to perform on her (or her to perform on you), as well as the position. After the Honey Select scene starts, you can use the mouse wheel for adjusting the speed and finding the ideal one for the girl. You will see this by an indicator, and you can either choose to satisfy the girl and have her orgasm or completely disregard her and care about yourself.
So, is that it? Well, no, not exactly. Although I've said before that there is no end goal, there are Honey Select achievements that don't let you get bored after a couple of sessions. Completing those will grant you certain new items, abilities, and tools you can apply during your next intimate encounter. These include the quick cum button, infinite energy, girls being able to squirt, and so on.
Some of these achievements unlock automatically, others are very easy to achieve, and there are those that are less obvious. For example, to enter a scene with Sitri, you need to bone five girls with different personalities. However, the first girl won't count. To find more tips like this, you can check the Honey Select Reddit community. It's quite active, and you can get answers pretty quickly.
My rating: 4.0/5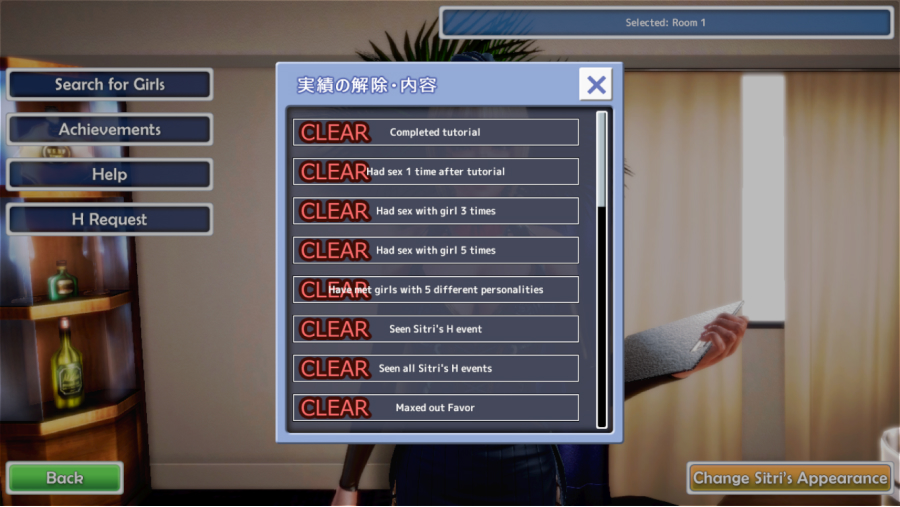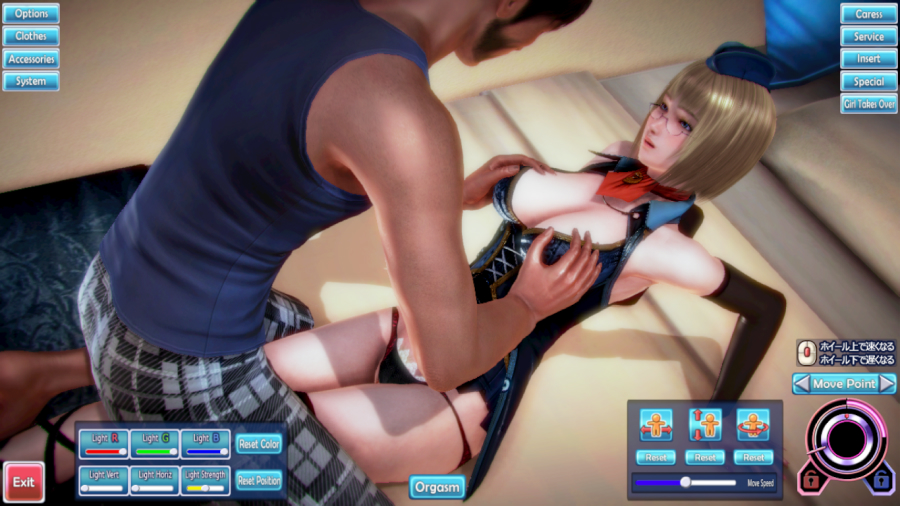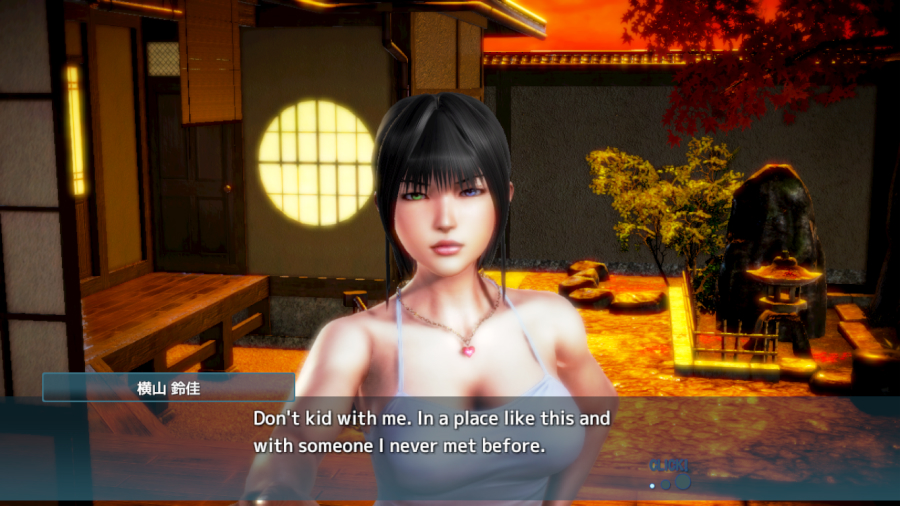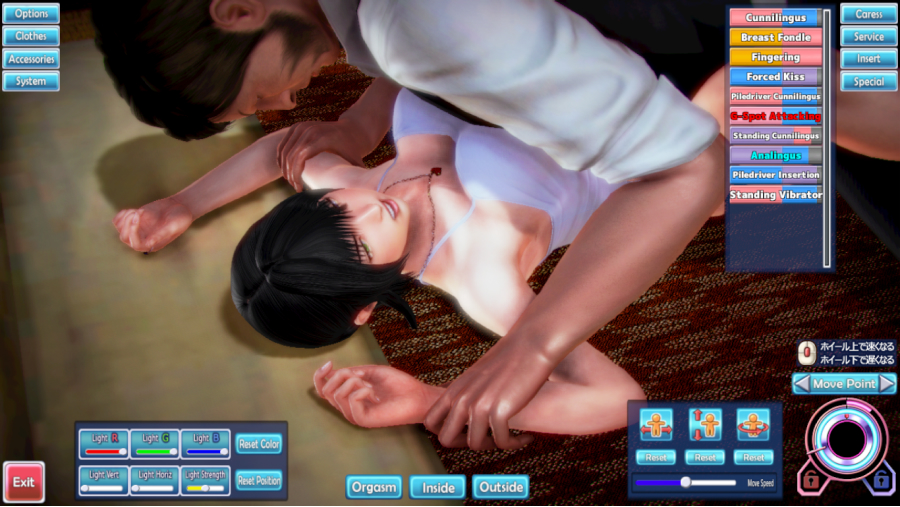 Features
Character Creator
I won't stay any longer on this feature, and I definitely won't try to cover all the parameters you can set and adjust here. It's a powerful tool I at times enjoyed more than the Honey Select gameplay. If either of these two options appeals to you, there is definitely some pleasure to be derived from the game.
Character Fusion
If you don't want to use any of the default girls for whatever reason and don't want to spend a lot of time creating a new character yourself, this option is for you. Remember "The Fly" with Jeff Goldblum? Yeah, I know, not really a turn-on image, sorry. Well, it's similar, only in this case, two beautiful girls are being fused together to create a new Honey Select character that has elements of both. Not like, you know, making her have two heads or three arms. No, this tool does a pretty good job, and I also had some fun with it, running my little experiments from time to time.
The Studio App
Here's another neat tool that has little to do with sex. It lets you take a girl (or several of them), place her on a specific background, and meticulously pose her. This is especially fun for those who first create a person to resemble some anime character or a celebrity and want to achieve a certain look they can share with others. So yeah, there's a chance to come across an innocent screen from this game in a fandom place you don't expect, not only on a Reddit Honey Select subthread. The Studio NEO from an Extended package gives you even more control over these 3D models, and with custom mods you can easily find, the possibilities are unlimited.
Visit Site
Conclusion
The Honey Select porn game is one of the few games with such a vast number of capabilities and such a following, also existing due to active modding. But leaving the fan contributions aside, the game does offer several ways of enjoying it.
Some, like me, are more fascinated with its Character Creator, occasionally engaging in sexual activities with the girls. Others start completing achievements right away and experiment with the girls' behavior, checking how characters with different personality types and traits will behave. If you are only interested in one of those, it may be costly to buy the game for it, so it's best to try a demo version first. And who knows, maybe you'll be willing even to buy the expansion to get even more customization possibilities and some steamy Honey Select animations.
FAQ
Is Honey Select available on Mac?
No, it's currently only available on Windows, but FAKKU says they are working on that, and they even promise that those who have purchased the game will be able to download the Mac version from their site free of charge.
So, I've heard there's some tentacle action, how can I find it?
To truly enjoy Honey Select hentai game, you will need the Extend version, that's where this and some other lesbian and harem scenes are introduced.
According to FAKKU, they support mods, as long as people keep enjoying the game, but they point out that those can be unstable and crash your game, for which the company cannot be accountable. So, basically, you are free to use any mods you find.