Big Bang Empire Review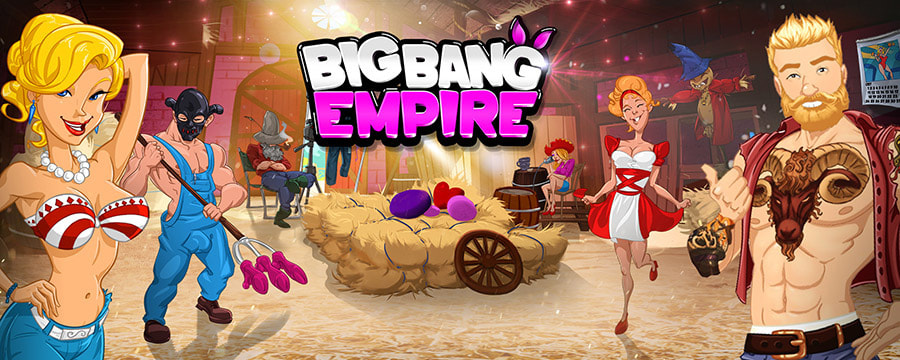 by WizzLust
2.5/5
Visit Site
I think everyone has wanted to become a porn star at some point in their lives. Or, at least everyone has thought about it. Well, this game will give you the opportunity of a lifetime — start from the bottom of the porn world and reach porn stardom!
The Big Bang Empire game was released in 2016 and since then it's been featured on Facebook Games, Steam and it even has its own servers. You can play it on any browser that supports Flash or HTML5 (or so they claim), or you can download it for Android devices.
This is our unbiased review of the game (I really do mean unbiased!). I'll go through the gameplay, characters, mechanics, plot and everything in-between to find out if this game is worth playing.
Big Bang Empire in a nutshell:
Product category
sex adventure, interactive porn game, erotic game, massively multiplayer online role-playing game (MMORPG)
Genre
porn industry, porn star
Platform
Windows, In-browser, Android
Maker
Playata GmbH
Average session
N/A
Languages
English, French, Italian, German, Spanish, Greek, Polish, Portuguese, Russian and Turkish
Rating
2.5/5
Technical Specs

OS: Windows XP

Processor: Intel Pentium or compatible

Memory: 1 GB RAM
Honestly, this is a cool game even if you remove all the sex and pornography. It's fun and a joy to play. Here's what I think are the pros & cons of this indie RPG game.
Pros:
Free-to-play
Quality illustrations, very hot!
High level of customizations
Intuitive and easy to play
An excellent time killing game
PvP mode
Ability to socialize and work together with other players
cons:
Extremely boring and predictable
Wait-to-play missions (you just sit there, wait and do nothing while watching a timer run down)
Microtransactions
Plot
You're a newbie porn star that wants to plunge into the seductive world of porn and stripping. You start out in a suburban town called Telleville and you soon leave the grey, cookie-cutter world behind to join your favorite stars in a world of glitz, glamor and sex. Your goal is to get to the top, shoot an erotic blockbuster and beat out the rest of the stars in your way. Choose your path carefully — starting your own studio can come with bigger benefits but it's much easier to join forces with other stars in a shared studio of up to 30.
Who will come out on top?
Big Bang Empire Characters
During the tutorial, you pick whether you want a male or female character. You can customize how they look (hair, eyebrows, nose, face, accessories, skin color). By the end of the tutorial, you can pick out an outfit from the sex shop and you go from there, earning money to improve your stats, clothes and standing in the porn world.
Most of the characters you meet during the missions aren't very memorable (apart from their physical attributes). The real bread and butter of this game is the actual human players you can interact with using the built-in chat system. You can battle them in PvP mode to earn money and boost your skills, start a studio with them or do both. This is one of the aspects of the game that sets it apart from others I've seen.
Installation
While this game is advertised as being playable in any modern browser , I had a lot of trouble getting it up and running. The game uses Flash by default, which most browsers don't support anymore. After a few unsuccessful attempts trying different browsers, I finally stumbled upon the HTML5 version of the game. However, again there were stumbling blocks until I finally got it running in Firefox.
While searching for solutions on how to run the game, I discovered that it's available on Steam! For some reason, other Big Bang Empire game reviews don't mention this. However, our excitement was short-lived once again… The ~300MB download installed without a hitch. It was only after launching the game that our disappointment once again flared. No luck, I got a "Connection to Steam failed" message that I was unable to resolve.
The only installation of the game that didn't have us pulling our hair out was the Android version. To play it, you first need to allow app install through third party apks. After you go through the instructions, you can download the Big Bang Empire apk here and voila!
Free and Paid Services
The game is free to download or play online. Diamonds, a form of currency in the game, can be earned but they're hard to come by. They can be used to boost skills and increase your ability to go through missions. The only microtransaction in the game I'm aware of is diamonds and they range in price depending on the amount (from 2 GBP ~ $2.5 to 80 GBP ~ $103). You can buy diamonds using PayPal, credit card, prepaid card, SMS or by phone. One thing I didn't like is you can also earn diamonds by completing "surveys" on sites that partner with Big Bang Empire. Kind of sleazy if you ask us.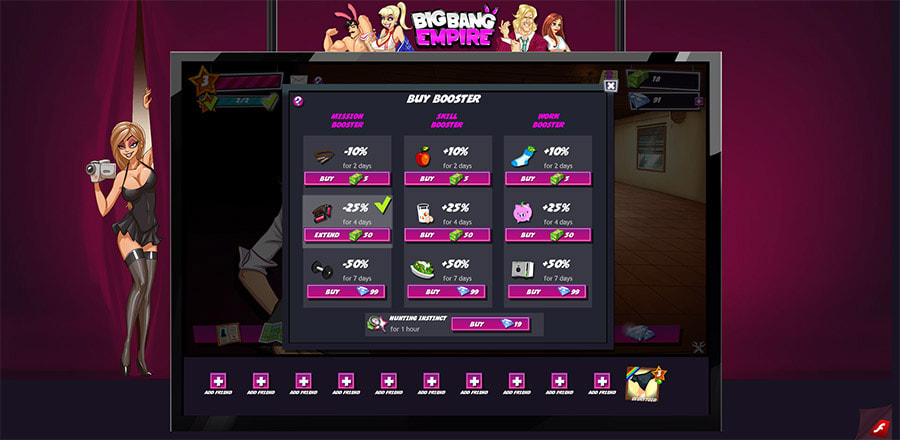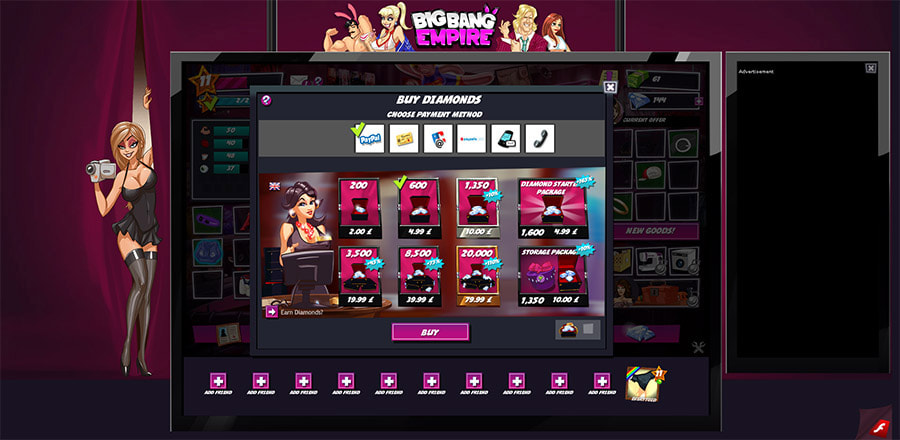 Graphics and Sound
Once you get the game running finally, it looks fairly decent. You can be the judge — take a look at the screenshots in this article. The game felt responsive, I didn't experience any bugs and the animations were smooth. The illustrations remind you of a comic book and all the characters are well-endowed and big-breasted.
One surprising thing about this game is the quality of the sounds, especially the ambient sounds. The birds chirping in the background sound very realistic. Thankfully, the mind-numbing wait-to-play missions you have to sit through come with a completion sound so you don't have to stare at the screen until it finishes. The PvP sounds were a letdown and can definitely be improved in later versions to make it more exciting, since the actual PvP mechanics aren't anything to write home about.
Big Bang Empire Gameplay
Playing this game is super easy. You learn how the game works when you go through the tutorial, and beyond that, it's a matter of paying attention to on-screen prompts and messages. The game runs well and seems to be optimized. Compared to other porn games, it's lacking in the hot, sexy graphics/pictures and action. There's really not that much sex action if that's what you're looking for.
You progress in the game by completing boring missions. All you have to do is click on the mission (timed or combat) and then you literally wait the set time, anywhere from 2-10 minutes. On the one hand, it takes 0 skill to complete the missions, but on the other hand, what's the point of that?
To earn experience points, you can complete missions, take part in conventions, attend parties, get a daily login bonus and earn XP points after completing certain achievements. Money in the game is called "notes" and you can earn them by doing work, completing missions, winning PvP duels, attending conventions and parties, battling other studios, selling items, daily bonuses and certain achievements.
There's a lot to unlock — new locations, missions, items and ways to improve your equipped and bought items. I consider this game to be really boring but I can't deny the depth of detail when it comes to locations, items and the community.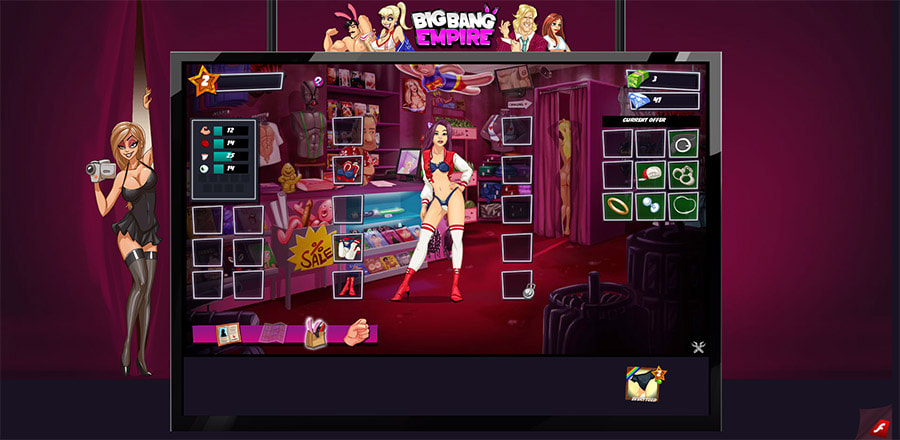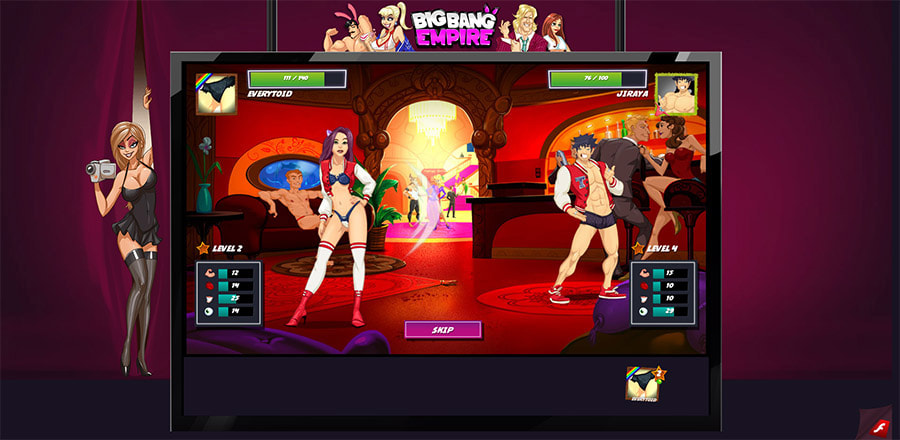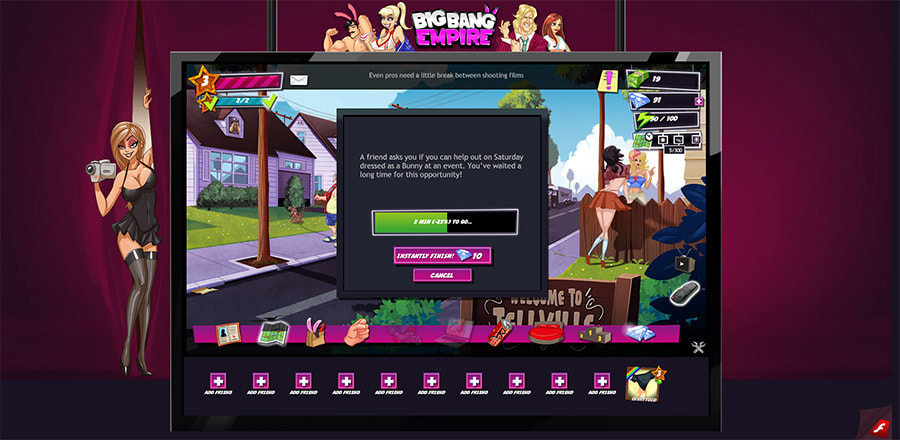 Features
One thing that this game has going for it is the in-game community. You can choose to play alone, but the game gets more interesting when you talk to other players online. The coolest features of this game are the PvP game mode, the ability to create and join porn studios, and in-depth character customizations.
PvP game mode
You're introduced to the PvP game mode during the tutorial to get a feel for it. Your character's skills (strength, stamina, charisma and finesse) affect how well you do.
Strength affects the damage your character can do: 1 strength point = 1 damage point. Stamina affects your available hit points (HP) and determines how long you last in combat: 1 stamina point gives you 10 HP. Charisma increases your chance of a critical hit. Finesse increases your chance of evading attacks.
This all sounds cool on paper, but the actual fight mechanics are pretty silly. You can't control what type of attacks you do and you have no control over the outcome. Everything is automated.
Porn studios
Another way to interact with players is with studios. In Big Bang Empire, up to 30 players can work together in a studio to improve their characters and socialize amongst themselves.
The official website claims studios come with benefits like better rewards, but I didn't play far enough into the game to reap any of those rewards.
Character customization
This game allows you to dress up your porn star in cool, sexy outfits. Whether you choose a male or female star, you'll find a surprisingly large selection of clothing and accessories. These items can also boost your skills, so spend your hard-earned money carefully. The further you go into the game, the better clothes you get.
Visit Site
Conclusion
Big Bang Empire is one of those games you play to kill time. It's not overly entertaining, it doesn't really offer a story, and it's really kind of boring. What it does offer is simple game mechanics and an interface that isn't confusing in the slightest. I also liked the way it incorporates the standard RPG aspects like skills and experience. Plus, the addition of a PvP element makes the game more enjoyable, albeit only a bit more enjoyable.
Big Bang Empire reviews on Steam and other websites mention the same complaints, but you know, whatever floats your boat. Some people like to escape and just click or tap around without too much thought. For a free-to-play game with microtransactions, this just isn't a game I want to invest our time or money in.
FAQ
Yes, the game is free to play. However, it does include in-game microtransactions.
Can I play Big Bang Empire on mobile?
Yes, the game is available on Android, however there is no iOS version.
The browser version of the game doesn't load or gives me an error — what can I do?
Try a different browser. Unfortunately, the game uses Flash Player by default, which is being phased out of most browsers due to security issues. The HTML5 version of the game seems to work better, however, I was only able to launch the game successfully using Mozilla Firefox.
Is this game available on Steam?
It is! Unfortunately, I was unable to get it to work due to a connection error (not sure if others have experienced this or it's just us).
Is there a Big Bang Empire reddit?
There is but it's not active at all. I'd recommend the official forums for any questions you may have.