What Is SnapSext?
Let's get rid of the obvious stuff first – the site is named after the globally recognized mobile app Snapchat. It's gained most of its followers due to the tools it provided for sexting and exchanging intimate photos. So, moving forward, what is SnapSext, how is it related to that mobile application?
The truth is, there's little resemblance. Sure, it's a hookup site designed as a safe space for online flirting and sharing photos meant for private eyes. And yes, there are some filters you can use for said photos. That is pretty much it. However, that's far from a sound reason to call SnapSext scam or a fake. After all, it does deliver what its name promises. It actually covers various types of relationships and helps people with similar goals to find each other.
There's a lot to be said about SnapSext due to it having a lot to offer, so I suggest you stick around and read the review to figure out whether the platform suits you and your expectations.
Pros:
A large number of members with different intentions
An astonishing amount of search options
Reasonable prices with some great discounts
The mobile version of the site is a joy
A fraud team that removes fakes and verifies accounts
Video chatting and streaming
Cons:
Profiles can only be viewed by premium users
The desktop version is crammed with pictures and panels
Icebreaker automated messages cannot be turned off
Registration at SnapSext
Creating an account is free, and things can remain that way for as long as you want it. The process is also quick and starts on the home page. All it takes is pass six simple stages, providing such details as:
whether you're a man or a woman
who is it you are after (men, women, couples)
when you were born
where you live
Providing a real email address, coming up with a password, and activating your account are the final touches. Right after that, you can log and continue putting more meat on the bones of your profile or venturing out to explore the site and its dwellers.
Additionally, you can verify your profile and get a corresponding icon next to your username. To do that, uploading a photo is necessary first. And after that, you can contact snapsext.com representatives via webcam so that they can see it's really you.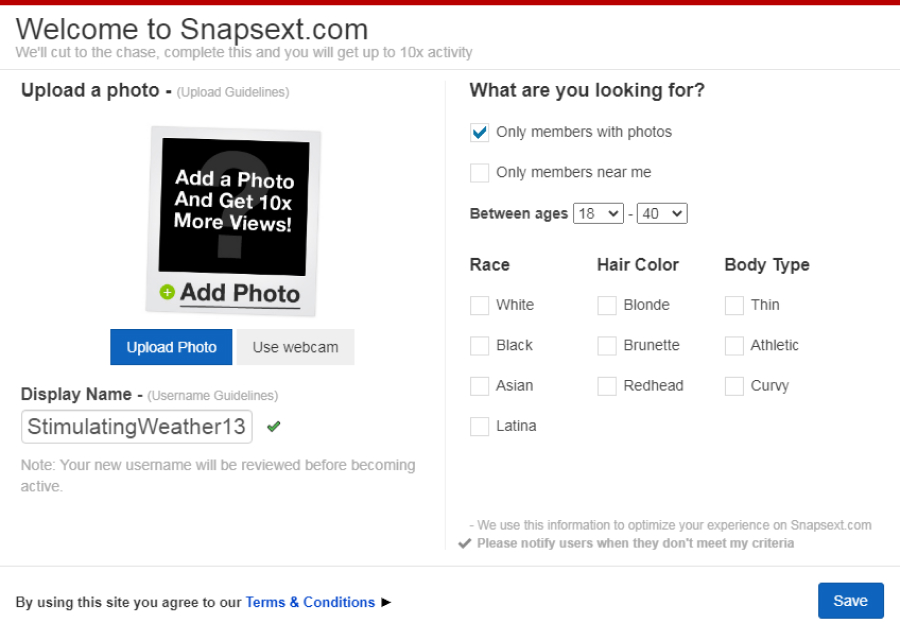 SnapSext Interface
When I first saw the home page as a registered user, I was taken aback. I simply didn't know where to look. The first thought was "Is SnapSext a scam site? Are those ads and pop-up banners meant to redirect me somewhere else?"
To my relief, after a short time I figured out multiple notifications could be closed separately or all at once, and the panel on the right could easily slide to the side and hide. So, the page started to look much cleaner.
There were still way too many sections and miniatures close to each other for my liking. Now, I get the intention was to increase the discoverability of profiles, it's just that I wish these groups had a more visible distinction. Some elegant borders should do the trick.
There's hardly a Snap Sext review that doesn't mention how old and outdated it looks, and that's something I can't argue with. The site definitely could use some remodeling.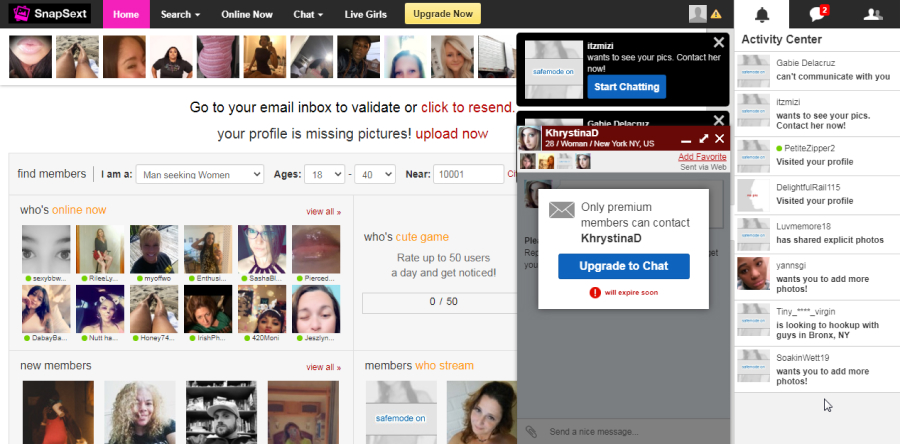 SnapSext Safety
When you are about to share your information online and send some delicate photos, you want to be absolutely sure the site can be trusted. So yeah, you start by wondering "Is SnapSext legit?" One of the ways to do that is check their legal pages. At the same time, that's where you can learn what they promise you in turn of your safety on the site.
Apparently, there's a fraud team operating on behalf of snapsext com. Their responsibility is to detect fake accounts, fraudsters, check any suspicious cases, and verify member profiles.
Finally, if you want to limit who can see your profile, there's an option of making it discreet. To temporarily stop receiving any new notifications, messages, and page visits, you make your profile inactive. This will not delete it, that can be done through customer support if you have made up your mind about it.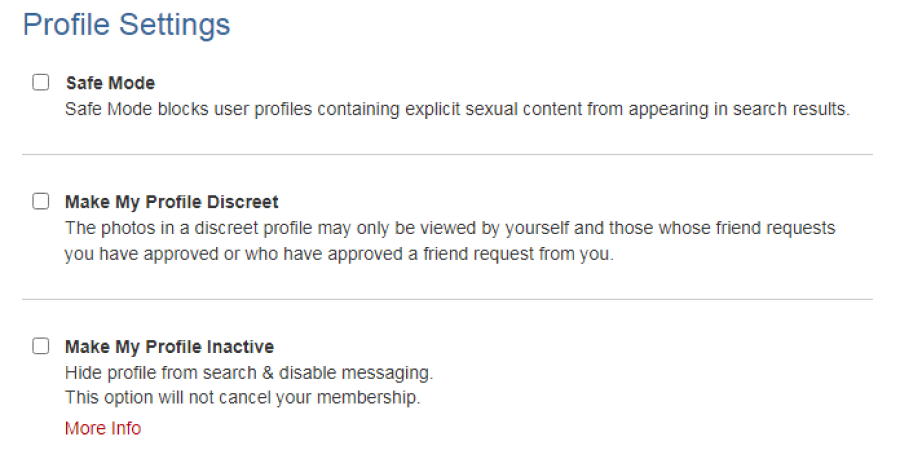 SnapSext Costs and Prices
As a free user, you can navigate around the site to decide whether you would like to see and do more by paying. No real chatting or profile browsing can occur before that.
Free
Setting up your page
Playing the Who's Cute game
Search options, including advanced ones
Posting status updates
Watching popular, newest, and online members lists
Premium
Full messaging capabilities
Access to member profiles
Live streams and group chats
Chatting via video and exchanging photos
Becoming a featured member
Buying and selling premium content
Some SnapSext reviews will say the prices are the most important part, and they may be quite right. However, it seems like most people should be able to afford a subscription, especially if it comes with a discount. So, I will list the available plans with the prices I witnessed:
$0.95 instead of $4.95 for a 2-day trial
$9.95 instead of $14.95 for a 7-day trial
$34.95 instead of $39.95 for 1 month Gold
$69.95 for 6 months Gold
$120 for 18 months Gold
That last proposition includes 6 months free, making it only $6.67 per month, and so it's 80% cheaper than usual. Of course, it's doubtful that even the most confident of SnapSext legit nature would make it their first subscription. Considering how cheap the trial options are, it's advisable to try them first, but not linger too much as that great offer won't be there forever.
SnapSext Profiles
After signing up at Snap Sext, there appears a set of questions on your dashboard, just about a dozen of them. By selecting the answers, you will already provide some information about yourself. It will only take a minute, and you can skip some questions, but that's a great way to gently push new users into filling their accounts.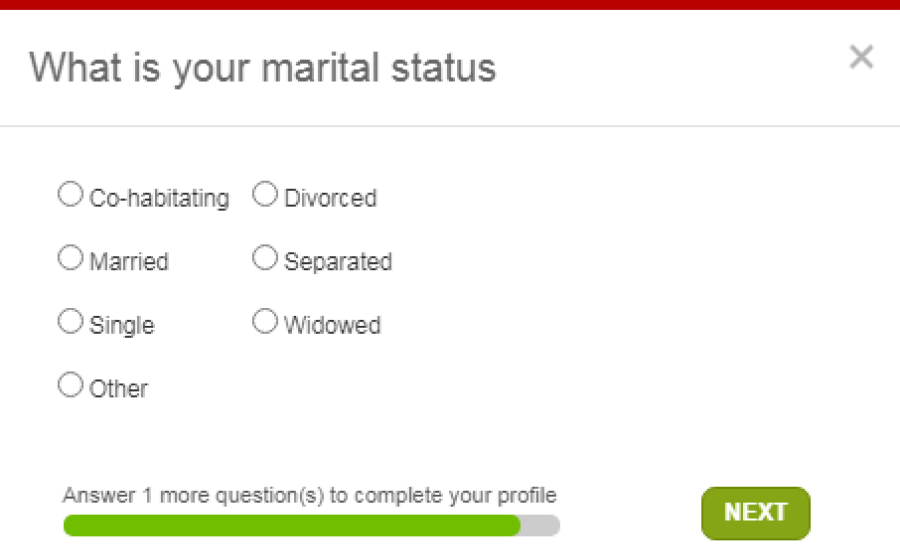 All these bio details are neatly shown on the left side of the page, under a profile photo. To the right, you will have a status update and photos, these things you can like and comment on. You can also change the view of the page you are currently looking at. There are two options, landscape and grid, and you can always switch to the preferred one on any device.
As for the photos and videos, they can be very explicit, portraying genitals and various kinds of sexual activities. If you're not a fan of constantly seeing that instead of faces, you can turn on the Snapsext safe mode, and photos with sensitive content will be hidden behind a Safe mode label.
SnapSext Users
| | |
| --- | --- |
| Users in total | Over 4 million |
| The US users | About 2 million |
| Members weekly activity | Approximately half a million |
| Males to females ratio | 76% to 24% |
| Predominant age | 25 to 34 |
Although the major portion of users are men, which hardly surprises me, due to a large overall number of users there's no lack of ladies to chat with. Besides, the site does a good job of promoting all kinds of users, making sure your eye can always catch someone you like. For instance, there are snippets of potential matches scrolled at the top of the page.
Now, apparently, the site's fraud team does a great job, because I was always shown SnapSext real members. Granted, there's no way of eliminating all the scammers and pretenders, especially since profile verification is voluntary. That's why the site provides a list of tips users can adhere to.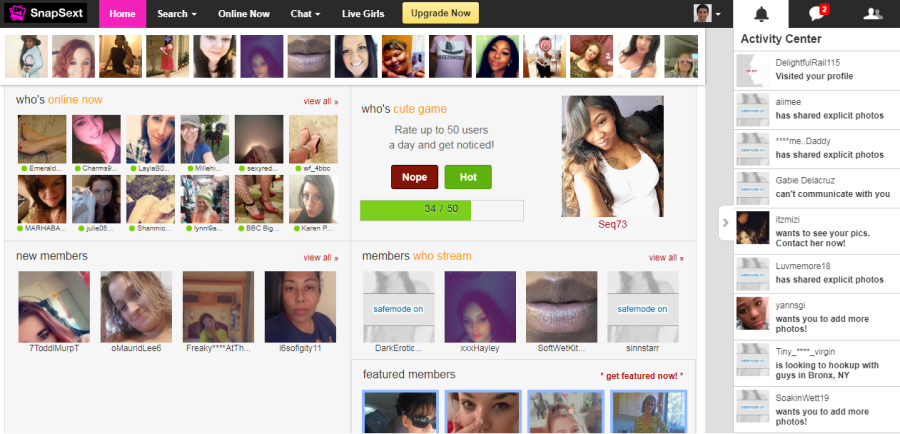 Start Making Contacts At SnapSext
Search options are some of the best I've seen on dating sites, and before you even get to it, you can just pick a group that interests you at the moment. For example, you can select those members who have SMS available as a communication method.
The advanced search will let you filter SnapSexters by features of their appearance, relationship preferences, age, location, religion, profession, language, or even keywords you can enter to find the pages containing those.
Now, the way you can contact and make people notice you are also quite numerous. As mentioned before, some users let you chat with them via SMS. Besides that, there is, of course, on-site messaging, as well as video chats. The smaller forms of revealing yourself are using winks, likes, or adding someone to favorites.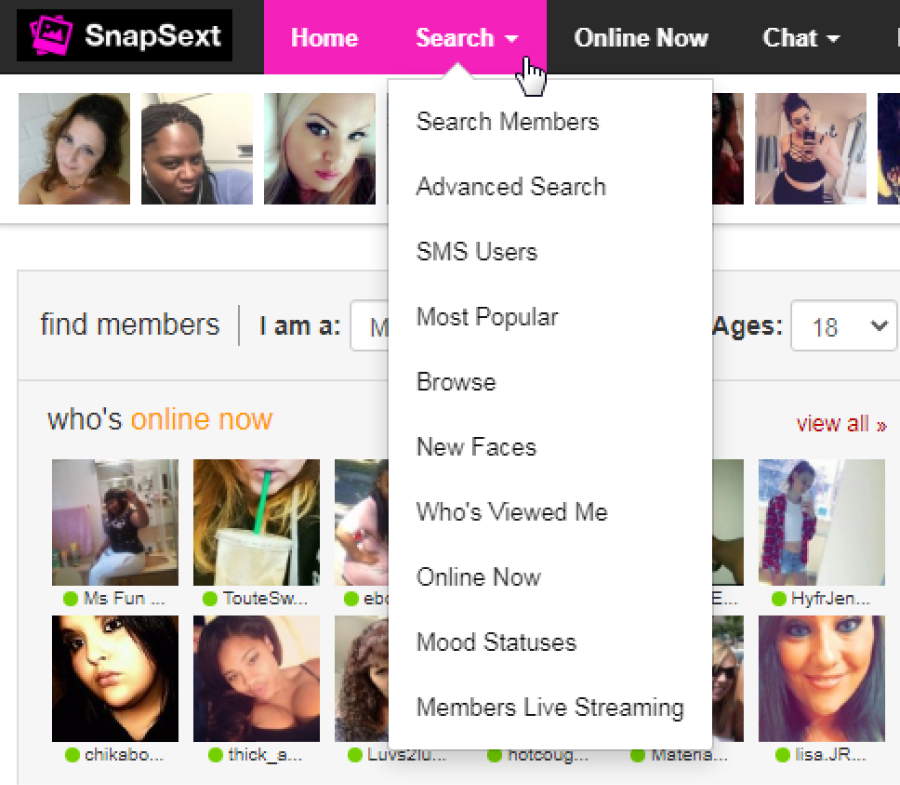 SnapSext Special Features
Hotness
The more you fill your profile and the more you use the site, the higher your hotness level will be. It's a great way not to spam users with profiles that haven't been logged into for a while and move those to the end of search results.

Who's Cute
There's little to explain, you are shown a photo, and you have to choose whether it looks hot or not to you. The only problem I have with the game is the photos are really small.
Icebreaker
When you just enter the site and start getting messages right away, it's only natural to ask, "Is SnapSext a scam?" Those may be fraud accounts unless they are labeled as Icebreaker notifications. This system will send messages to people that are a potential match.
Premium Content
You can not only buy some exclusive photos and videos in this section of the site but upload your own and sell it.
SnapSext App
I've seen more than one SnapSext review mention there's an app, which is not available in Apple Store or Play Market and has to be downloaded directly to the phone from some other places. However, since I didn't find such an offer or even a mention of a special app on snapsext.com, I decided not to risk it and advise you to do the same.
The mobile version of the site is actually much more enjoyable when you open it in your smartphone's browser. All the gripes I had about the site being flooded with sections, profile photos, and all kinds of pop-ups were gone.
Photos from the Who's Cute game are also much more visible here, and then there's a new Swipe Game, which is a slightly improved version of the old one. I'm still hoping for an official SnapSex app, but using the site's mobile version was a relief and a blast.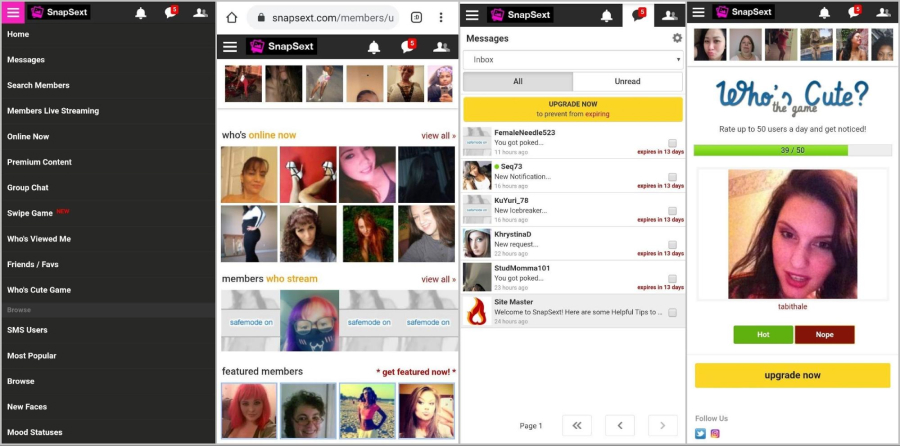 My Verdict
Whether you've read the full review or skipped to this part, I need to sum up my impressions of the site. It's more than a decent site for finding people who are up for online flirting, real meetings, long-term relationships, or just experimenting. It has a reasonable price policy for the amount of tools it provides, and those are quite a handful. I was impressed with the search options, and it's really tough to stay inactive and not get into a conversation with someone while on the site.
So, it's all very engaging, and that's what people come here for. My main problem was with the site looking and feeling overwhelmed, but that went away when I tried the mobile version. That's how it's best experienced, probably. You also won't be able to view profiles or contact anyone as a free user, but trial subscriptions are very affordable, so it's definitely worth to give SnapSext a shot.