What is QuickFlirt?
You've read the name of the review and you can make some suggestions based on the site where it's published. So, is QuickFlirt.com a dating site? Precisely, but not necessarily only for one-night stands and quick hookups. You do, however, have much higher chances to meet someone here who will know what you want from them and be more than willing to play the game. In that regard, it's a much more convenient way of making romantic or strictly sexual acquaintances than using some social media.
Sure, those are free, and they have millions of users, so some people see no point in purchasing a subscription for a service like QuickFlirt. And yes, although it's free to a certain extent, you won't get far without purchasing a profile update. If you think that's a serious argument against using such a service, just think of all the trouble you would have to go through on a regular social site to even start a conversation, let alone arrange a meeting and get some.
So, if you want to optimize your time and avoid bothering people who have no interest in that kind of relationship, you may find this site just the thing. Is QuickFlirt legit, though? Well, it's been around since 2007, and there are plenty of reviews from satisfied customers. Speaking of which, you should have a good selection of dates, since there's over a million registered users. But I'm getting ahead, we've still got a whole review where I get to the bottom of things, figuring out all the good and bad of this platform.
Pros:
Video clips in users' profiles
Considerable discounts
Neatly-looking site and member profiles
A well-optimized mobile version of the site
Cons:
Not a lot of special features
Very limited messaging for free users
No mobile app
Registration at QuickFlirt
When you go online for a quick flirt, you expect everything else to be quick as well. That is definitely true when speaking of registration, and this process won't require a lot of your time. In fact, if you only fill the initial and the most crucial fields of information, it's quite possible to be done in under a minute.
The initial sign-up form starts right on the welcome page, so you won't waste time looking for it. First and foremost, you will be asked to provide your gender and that of the person you are looking for (it's men and women here, so, four combinations in total). Next come age, email, and password. Finally, you can start typing your city/town name or a zip code and select the right option from the list as they appear.
Mind you, you need to provide a real email because an activation code will be sent there. As you retrieve and enter it on the site, consider your free profile creation done. What comes next is filling it with details, which you can provide and change any time you want. That means your avatar, a status up to 140 characters, ethnicity, body type, hair color, and a screen name.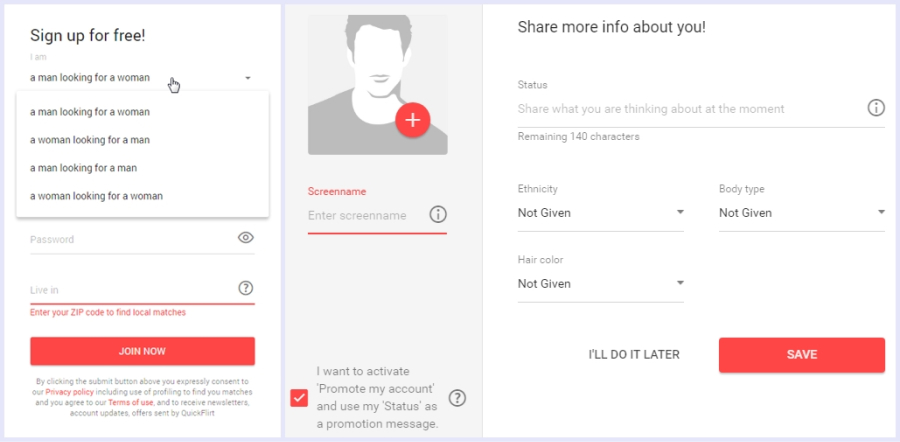 QuickFlirt Interface
The site's structure seems to serve the same purpose, that is, one quick glance is enough to get a good understanding of what tools are at your disposal. The key elements helping you to discover a date for the night or just a person you can freely chat with on sex-related topics are: search, like gallery, chat, notifications, and your activity history in case you want to get back to someone you have checked or reacted to before. That's pretty much it.
Since I want to give you an honest QuickFlirt review, I have to tell you about my real impressions of the site's design and interface. I did hope for something simple and easy to get around, and that's exactly what I got. No one would ever call this platform overwhelming, which is something site creators often do, trying to show that you will definitely get enough for your money's worth. So, in that regard, Quick Flirt is a real success, it's easy to look at and will confuse no one.
I was, however, a bit disappointed when a few minutes of clicking around the site have proven that there are no hidden menus or extra services. If you think premium users may get more tools to work with, I'm sorry, no. They get extended options for the available features but nothing a free user can't get a taste of. It's not like the site tries to hide this information, so don't worry, there's no QuickFlirt scam in that regard. You are told what you are paying for, and oftentimes, considering discount offers, the price is more than adequate for the functionality the platform offers.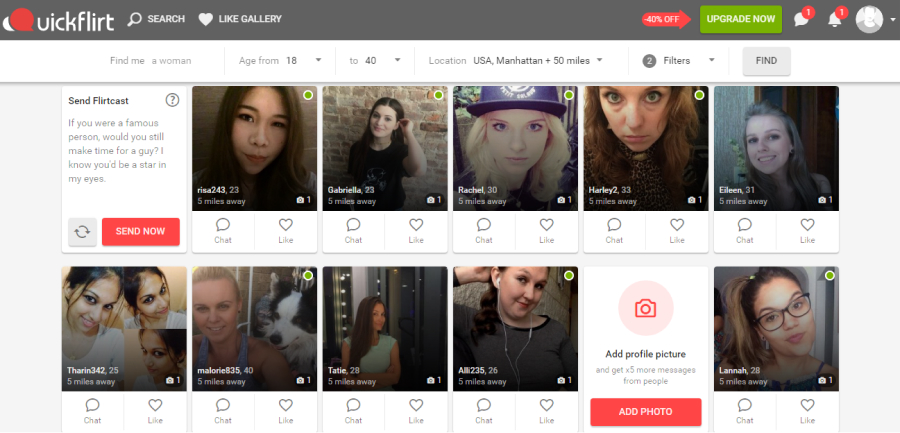 QuickFlirt Safety
If you consider the time this company has been running the site and read the legal pages thoroughly, there'll be no reason to question the Quick Flirt legit nature and their way of handling things. Its approach to safety is one of those crucial proofs. Not only does it use reliable encryption and protection tools for your data, you can also turn a basic or full safety mode for extra-protection in dealings with other site members. By doing so, you will not get viewed or contacted by suspicious or unverified users.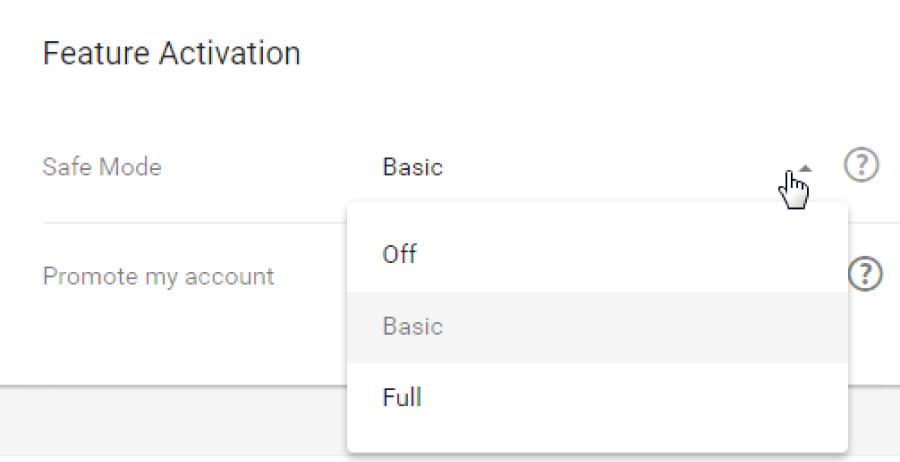 If you want to take a break from quick dating or this site in particular, you can temporarily hide your profile. And if you make up your mind and decide to leave it for good, you can proceed to deleting it completely in the same section of the account settings.
QuickFlirt Costs and Prices
Any site has to make money in some way, and with dating sites, it's either get bombarded with ads or pay for a subscription or some services. Any Quick Flirt review will tell you that as a free user, you can only get a glimpse of what using the site would be like. It's enough to get around and see what you would be paying for, so let's check the differences.
Free
Signing up and setting an account
Searching members using various filters
Viewing others' profiles (as for pics, only their avatar can be viewed)
Sending up to five messages a day (one message per user)
A limited number of winks to be sent by you
Premium
Unlimited messaging
Access to other members' photos and clips
The ability of sharing photos and videos through messages
Others' "looking for" section becomes visible
Priority support
The site offers a variety of subscription periods, so it's not like you have to pay a month's plan just to try it. You can pay on a daily basis, which will cost $0.99 per day, doing so for as long as you see fit.
A weekly subscription turns out to be the most expensive one with $1.43 per day.
A month is only slightly cheaper with $1.38 per day.
And the best deal is 3 months with only $0.77 per day.
While these prices are medium and far from the best for the range of services the site has, there is a high chance you will get a discount offer as a new customer. For me, it was 50%, and I just couldn't miss such a great saving opportunity for my quickflirt.com review.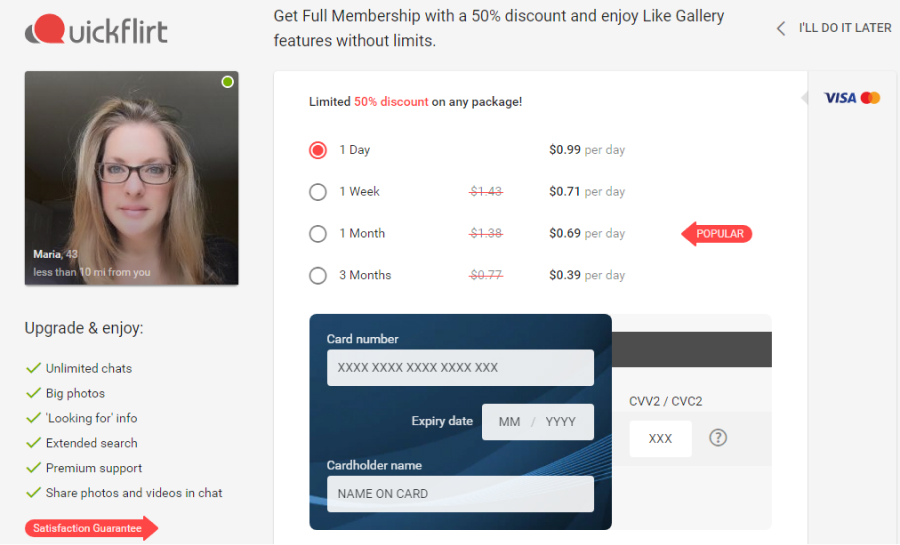 QuickFlirt Profiles
It must be a conscious decision to make user profiles concise so that you can quickly browse through them and get a general image. If you would like to find out more about your match, you will have to ask them that yourself. So, a conversation starts, and you're already on your way to hooking up with someone.
A profile photo is the initial element that attracts people to each other, and Quickflirt has certain requirements of what will be a reason for removal.

Judging from the look of the site, the administration does a great job making users adhere to these rules. And although this is a dating site, all the avatars are very modest, there's no nudity or anything vulgar about that. Other photos in profiles may be more revealing, but it's not like someone would mistake quickflirt.com for a porn site.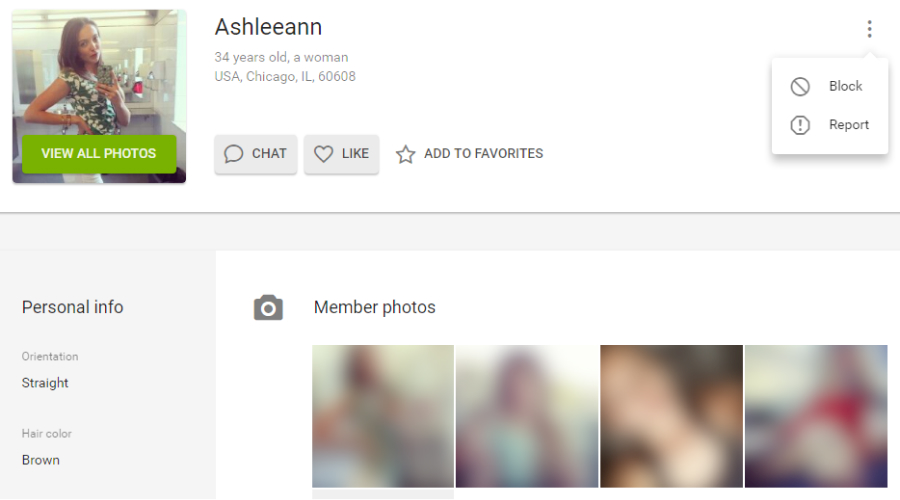 The other profile elements that can tell you about a person include a status, which is a short message usually used to briefly tell about oneself or expectations from the site. Then you have photos and some additional info describing a woman's/man's appearance and some general stuff like education, religion, marital status, children, and so on.
The Looking For section can help you realize that by contacting that woman you would simply be wasting both of your time or, quite on the contrary, make you confident you have good chances with her. It's only visible to Premium users, though.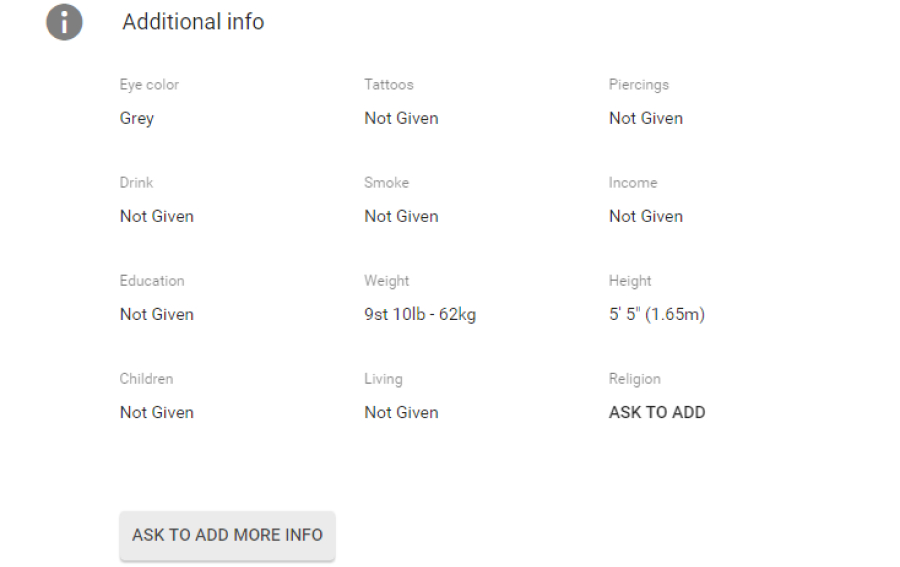 QuickFlirt Users
| | |
| --- | --- |
| Total members | Over 1 million |
| The US-based members | 400 thousand |
| Weekly activity | Around 130 thousand |
| Male to female ratio | 70% to 30% |
| Prevailing age range | 25 to 34 |
Geographically, the majority of quick flirters come from the States, the UK, and Australia. There are more male users on the site, which is a usual picture, but I cannot say that there was an apparent lack of ladies for me to hook up with. That may differ depending on the area, but you can always use a search as a free member to check if there are enough potential dates in your vicinity.
Unfortunately, there are some fake profiles, which is a bane of any dating website. I would, however, say, that the team manages to keep those at a minimum level. It may be difficult to recognize Quick Flirt real members with a free subscription as you can't even always view incoming messages. As a user with no restrictions, though, you can find out who's real and who isn't in just a few quick messages. You can go on and help to clean the site by reporting suspicious members.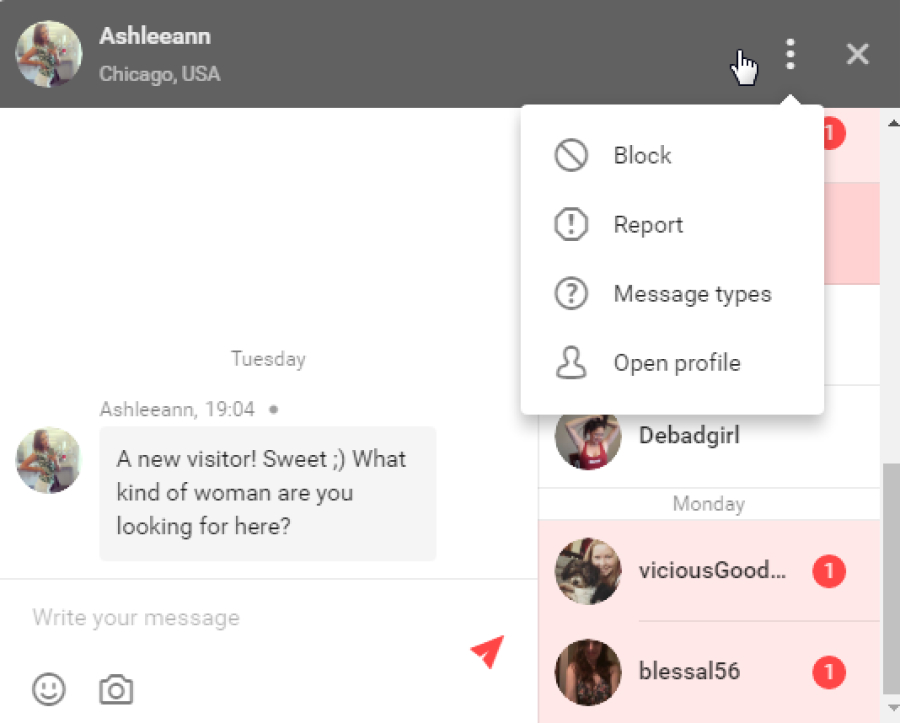 Another feature that really helps is video clips. Anyone can add up to 6 clips up to 120 seconds each to their profile to tell more about themselves and help eliminate any suspicions.
Start Making Contacts At QuickFlirt
It's a usual set of tools to help you discover and contact people. First, you can provide details about who you are looking for to help the search algorithms present you with the best matches. And you can use the search tab, adjusting some parameters to narrow the results:
Orientation
Ethnicity
Appearance features
Age
Location
Indicating that a photo or video is a must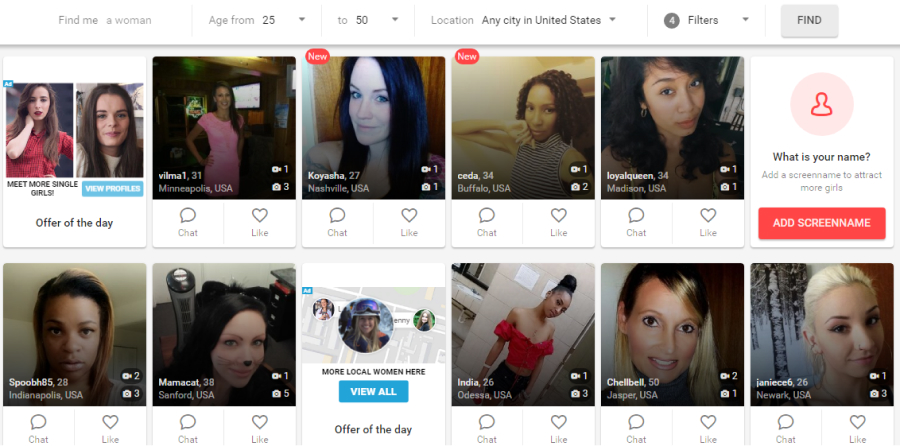 Once you have your eye on someone, you either send them a message or show that you are interested in a number of ways. Those are liking a person, marking as favorites, sending a wink, or even simply viewing the page of which the owner will be notified.
Mind you, while you may send limited messages and winks as a free user, you will not be able to reply if someone approaches you, and some messages won't even be visible until you upgrade your account. This is enough for some people to consider Quick Flirt scam, and while you are bound to get some fake reactions right after registering, it doesn't mean all of them are.
QuickFlirt Special Features
There aren't that many features to speak of, let alone those I could call special. Nevertheless, let's review what we do have.
Like Gallery
The premise of this tool is simple, you are shown profile photos with some basic information like screen name, age, and city of residence. Based on that, you can either like the profile or dismiss it. People you like will get a notification, and if they like you back, you've got a match and can expect to have a good start.
Flirtcast
You may notice that some incoming messages look like templates. Before you stop questioning, "Is QuickFlirt real at all?" you must realize that you are probably dealing with a flirtcast. It's like sending out a transmission to multiple potential matches. You can do the same when you don't feel particularly creative, see who responds, and take it from there.
Account Promotion
You can opt for this feature in the account settings, and based on the type of relationship you choose, the site will send out winks and messages to your potential dates even if you are offline. And when you come back, you should have enough notifications to get to business right away. This feature does not require additional payment.
QuickFlirt App
One major disadvantage most Quick Flirt reviews agree on (mine isn't an exception) is the lack of an app. That's a serious oversight in the quick department. Mind you, there are apps called that way, but they are not associated with this site.
Luckily, the mobile version of the site is fully functional. It's neat, all the necessary tabs are located at the top and can be easily accessed. You will also be offered to turn on your browser notifications, so you can use the site that way. Still, it's not quite the same, so I'm hoping they will offer an app for an even better mobile experience.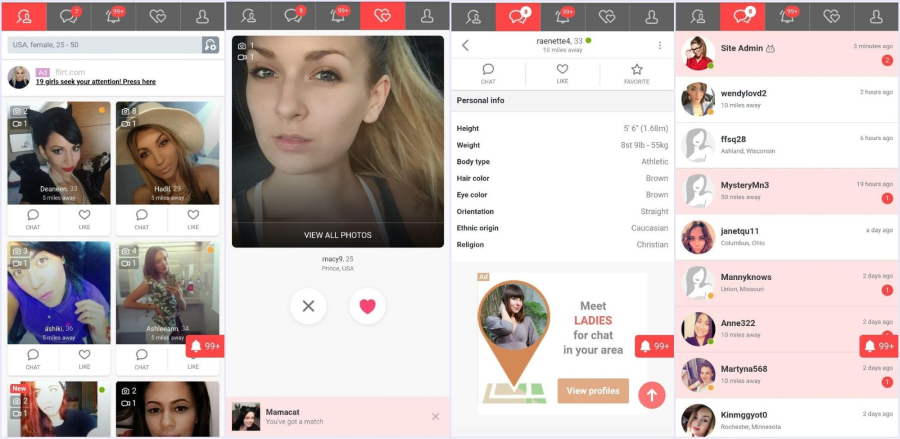 My Verdict
I'm not going to say anything that hasn't been said before in my quickflirt com review. It's a decent place for quick dates and other sorts of relationships. The site does have enough tools and ways to facilitate members reaching out to each other and getting what they came here for.
Some may find it disappointing that you can't really hook up with anyone without buying a subscription, and its price may seem unreasonable considering a small number of features. However, it's totally worth it if you get a discount. And considering the nature of the site, it's great you can use it on a pay-for-day basis whenever you're in the mood for casual sex or simply online flirting with a person you like.