What is OnlineBootyCall?
I don't think I need to explain what this site's purpose is as it is obvious from its name. Unless, of course, you are not familiar with this term, in which case, I should. Ok, Online Booty Call is a dating platform, or, more precisely, a digital call book of people you can contact whenever you want to hook up and have some fun. As in, you know, have sex, not simply go bowling. With these people, you can skip going on a date, saving you time and money.
And so, using the Internet for creating a base where it would be easier for such people to discover each other was bound to happen. That's what a software engineer named Moses Brown thought about 17 years ago and took action. Creating the site strictly for booty calls wouldn't have brought it as many users as it has, so it also attracted people interested in online dating and long-term relationships, which is proven by testimonials on the welcome page.
Pros:
Quick and fun registration
Nice prices and great offers for new users
Funny tips shown as commandments
A large database of users
The site is very convenient on a phone
Cons:
An outdated design and confusing interface
A lot of inactive profiles are shown
The shortest subscription is 1 month
Registration at OnlineBootyCall
Creating an account is absolutely free, and it's done in an interesting manner. The questions are presented one by one, and it's made to look as if they were asked by a customer support manager. Once you answer it, each new question adds another picture of a female member on the screen. So, this is just a simple and cute way to show the loading screen, but it's nice to see something new.
The whole process consists of only a few steps and can be done within a minute. You'll be asked to provide the usual stuff like your name or preferred nickname, location, date of birth, gender, email, password, and intentions of using OnlineBootyCall. Later, you can also adjust your preferences for ladies to get better results in the "Get Lucky" section of the site. But right now, once you upload a photo, you're set and ready to go, there's no verification required.

OnlineBootyCall Interface
I've mentioned that the site is more than 17 years old, and it shows, unfortunately. And I could easily ignore outdated looks, but getting used to the interface and menus takes some time. Honestly, when you first enter it, it's a mess.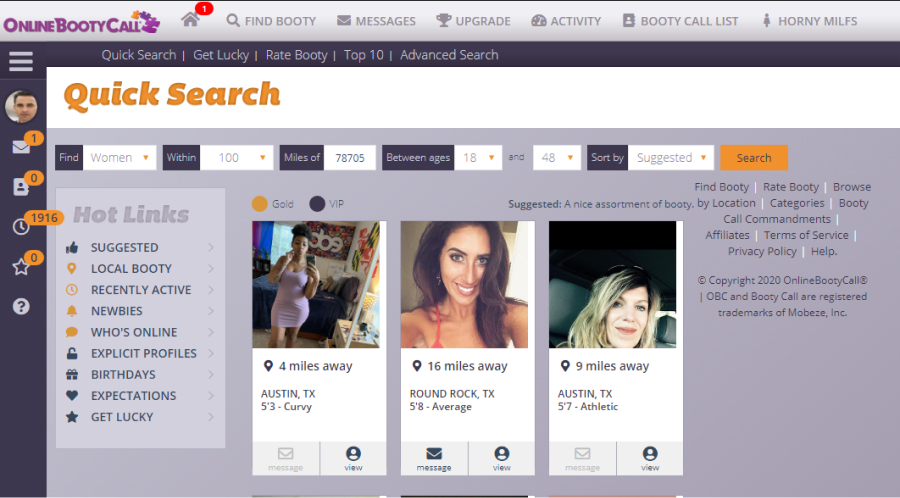 After some time, you learn what's for what and where to find things, but that can hardly be called a well-designed interface. I doubt any OnlineBootyCall reviews would praise the site for its looks and structural organization.
So, what do we have among all those menus and panels? Basically, the one on the left is for accessing your profile, booty call requests, messages, and a quick search based on your preferences (Get Lucky).
The top panel copies messages while also providing you access to your booty call list and regular search. Those two other panels next to and below the previous ones help you narrow the search results, as well as access some other tools for discovering ladies.
OnlineBootyCall Safety
You can get used to the design and find your way around the site, but first, we all want to know, is OnlineBootyCall legit? Well, its long history has not been associated with any loud scandals, besides, its creator is openly showing himself, which is also a good sign. From what I have learned by analyzing the site's legal pages, it's a responsible service that presents itself as such.
As for the safety of your information, it's all covered in the privacy policy, which seems to be regularly updated in order to correspond to all of the freshly introduced regulations. Make sure to familiarize yourself with those terms to be completely aware of all the active conditions.
Now, additionally, you can block and report members, as well as restrict the incoming messages and chat requests. And if you want to leave the site for good, there's a button to delete your account.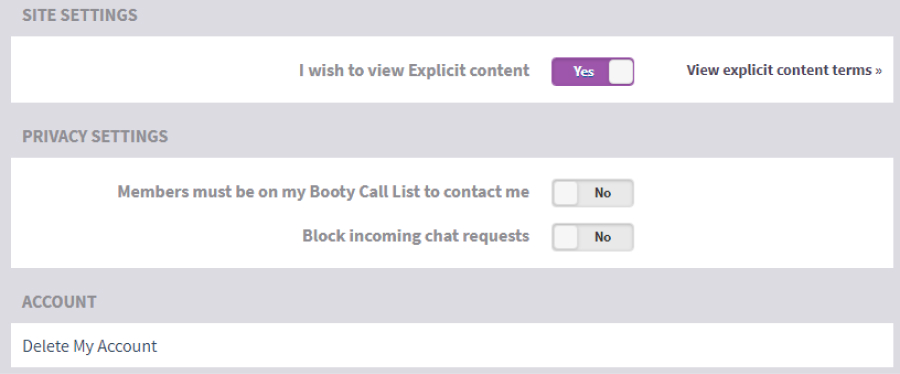 OnlineBootyCall Costs and Prices
As a member with a free account, you can do pretty much everything except for sending messages or watching explicit photos.
Free
Adjusting the Get Lucky search
Watching profiles
Limited search capabilities
Premium
Unlimited messaging
Access to explicit photos
Full search capabilities
Checking whether your messages have been read
Seeing who's online
Adjusting the search results order and setting the distance
Yeah, I know, not even some free messages, it seems like a bummer. However, the premium subscription is not even that expensive. The available options go as follows:
1 month costs $20
3 months cost $30
1 year costs $60
A lifetime membership costs $90
Those are some of the best deals you can get with dating sites, but besides that, after registering, I received a message offering me a year-long subscription for a price of 1 month. Since I was going to purchase it anyway for the purpose of my OnlineBootyCall review, I used that offer right away. So, if you're still in doubt, just use a couple of minutes to sign up, and you may receive the same opportunity. Keep in mind, though, you will only have one hour to upgrade your account with this offer.
OnlineBootyCall Profiles
There aren't many sections to present yourself, and I think it's totally fine in this case. First of all, for the money the site asks you, there's really no sense hoping for some unique ways to express yourself. You get the default photos, some general information, About Me, and What I'm Looking For.
The second reason is the nature of the site. Although you can set your expectations for long-term relationships, the site is still called www online bootycall com, and that means what you get from a short profile description should be enough to decide whether you want to hook up with that person. And if there's anything else you would like to learn, you can do that using private messages.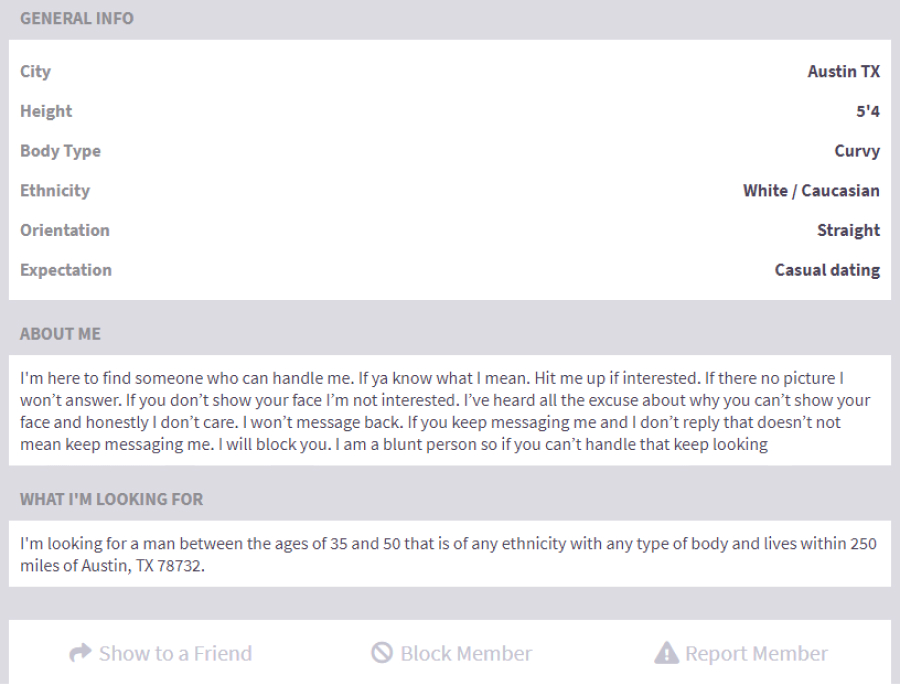 Now, explicit photos are allowed, but watching them requires a subscription. Keep in mind, though, that although they're more revealing, the site is against posting pornographic content. And if you still want to limit your view of such pictures, you can turn a filter against them.
OnlineBootyCall Users
The total number of registered users exceeds 8 million, which is probably possible due to the site's long history. Some people call Online Booty Call scam because they try to contact various members and get no response. Their conclusion is simple, those are fake profiles. I don't think it's that, though. From what I have seen, it seems that there are simply way too many inactive profiles that are still shown in the rating game and come up in search results. I mean, when there's a date on an avatar that says 2009… You would think the person would have updated the photo long ago.
So, is Online Booty Call legit? Yeah, it doesn't seem like there are a lot of fakes here, just a lot of abandoned profiles with old photos of poor quality. I wish they would hide those inactive pages, of course. But once you upgrade your page, you can check who has been active recently, and so it's no longer such an issue.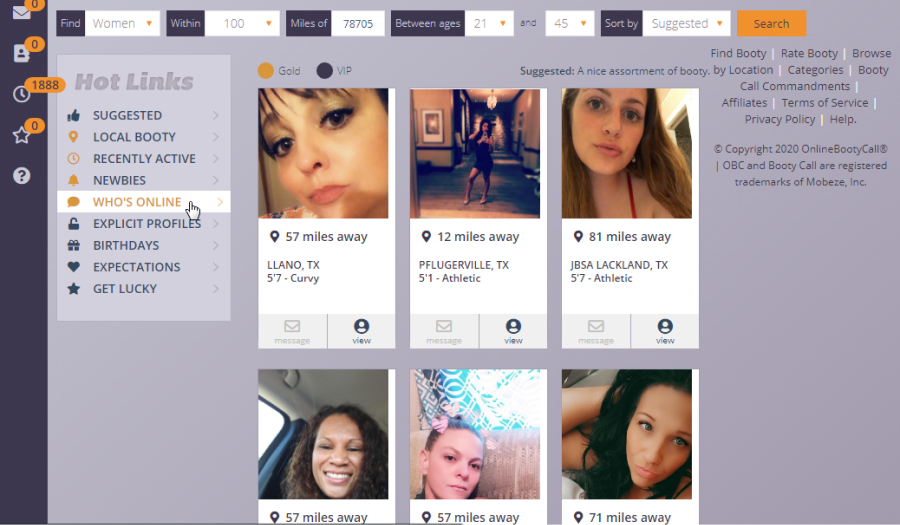 Also, it's always suspicious when women start writing to you the moment you sign up and haven't filled your page with any details yet. It's a red flag for me, but there were no such cases here. On the contrary, getting someone to reply to you may take some time, but at least when they do, you can expect them to have serious intentions.
Start Making Contacts At OnlineBootyCall
There's basically only one way of contacting people, and that's messaging them. Another way to get their attention is by inviting them to your booty call list. Some members require an invitation before you can message them, so, in other words, they will have to approve you first. Once they do, you can chat and even video chat, which is definitely a useful feature for this kind of relationship.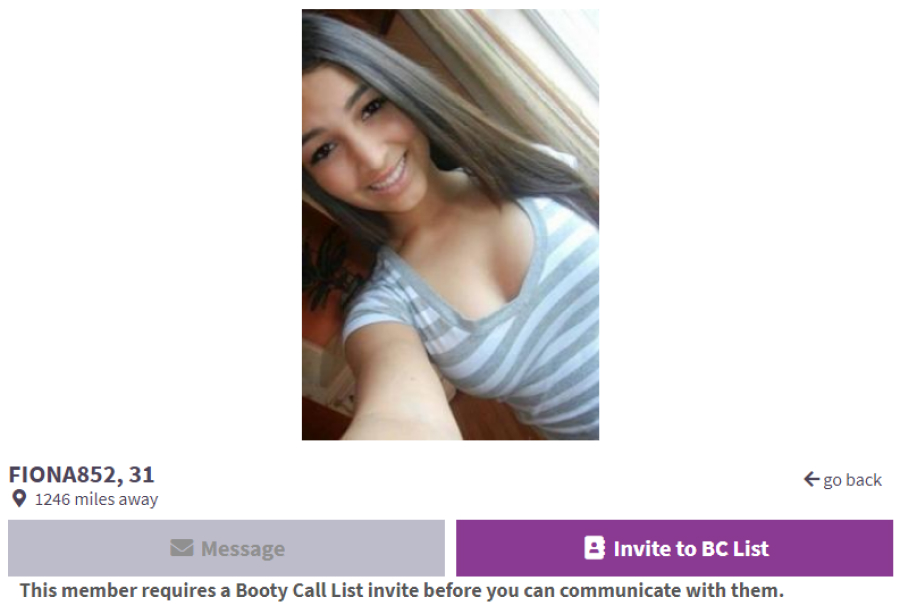 OnlineBootyCall Special Features
Don't be surprised when you see OnlineBootyCall com reviews skipping over its special features, it's just there are hardly any elements that can be considered as such. Well, I was only able to highlight a couple.
Rate Booty
You have to rate a photo and a person on it from 1 to 10. Based on the results, the top-rated members will be displayed in a corresponding section, as well as the least rated. It sucks that you can't just skip and have to rate everyone to get new pics, that those people can be from a thousand miles away from you, and that many of those are definitely inactive accounts.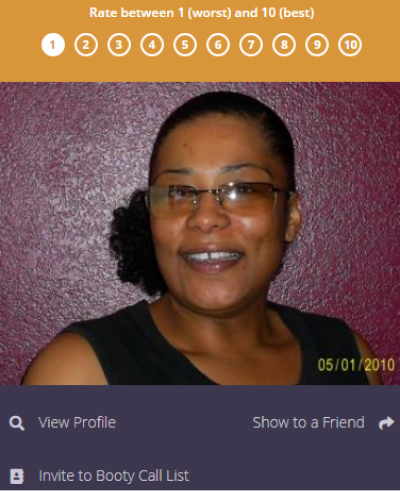 Booty Call Commandments
There's a nice page listing ten commandments (some of which can really be negotiated) essentially giving an example of what kind of relationships the site was created for. It's too bad that some people may never even discover those half-joking, half-serious rules. I wish they were displayed right after or even before you register so that everyone is on the same page.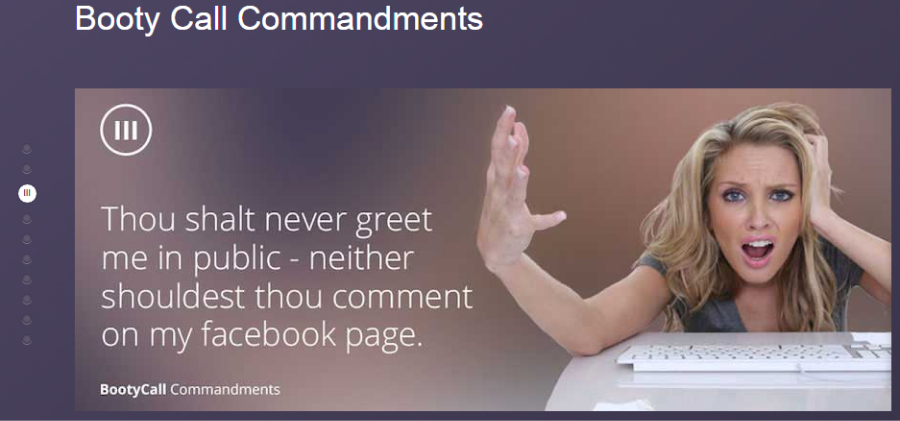 OnlineBootyCall App
There is no app, but the site is surprisingly well-optimized for a mobile experience. I would even go as far as saying that it looks better and the interface is much more elegant. The panels I kept writing about are all in place and can be expanded when necessary. And when you can hide them with a tap, they don't bother me at all.

My Verdict
All in all, I consider OnlineBootyCall legit, even though it's far from perfect. The main issues I have with it are outdated design with a heap of menus and panels and abandoned profiles that keep coming up in various sections of the site.
Apart from that, OnlineBootyCall is a site well worth the price it charges (which isn't a lot and may be even less with their special welcome offer). If you are fine with the lack of special features and want to build a good booty call list over time, it's a good investment that will eventually pay off.