What Is OneNightFriend?
What I liked about this site right away was that, similar to onlinebootycall.com, it told me its purpose before I even entered it. The name and address of this site give you a general idea of what people are looking for and what kind of activity you can expect here. Granted, there could be additional details, and you still need to know what types of relationships it covers and how explicit its users get, for example. However, I was correct to presume that it's a platform mainly focused on getting a one-night stand, and the "friend" part suggests that the administration tries to keep things rather modest, similar to a social network where people come for friends.
There's nothing unique about OneNightFriend, and it's just another decent site for hooking up with people you like. What may seem like a benefit to some of you is that user profiles are not filled with lewd pictures and sexual talk, even though that's what pretty much everyone is here for. The full functionality is also available after you buy a subscription, and the prices aren't the lowest ones. However, there is a substantial discount at the moment of writing this review, and a 1-day subscription is cheap enough to try and test things for yourself.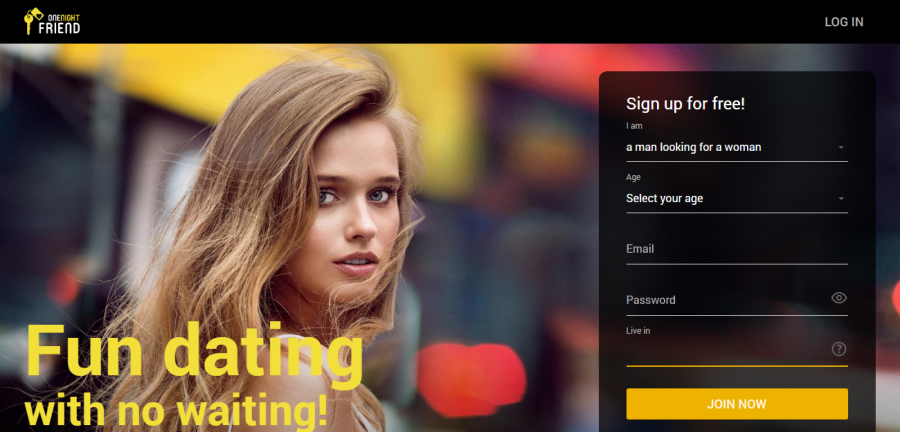 Pros:
The site is very easy on the eye
Daily subscription is a great way to test the service
Affordable prices and occasional discounts
Multiple ways to make a contact
The mobile version offers the same experience
Cons:
No standalone app
Not a lot of features for its price
Profiles don't have a lot of sections
Registration at OneNightFriend
The sign-up process is one of the least time-consuming I've met on such sites. It starts right on the welcome page, and the fields on it contain all the information required to successfully create an account. So, the five obligatory fields are:
Your sex and that of your partner, only four combinations here;
your login details;
how old you are;
and the city/town you live in.
After that, you will be sent a verification code to your email. You won't be able to get past the verification window and get on the site before you enter that code. Also, if you realize that you have entered a wrong email, you can update it here so that the code is sent to where you can retrieve it.
Signing up at onenightfriend.com is free, and these are the minimal details you need to provide for an account. After that, as usual, you may upload an avatar and share some additional details about yourself and who you are looking for, thus filling the page. You can also change the username that is assigned automatically if you have something more original in mind. The info button will let you know what may cause disapproval of your new username, and those are things like:
Specific details about yourself
External links
Rude language
An obviously wrong age
Any drugs-related information
Escort suggestions
A gender different than the one specified on your page
Absence of meaning
Currency symbols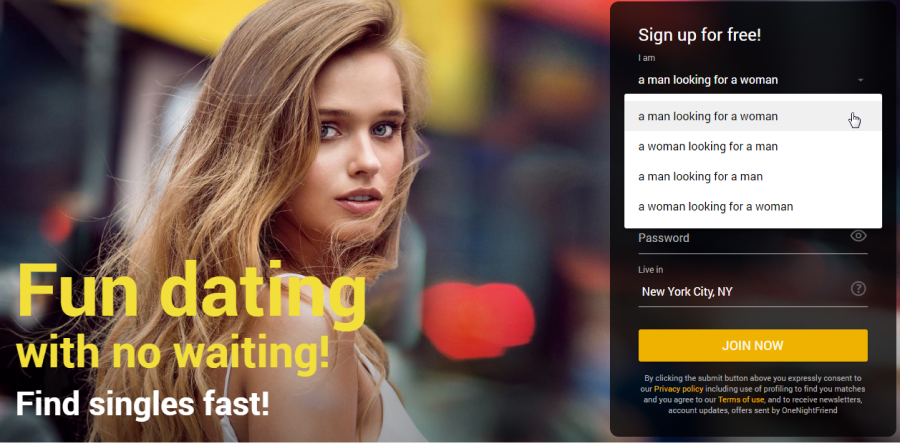 OneNightFriend Interface
The site's look is defined by three colors, black, white, and yellow. It's a neat color scheme that is utilized rather well, although I think the site would benefit even more if they added a dark color scheme, which is becoming more of a standard day by day. Nevertheless, this is more of a personal wish than an objective claim in my One Night Friend review.
One thing no one will blame this hookup site for is being complicated and overwhelming with different blocks of information. No, it's all as simple as it gets, and there aren't that many elements. It really takes a glance to see most of the menus and features the site has to offer, which is not necessarily a bad thing.
Everything can be accessed with the help of the top panel, letting you go to Search, Like Gallery, Messages, Activity notifications, as well as your own profile and settings. Oh, yeah, this is also where you can upgrade your account, and before you do, you will be constantly offered to buy a subscription plan. However, if you decide to stick around, you will probably get some subscription anyway. So, all those pop-ups and urges are temporary.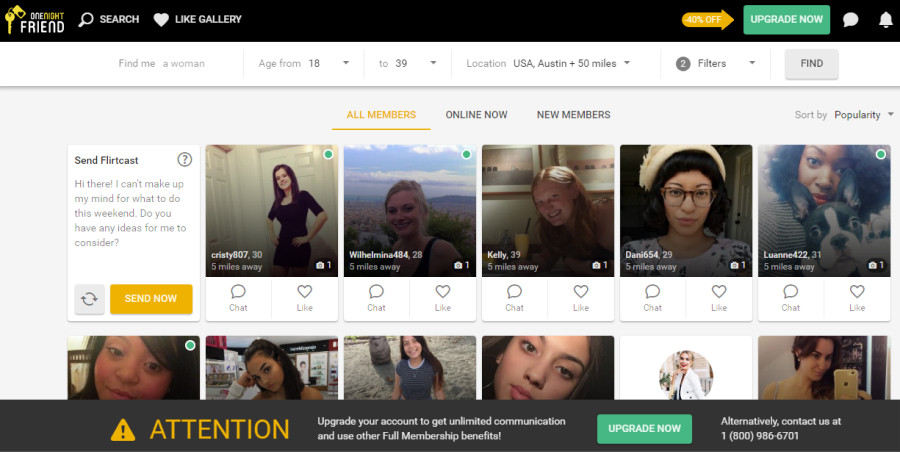 OneNightFriend Safety
If you are concerned about the safety of the information you share, as any person would be, and wonder, is OneNightFriend a legitimate website, you should be satisfied with their Privacy Policy. First of all, it's extremely detailed and covers a lot of the issues and cases most other sites don't. This is also where you can find out that SSL encryption is used to protect all the user data. However, you are warned that nothing can 100% guarantee the safety of your data, but that is something we have to keep in mind with the Internet.
As for the safety of your chatting and dating experience, the site provides some sound tips you can read on the welcome page even before you register. Some of them may be quite obvious, but if you're new to this, it really helps to make sure you are aware of these unwritten (not in this case) rules of online dating and hookups.
You can block and report suspicious users, restricting their access to your page. A Safe Mode will help you avoid suspicious members or only let verified users reach you when the full option is activated.

OneNightFriend Costs and Prices
The free subscription does let you get around the site, but it's very limited when you decide to contact someone.However, I would like to point out that you can definitely do more here before you pay than on most other sites. That includes letting people know you are interested in them and being able to start five free chats a day. After that, however, if you want to engage in real conversations or reply to other members, subscribing is inevitable. No big surprise here, that's how all these sites operate, and that's not something OneNightFriend reviews should label a negative thing, and so neither will mine. So, let's see what you get before and after paying.
Free
Creating an account
Adding photos
Five chats a day
Liking people
Limited search results
Playing Like Gallery
Premium
Sending messages and replies
Unlimited chats
No limitations for search results
Complete access to profiles
Full-size photos
The "Looking for" section is visible
It's very convenient that you can answer the question "Is OneNightFriend real?" for yourself without risking any considerable money. With only a dollar, you will unlock all the features for a day. And if you like what you see there, the longer subscription options are (that is with the 40% discount I was offered as a first-timer, I guess):
1 week for $6.01 at $0.86 per day
1 month for $23.15 at $0.83 per day
3 months for $38.95 at 0.46 per day
It seems that it's often possible to get a further subscription with 30% off, which makes the prices average and even competitive. And if you are up for longer subscriptions, planning to occasionally find someone for the night, paying for 3 months is actually a good deal.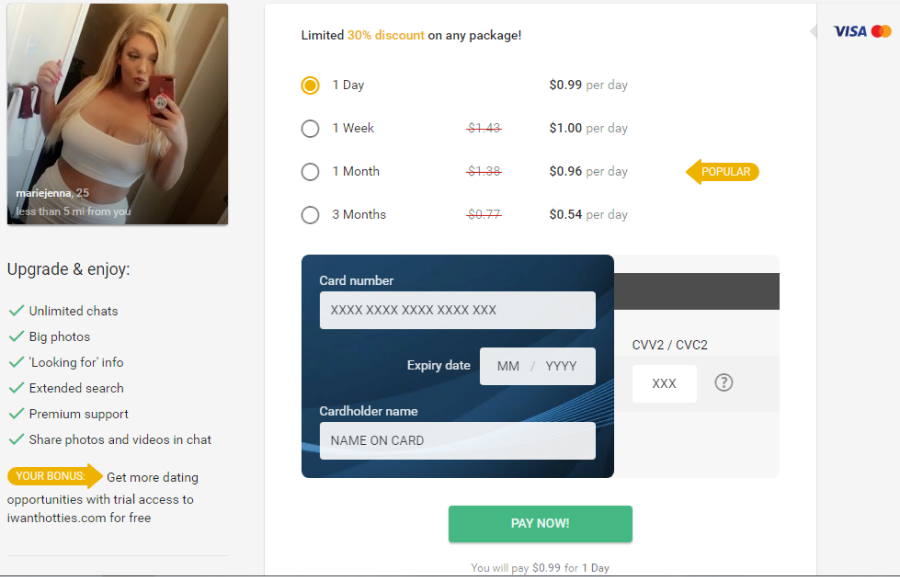 OneNightFriend Profiles
I can easily side with those One Night Friend reviews that were disappointed with the users' profiles. I mean, there's simply nothing special going on, and there aren't any tools for customizing your page in a way to make it stand out. So, basically, my claim is that the pages look too basic, and there aren't many sections. If you have seen even a small share of the dating sites I have used, you will see what I mean, it's just the same as everywhere.
I guess the logic behind it was that since this is a hookup site, people shouldn't spend too much time on filling their profiles or analyzing others'. And I can side with that logic as well. When I look for a casual date, I rarely need more than a few pictures, a short conversation, and maybe a couple of details to understand whether I would like to hook up with that person. So, with that attitude, the site delivers, and you have the following sections and items to guide you in choosing your onenight friend:
Photos;
Username;
Personal details like age, gender, orientation, location;
Status;
Key features of who you are looking for;
Additional info about yourself (appearance, education, marital status, children, etc.).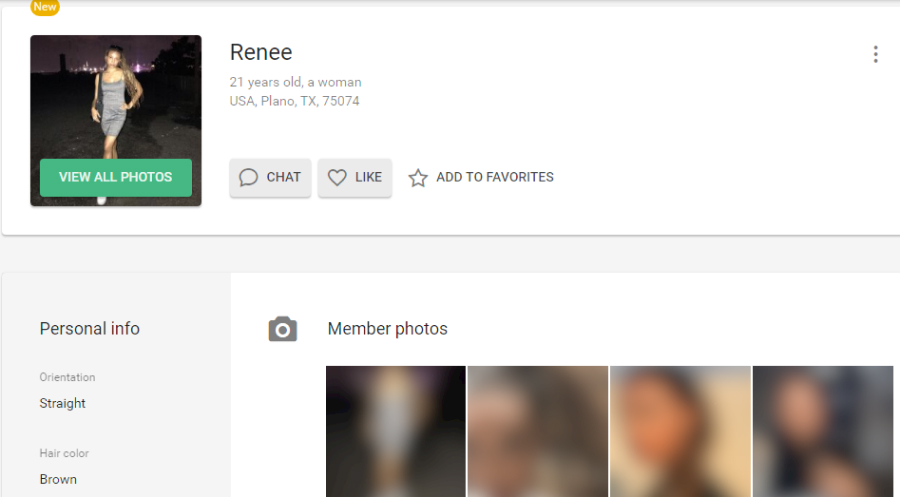 OneNightFriend Users
| | |
| --- | --- |
| Total users worldwide | About 2 million |
| Members from the USA | 550 thousand |
| Weekly logins | About 140 thousand |
| Average age | 25-36 |
| Males to females ratio | 3 to 1 |
As you can see, this is far from the most populated dating site, and the frequency of daily and weekly logins is also not very high. This can probably be explained by the nature and the main purpose of the site, which is finding a one night friend. Many people don't do that too often, so they just get back to the site when they are in a mood for a hookup or some online flirting.
Nevertheless, I had no trouble finding enough attractive women with the right attitude in my area. The ladies I was shown after my search results were of different ages, from younger to more mature ones, so it's not like only one age group is available here.
Also, most of the profiles I came across seemed real, although, of course, I didn't converse with all of them to confirm that. However, you often just know when you get on the site and it's filled with photos of some models or relatively famous people. It wasn't the case with OneNightFriend, and you may also be glad to learn that the profile photos contain faces and not some other body parts. If you belong to those people who prefer not to see any lewd pictures unless you ask for those in private messages, this site will certainly appeal to you.
Start Making Contacts At OneNightFriend
There are several ways of discovering people you could contact and hook up with. The first one comes with the search, and it has some good tools for optimizing the results. With the search filters, users are able to set the following parameters:
Sexuality
Ethnicity
Age range
Body build
Location range
Then, you can choose to display only new members or those who are online. And you can sort them by popularity, distance, age, or last activity.

Without even opening their profile, you can click on the quick buttons that will start a chat (you have five free of those daily) or liking a person (this is free and unlimited, they will be notified and can like you back). Another similar option is adding a person to your favorites, of which she'll also be notified (and so will you when someone adds you).
Now, when it finally comes to communicating, messaging in chats is the main and pretty much only means to do that. And, as I've mentioned before, you can only answer when you get a subscription. The cool thing is that when you do, you can set auto-replies and even make promotion messages.

OneNightFriend Special Features
This next chapter of the One Night Friend site review won't be too long, because the site does not offer a lot of features. I wish there were more, but let's see what we have.
Like Gallery
This feature has many names depending on the site, but the essence remains the same. You are offered photos that you either like or dismiss. If the girl from the photo likes you as well, you get a match. A convenient addition is that you can skip that and message the girl right away. Anyways, it's a fun tool for discovering potential dates.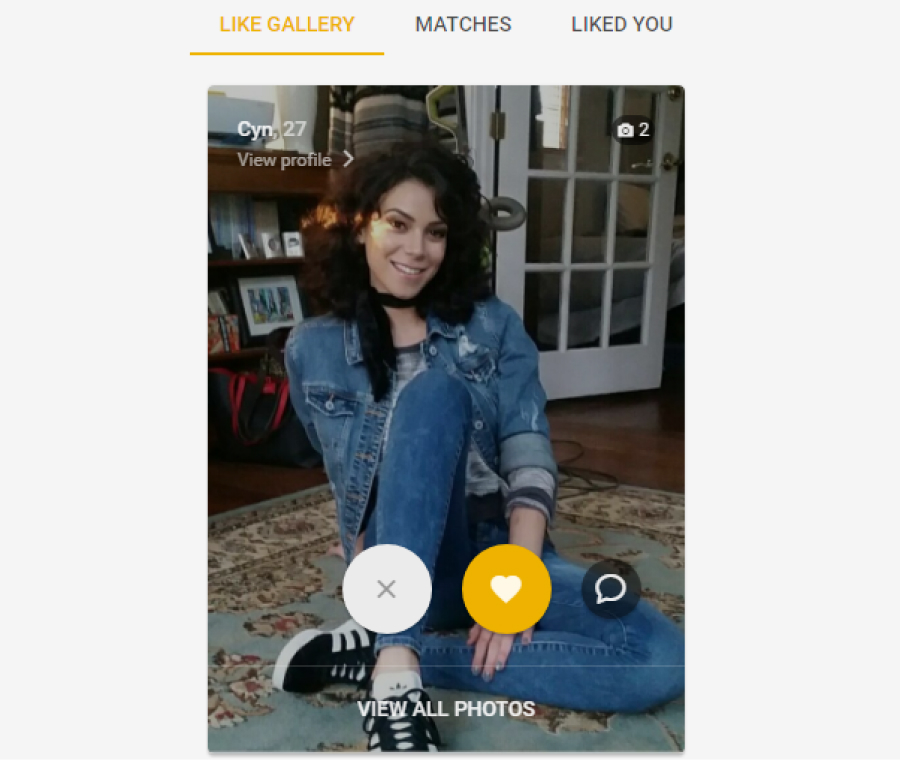 Flirtcast
These are messages that will be received by multiple people at the same time. This can be done twice a day and is not limited to a paid account.
Winks
Provided a person corresponds to the preferences you've set, you can use a smiley face button to send her a wink. These are unlimited and are just another way to attract someone's attention without rushing their inbox with messages.
OneNightFriend App
The site has a mobile version but no app. The major letdown of that is that you won't be able to receive notifications with your mobile browser closed. Apart from that, there really are no downsides.
Considering the site's modest and simplistic design, it wasn't difficult to make it look good on a mobile screen. In fact, it's really convenient that way, and if it may seem a bit empty on a desktop, it's just perfect on a small screen. It has all the same features, simply a bit rearranged for better usability.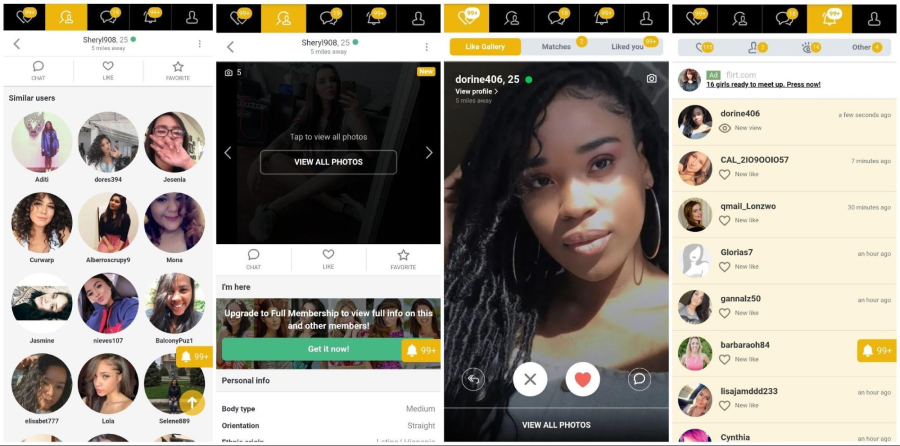 My Verdict
And now my OneNightFriend review has come to an end, and in case you've skipped everything and went right here, I will sum it all up. The site is a decent representative of the online dating game. It's meant for quick acquaintances and real-life hookups, and it's optimized to help you find the best-suiting partners for that in a time-efficient manner.
There aren't a lot of features, which is why paying the full price may seem unreasonable. Luckily, there are constant discounts, and considerable ones, and getting a subscription at a lower price makes the site so much more attention-worthy. And although you can sign up and check profiles for free, you have very limited options of writing to other members, and purchasing a full access is inevitable.
Is OneNightFriend legitimate? You can be sure it is. There are some unverified profiles, and you can restrict their access to your page. Other than that, there seem to be not that many obvious fakes, and you can easily get in touch with real people. The service could benefit from some improvements, but it is currently quite a good investment for an efforts-free hookup and online flirting.