What Is iHookup?
It's only logical to start this review by answering the most common question that comes to mind of anyone who hears about this site, what is iHookup? It is, obviously, a dating platform since I am writing about it, and you can kind of guess that from its name. But what is it essentially, how is it different from other dating platforms, and what kind of relationship does it revolve around? Those are the questions Imean by asking that.
Well, it's a site that was created by a group of women who just got tired of long-term relationships and wanted to make a site for effort-free and easy ways to hook up with men. It works vice versa, of course, but the main premise is that it is initially understood that both parties are looking for a casual encounter that may easily lead to sex, but not necessarily to anything more.
And once again, people behind ihookup.com obviously do not want to limit the site visitors to that one kind of relationship and have nothing against users looking for their true love or a future spouse here. However, you have to be aware that the chances of finding those aren't that high, because most members sign up with things like online flirting, a one or two night stand in mind. So, you'll just have to carefully read their bio and make sure you are on the same page.
Another thing that may set iHookup apart from other similar services is that it is heavily video-oriented. Its founders believe that live interaction is a much better way to communicate before you decide to meet in real life than staring at static photos and exchanging texts. It all sounds great, but let's find out what one can expect from this site in reality.

Pros:
Highly informative member profiles
Quality videos and live streaming
A one-day trial for only $2
A variety of means to hook up with someone
Cons:
The site feels a bit empty
Annoying pop-ups and banners
The site currently has no app
Registration at iHookup
Well, I definitely wasn't surprised by not being able to explore the site without creating an account first. There's hardly a dating website that lets you do that, and that's understandable. With people concerned about the security of their data and confidentiality of their profiles, making a site everyone can just wander in to scroll through would be like shooting yourself in a leg.
It's not like there is some strict registration process in place though. No one will demand you to verify your account before you can proceed either, which usually makes people wonder, is iHookup legit? Well, I'll go over that issue later, and now let's focus on what you will have to tell about yourself to get in.
It's a single-page registration form, and not even a long one. First, you will be asked about your gender and that of the person you are looking for, as well as their age range. There are only two genders here, so yeah, the site is not that progressive, and one could say it's aimed toward classic relationships.
Next comes the section where I had to pick what I hookup for, namely:
casual meetings for sex
becoming friends with benefits
discreet romance
classic dating
strictly online fun
looking for activity partners
It's possible to pick several options or even all of them, and if you are not sure what's meant by some of them, head to the "About Us" section first where some terms used on the site are explained thoroughly.
After that, you will have to fill some other obligatory fields and provide your log-in details, birthdate, country, and zip code. Once you complete this and verify your email address, you're ready to enjoy your free account. To a certain extent, of course.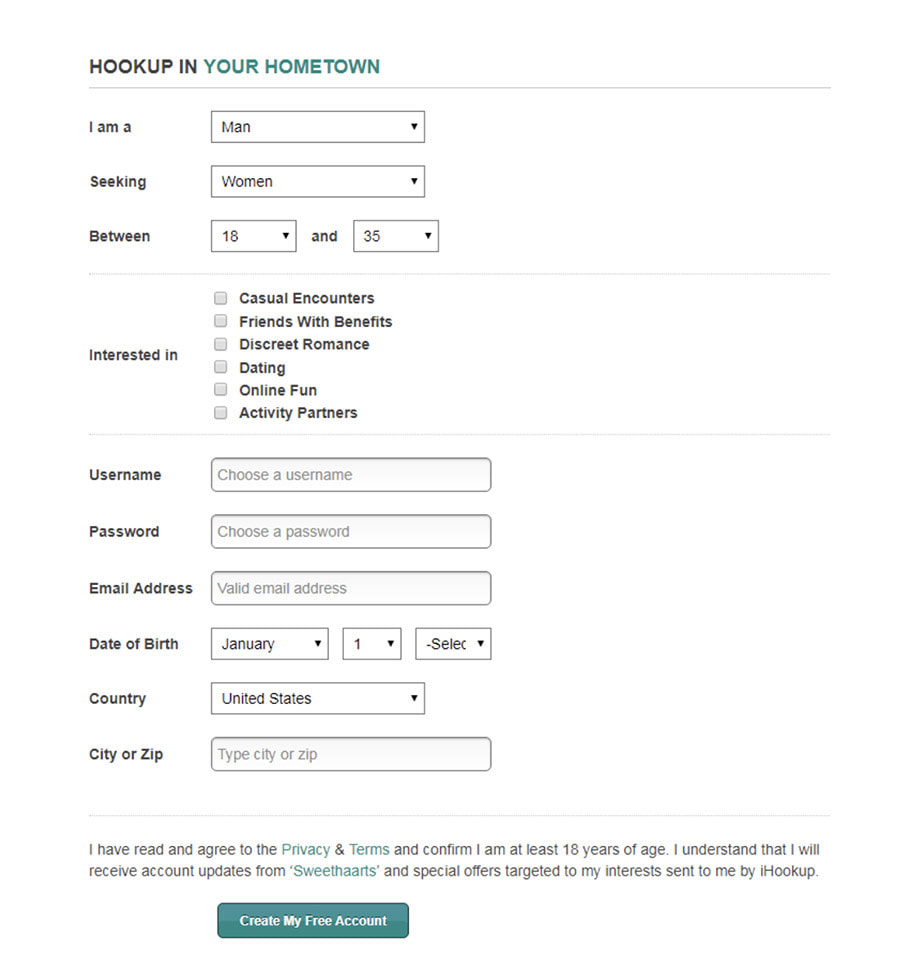 iHookup Interface
The site does have a pleasant color scheme, but it doesn't have that many elements on the page. Which is not necessarily a bad thing, of course, but it does feel somewhat empty. At the top of the page, there's a navigation panel you will be using for most operations and actions. These main menus are:
Messages
Hookups
Search
Faves
LiveChat
Support
R-Rated
And there is also a button for editing your profile or settings, managing the ignore list, and adding photos.
You can notice the second line titled "Exclusives", but those aren't part of the site, they are clickable links that will lead you to third-party sites with cam shows. Most of iHookup reviews seem very unhappy about that, considering there are also constantly animated banners on the left, but I guess that's one of the ways the site chose to earn its money. Besides, it's not like other adult dating sites don't do that, so I wouldn't be too harsh on this platform for that.
I wouldn't if there weren't this constant pop-up urging you to pay and upgrade your profile, enjoying all the benefits the site has to offer. If you decide not to do that just yet and close the banner, it refreshes the page. So, if you were in the middle of changing some parameters or filling some fields, you'll have to start over from the beginning. That is seriously annoying, and I wouldn't be surprised if some users call iHookup scam and quit at this point. Luckily, I didn't, so that you may learn whether there's any point in sticking around for longer.

iHookup Safety
So, as mentioned earlier, there are reasons for users to be concerned about the safety of their information, especially payment details, should they proceed to upgrading their account. Is iHookup a scam is what anyone wants to know in this case, but besides some red flags, I haven't discovered any facts to corroborate that suggestion.
First of all, the site's Privacy Policy is in place, and it is quite a long one, meticulously explaining all the cases involving site members' personal information and the conditions of its collection, storage, and usage. However, despite the assurance that iHookup takes all the reasonable measures to protect it, it is expectedly mentioned that no 100% guarantee can be given. There are factors that prevent sites from doing so for the cases when this is simply not their fault, but that's a clause all companies use.
One thing that helps to put me out of suspense is the fact that I didn't find any security breach scandals or complaints about stolen data, so that makes me think ihookup.com does take good care of those issues, knowing how concerned the users usually are about it.
There seems to be no option of hiding your profile if you want to be inactive for some time, though. Deleting is the only option, and it's final and irreversible, so think well about it. However, users can have private photos and albums, and those can only be viewed if the owner grants you an access key. So, at least there is some control over your account's visibility.
iHookup Costs and Prices
Creating an account and using the site is free, that part is true. The question is, as always, how much you can do without paying on these sites. Usually, not much, but some platforms simply limit your free activity or restrict access to some functions that would significantly improve your experience. Well, iHookup turned out to be one of those sites where you can just get around and look. Private albums are off-limits, of course, but you can at least browse women's profiles and even scroll through their public photos, while elsewhere, all you are allowed to see is their thumbnail and some part of the profile information. If you want to interact with other members in any way, you'll have to pay.
Before you get a monthly subscription, though, there's a trial, letting you use the site fully for one day for $2. That's really not a bad deal, and it may save you more if you decide that it's not really your cup of tea. So, I'd like to point that out as a positive feature in my ihookup.com review.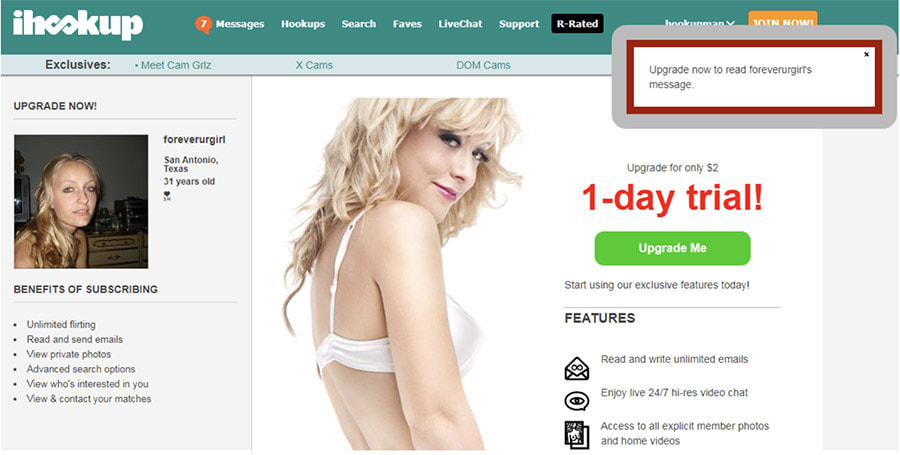 Now, what should you do once that trial is over? Well, if you like what you see, you have to buy subscription plans that come with different prices. Naturally, there will still be some limitations with silver membership, and if you want to be completely free, the gold one is your choice, especially since the gap in price is really not that large.
Silver
29.99 USD for a month
3 months at 19.99 USD per month
12 months at 18.99 USD per month
Gold
34.99 USD for a month
3 months at 22.99 USD per month
12 months at 19.99 USD per month
Whichever you choose, I must say that both these plans seem somewhat overpriced, considering there are not that many features on the site. Sure, you get access to live streams and videos, but some live shows cost $5, and they don't start until enough members pay to reach 100 USD.
iHookup Profiles
Most things in member profiles can be viewed for free, it's messaging them or sending a flirt that requires a subscription. However, it's easy to argue that you can't make use of one without the other, so if you find someone you would like to hook up with, you will eventually need to upgrade. And here are the things you can base your decision on, particularly in the About section:
Tagline
What you should know about her
A great night for her would include
The craziest thing she ever did
What she finds sexy is
You should message her if...
What she brings to the bedroom
These are enough questions to tell people about oneself, either briefly or in more detail. This comes as a helpful addition to the table on the right which contains appearance information, family status, attitude towards drinking, smoking, dog, cats, children, etc. The next tab will list the types of relationships a person is looking for, and that's where any iHookup site review will notice the main difference from a regular social media or some tamer dating sites. People are more inclined to reveal their phantasies and dating goals here than anywhere else, and this kind of attitude is exactly what the site was created for.
There's also a tab called "About the two of you", and it shows compatibility based on different aspects the site learns from the answers members provide. It's unclear how the algorithms work, but it's a nice feature that can help both of you find common things.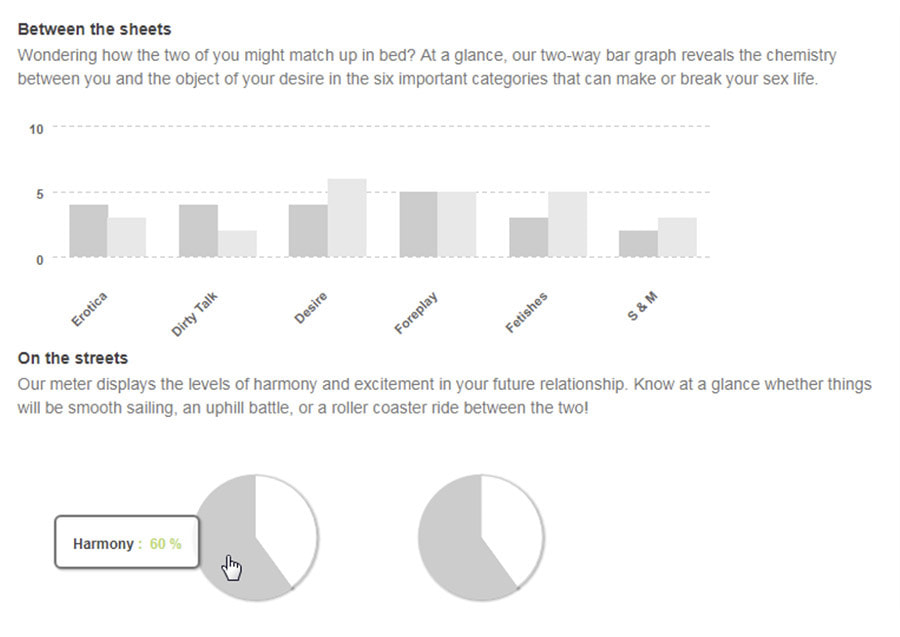 As for the photos, iHookup is quite strict about what should be on an avatar, and that's a user's face. It is also allowed to show off bodies, but no private parts are allowed, and under no circumstances do they allow to post pictures with underage kids. You can, of course, expect some raunchier images in the members' private albums and over live chat, but it's nice to see search results with faces and not genitalia.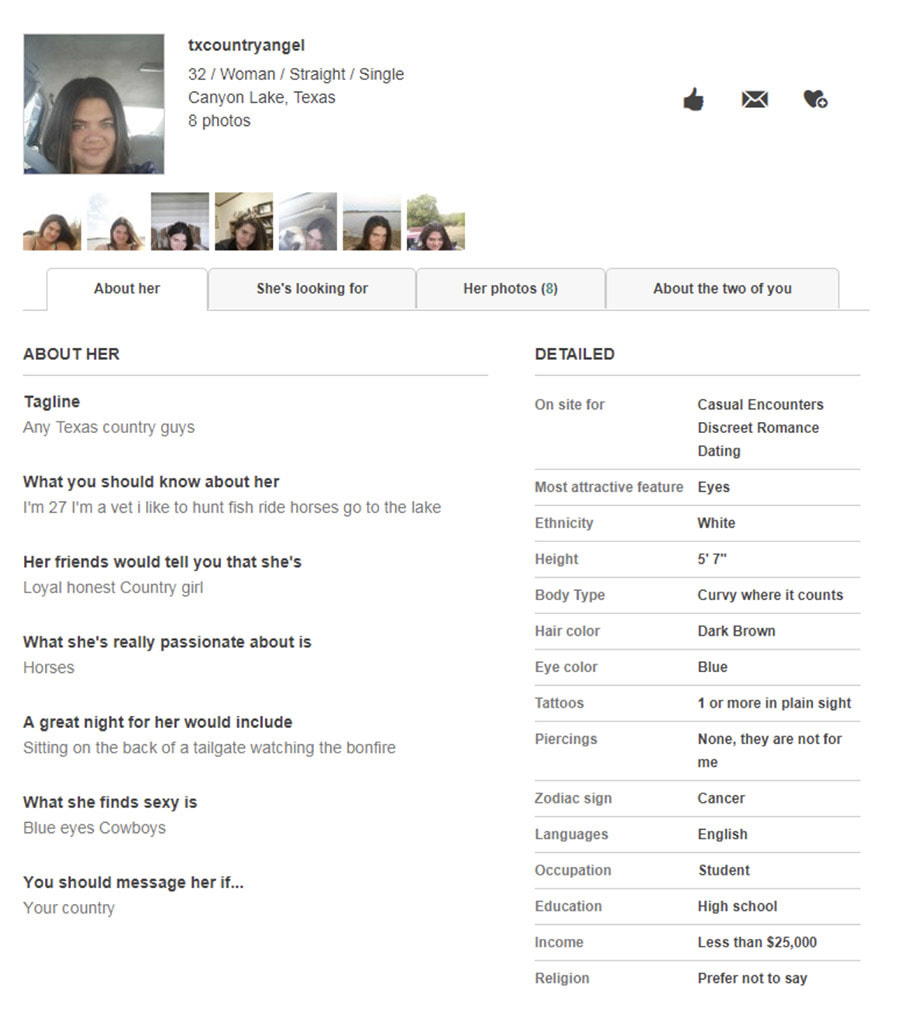 iHookup Users
The traffic statistics sites show that almost half of iHookup's users come from the United States, while other major sources are France, the UK, and South Africa. That kind of data should tell you about the countries where the site will be most useful because there's no point in signing up for real-life encounters when there are no other members near you.
My own search results showed that there is a good chance to find a lady with similar tastes and plans in the United States. Having set the age range from 18 to 35, there seemed to be enough registered women to satisfy my need for a variety of choices.
Now, people are often concerned about iHookup scams, or fake accounts, in other words. This is something no dating site seems to be able to avoid, but I didn't see a lot of those on this platform. Granted, they are there, and you will often not know the page is a bot unless you start a conversation and either don't get any response or some illogical replies. Most photos seem to be genuine, and if the person took time to fill the profile and write some statements herself, it's safe to presume she's real.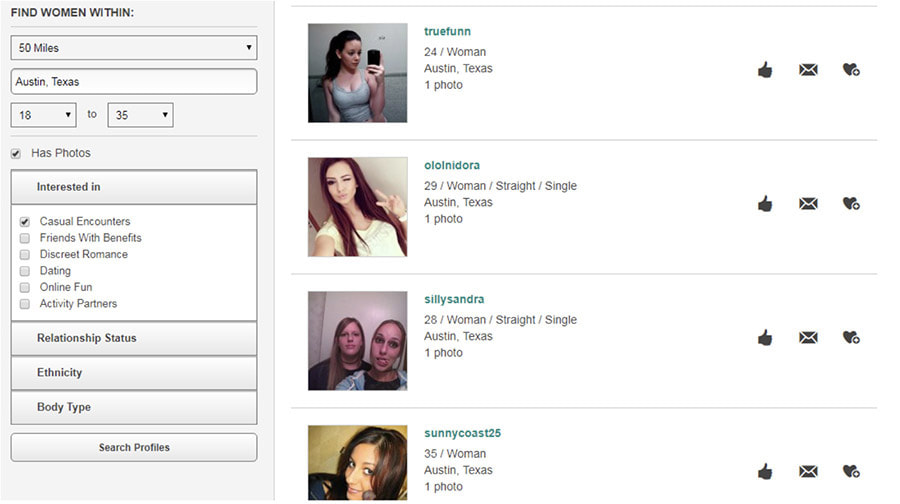 Start Making Contacts At iHookup
There are basically four ways of making contact on this site, which are quite common and don't offer any new experience if you have tried at least a couple of dating sites before. If you don't feel like starting a conversation right away and would like to probe the ground, you can fave a person, adding her to a list you can easily access their profile from at a later point. All members are notified about being faved, so keep that in mind and be ready for them to react. A much surer way is sending a flirt, which is still just a button resulting in a notification, but it already shows that you have clearer and more serious intentions.
And then, there's Hookups, which is sort of a game like any other swiping game for dating. It shows you a picture and some brief description of a person, and you have to answer whether you would hook up with that girl/man by answering "Yes", "No", or skipping altogether. A serious drawback of that tool is that you cannot access anyone's profile from the game if you would like to learn more. Their username isn't shown either, so you can't search it separately. So, if you really like someone, you have to click "Yes" and hope they write you back. In a way, of course, this does protect users from unwanted attention, so this could easily be viewed as a good decision in my iHookup review as well.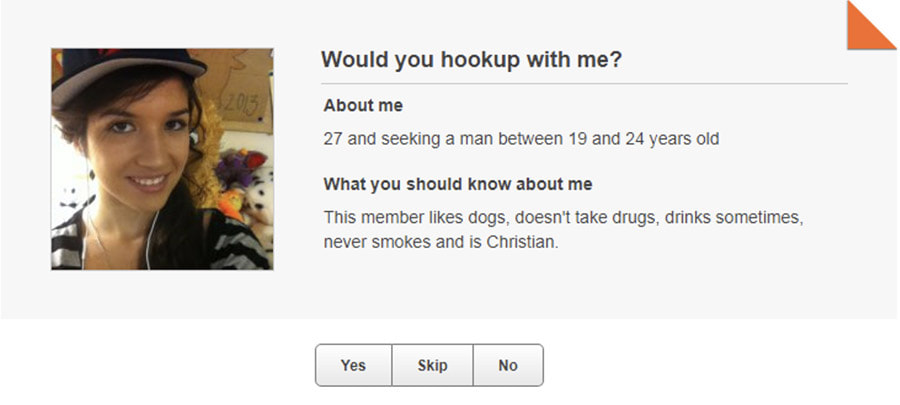 iHookup Special Features
As mentioned before, there aren't that many features, unique or not. Ihave already covered the Hookups game, and what else could be mentioned here? Well, one thing the site can pride itself over is its video options. And I'm not gonna speak about those that require leaving the site and going to another platform.
Live Chat
Here, you will see webcam models that you can watch, enjoy, and even write to. It's unlikely that you could hook up with any of those, but if you ever want to enjoy the show and relax, there's that.
R-Rated
This section is similar, only it contains recorded videos, which allows them to be of high quality and resolution, and there's no communication aspect.
iHookup App
Despite some reviews mentioning an app, I couldn't find it in the official app store, and it wasn't mentioned anywhere on the site itself. So, I wondered, is iHookup real as an app? Or was there some mistake? Some additional googling proved that there used to be an app, but I am not sure what happened to it and when it was last updated.
However, the site offers a mobile experience, letting you access it in a browser. And I would say that it is well optimized for that due to the lack of menus and features. However, the pop-ups are much more annoying when they take up a large portion of your mobile screen, and some of them couldn't be even closed in any way! So, I would strongly advise against the iHookup mobile experience. Unless, of course, they release a new app.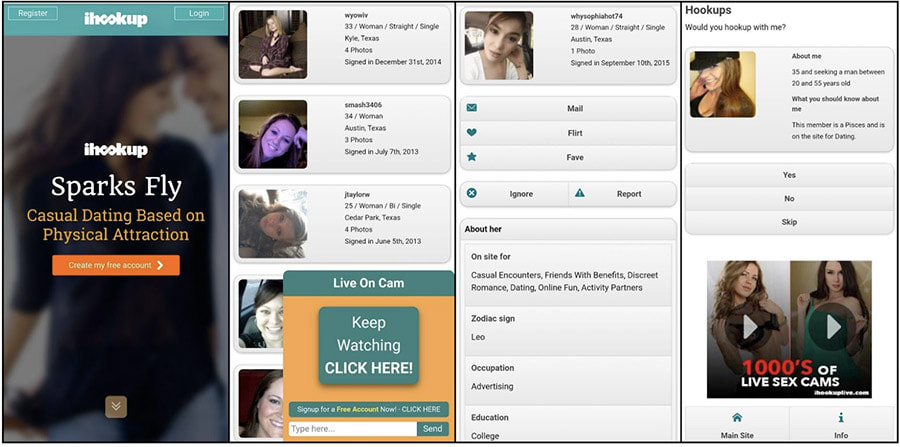 My Verdict
Now that my ihookup.com review has come to an end, I can say that the site's main attraction is the fact that everyone knows what they come here for. This is the very purpose of dating sites, and if you are looking for some casual hookups, this platform may provide you with enough options. That is, if you are lucky to have enough members living in your area, and the US users should be covered with that. However, it's even better if you are looking for online interactions and nothing more. And the site's high-quality videos and live shows may present additional interest to some users, especially as a bonus to your subscription.