What Is FriendFinder?
Upon entering FriendFinder.com, you may notice its interface and overall look are very similar to some other dating sites you may have visited before. Don't rush to judge and deem it (or that other website) a rip-off, there's a logical explanation. This service is a part of the FriendFinder Network, active since 1996. They often utilize the same design and features across their various products, which has its own benefits.
You see, despite being dating platforms, those sites focus on different kinds of relationships, some being dedicated to specific fetishes, others simply meant for different degrees of communication and interaction. Friend Finder, as its title suggests, is more of a social network for people who are looking towards simply communicating with other people to the point of becoming friends either over the Internet or eventually in real life as well.
Dating is not off-limits here, and most users will let you know their intentions in their profiles. However, if you decide you want a higher probability and a different level of intimacy, you can move on to other FF websites, depending on what you're into. That's when a familiar template comes in handy! You will already know how everything works and where to go for certain things, so no time will be wasted on getting accustomed to it again. And this Friend Finder review will help you with figure it all out in the first place.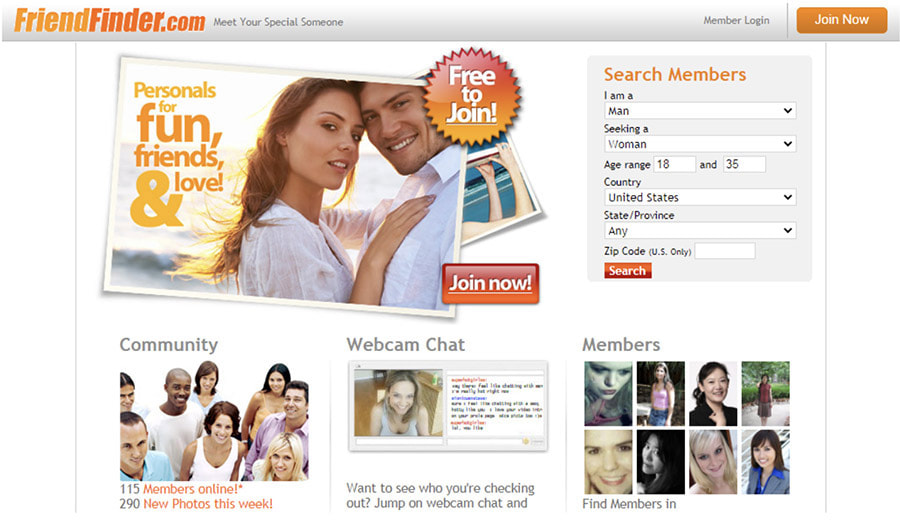 Pros:
A great range of tools and subsections
Impressive advanced search
Video intros are a nice addition
Magazines, blog posts, comments provide extra activities
Cons:
A very simple design with somewhat confusing navigation
A cumbersome verification process
A mobile version of the site offers limited experience
Registration at FriendFinder
Signing up requires going through five steps of providing information, but that sounds way worse than actually is. Those steps contain only a few fields each, and the goal must have been to make the registration form appear shorter and easier to fill. So, this is really not an issue, and you should be done with the whole process in about a couple of minutes, but no longer than five if you decide to provide a short message about yourself and really work on it. Other than that last part, which is optional, you are required to provide the following details about yourself:
Log-in information
Yours and the gender of those you want to meet
Where you live
When you were born
Your race
The body type you have
Whether you're married, single, etc.
Sexual orientation
Introduction title
Inventing a username that hasn't been taken may be the most time-consuming part here considering FriendFinder's long history with millions of users. However, once done with that and other fields, the only thing left is to activate your account via the link sent to your email. After that, you can log into your free account and use it indefinitely without paying anything unless you decide to upgrade it.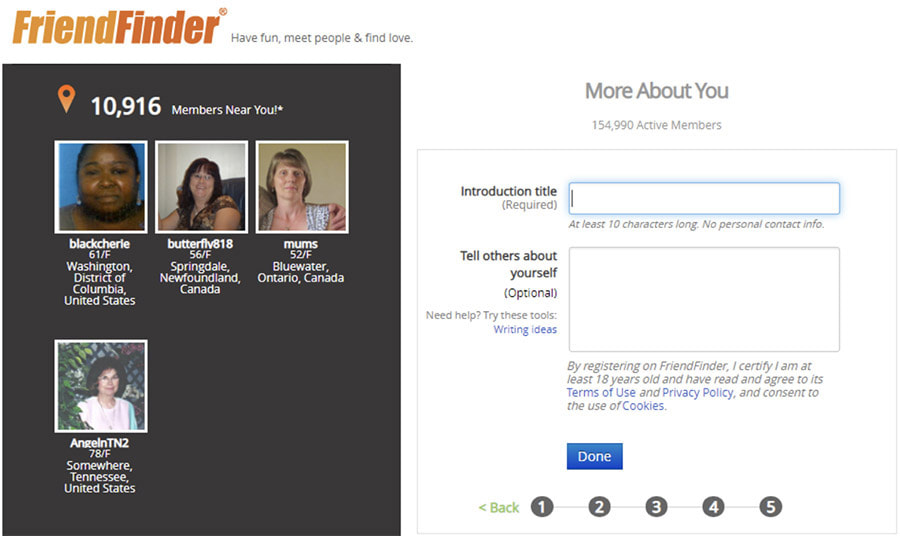 FriendFinder Interface
I would say that the team behind the network has found a good solution for organizing the multitude of tools and features. Most of those can be accessed using the bar at the top of the page, right under the Friend Finder logo. It contains five main menus that provide access to all the things the site has to offer:
My Stuff
Search
Live Action
Community
What's Popular
Each of those menus subsequently offers an array of options, except for the Live Action, all it has is a chatroom.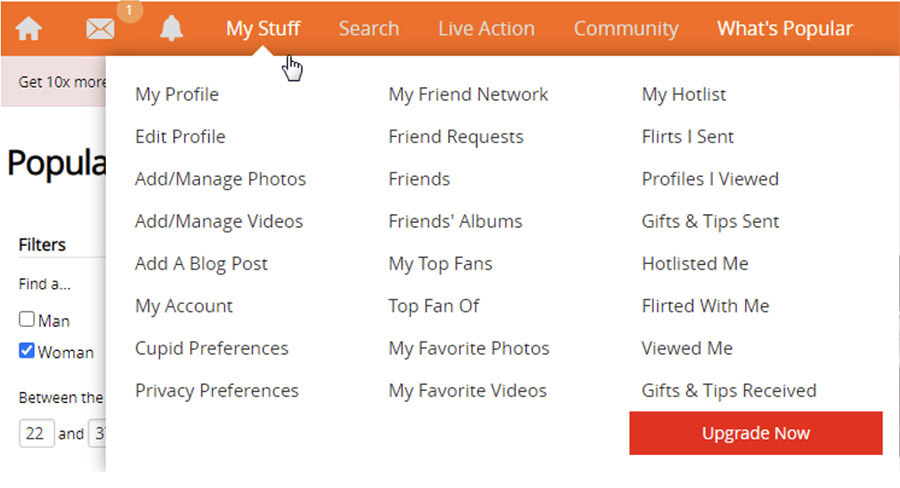 The interface is quite intuitive, and the navigation is easy enough, although the overall look does feel like a blast from the past. Everything will be happening against a white background with an occasional splash of red or orange provided by the buttons. So, at least it's easy on the eye, but I would prefer some customization options, letting users change the appearance of the page for a more comfortable stay on the site. Another thing that would be welcome is the ability to move around and hide certain panels because some pages may happen to feel a bit overwhelming.
FriendFinder Safety
Before Iget to other things, it's important to answer the question "Is Friend Finder safe?" The concerns for the safety of the information you provide are addressed in the Privacy Policy, and in a very detailed manner. To put it shortly, the site does take good care of protecting your information and only uses or shares it in cases when you allow it. So, make sure to study those legal pages first to avoid any claims that would not amount to anything.
The first step towards protecting the users' accounts from anyone to see is requesting a real email address for registration. This is, of course, not the most protected method, and that is why FriendFinder offers a good deal of other options to limit the visibility of your profile.
The Privacy Preferences tab in My Account allows very precise control over the elements and actions you want to hide from the majority of viewers, only letting your friends see them or making them unavailable to everyone. There are also options to turn off your account and hide it temporarily if you want to take a break from it and stop receiving messages and notifications. Alternatively, users can opt for making their profiles only visible to premium members. If there are specific individuals whose attention you want to get rid of, you can put them on the block list.
FriendFinder Costs and Prices
It's great that the site lets users do some things cost-free, although the list of those things won't impress anyone. So, once you register, you will be able to fill your own profile to a certain extent and browse others' unless they have limited their pages' visibility. Free members can't message other users, so that's a bummer. One would say that's when you have to pay to further enjoy the site, but FriendFinder.com reviews point out one more way to spend your time and communicate with others here.
You can publish blog posts, as well as comment on other people's posts. So, there's a way to make some friends by discussing mutually interesting topics. If you want to strike a private conversation, though, prepare your credit card, electronic check, or fax/mail payment. There are two membership plans, Silver and Gold, offering limited and unlimited access, respectively. Depending on which one you choose, a monthly subscription will cost either $22.94 or $34.94. Longer subscriptions (3 and 6 months) make the monthly price up to twice lower.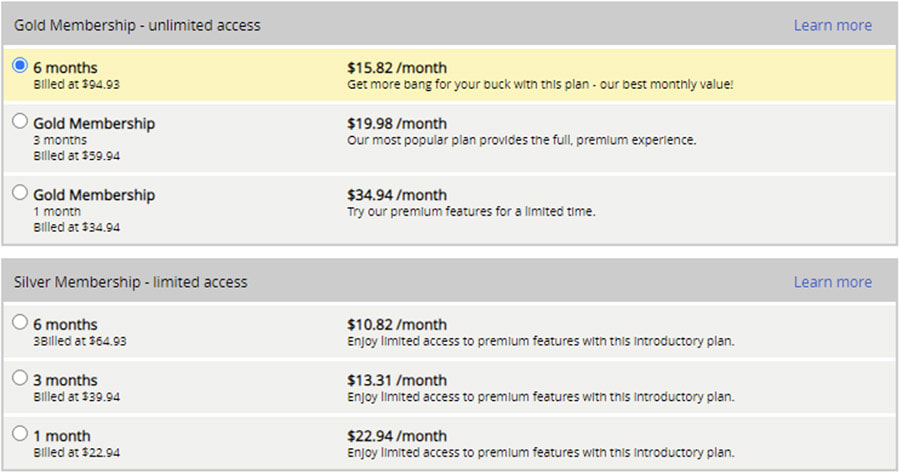 Silver Plan
Open profiles
Being displayed after Gold members in searches
Being able to write new members
Limited access to video intros
Blogs, groups, and magazine features are partially available
24/7 phone support
Gold Plan
Being displayed at the very top in searches
Being able to write new members before others
Unlimited access to video intros
Complete access to all group, blog, and magazine features
Full-size photos available
Access to members contact details in other apps
FriendFinder Profiles
Once Ianswer the question "What is Friend Finder?" Iget an idea of what to expect from user profiles. Since this is predominantly (but not limited to) a social network for making friends, you won't get bombarded with explicit photos. No, it's all quite modest here, although, of course, you can expect some more revealing snapshots in private albums, and those are usually locked until you get more intimate with their owners.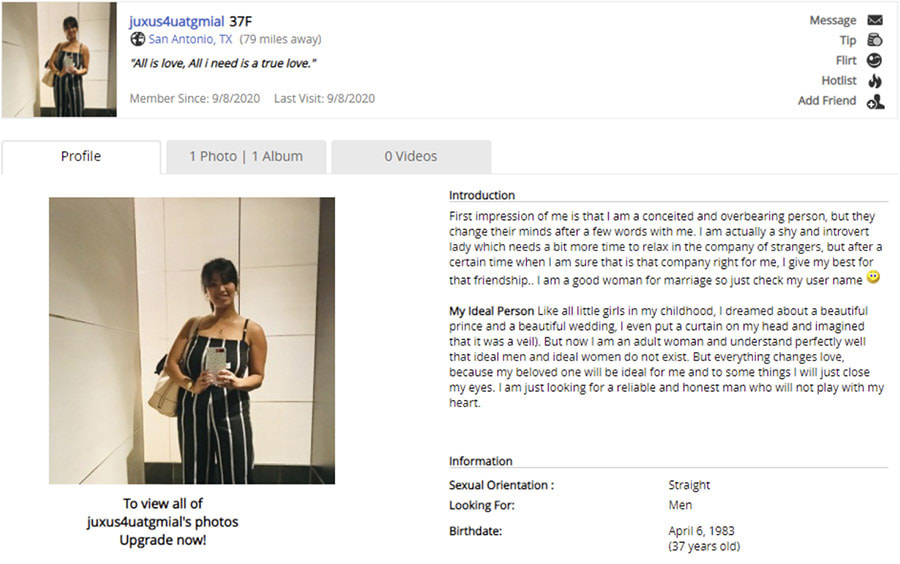 If the user decides to limit his or her profile visibility, all you'll be able to see is their profile photo thumbnail, username, age, and location. However, I found a lot of people who don't do that, and then you can see quite a lot of the information on their page, like their introduction, description of an ideal person, and all the details they have provided about themselves, including race, body type, education, religion, children, spoken languages, appearance characteristics, attitude towards smoking/drinking and so on.

Unfortunately, like many other FriendFinder reviews, I'm disappointed by the fact that you still won't get access to a user's photo album or video intro if they have one. An enlarged version of their avatar may be available, but to see it full-size or message that person, you will have to buy a subscription first.
FriendFinder Users
| | |
| --- | --- |
| Members from the U.S. | About 800 thousand |
| Members active weekly | 350 thousand |
| Female users | 32% |
| Male users | 68% |
| Average member's age | 25-45 y.o. |
When people ask "Is Friend Finder legit?" they often do not mean the company or the website itself. What they want to know, and rightly so, is whether the users are real and whether there are fake profiles.
I haven't met a dating site where there would be none, so it's better to ask whether there are a lot of those and how the company deals with them. And I have to give credit to the FF team, there aren't as many fake profiles as you would encounter on other platforms, and even those I've met are not easily identified as fake. This is possible if you recognize a face on the picture as that of a relatively famous model, but unless you do, it's easy to fall for it. And unless you become a subscribed member, you won't even get an opportunity to reveal fake users by messaging them, of course.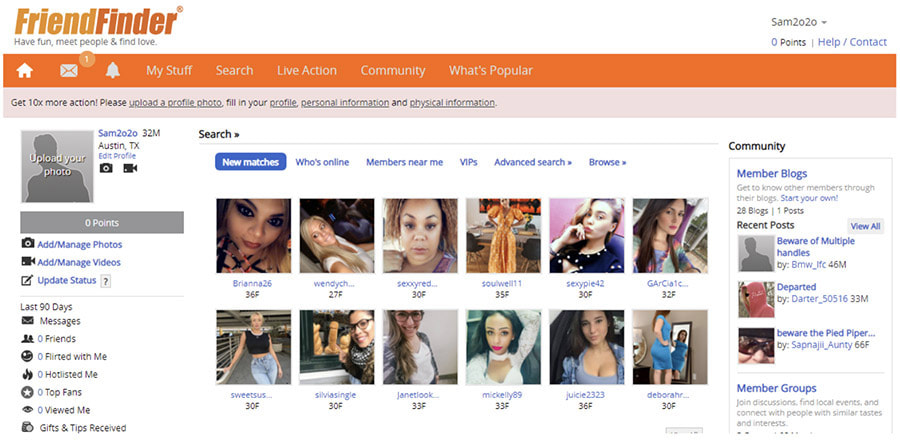 The first measure that probably reduces the number of bots is the necessity to use a real email and activate a profile using the link sent by the site. It's a simple procedure, but it seems to help. There is also a verification process for those who want everyone to be absolutely sure they are dealing with a real person. However, it requires printing out a form which you later fill in and have to send physically to the Friend Finder's office. This seems a bit outdated, and you can imagine not many users go through with that.
Hopefully, the site's administration realizes it's the 21st century already and there are other ways to confirm one's identity remotely and in easier ways. That should improve the situation with fakes even more.
Start Making Contacts At FriendFinder
Something most Friend Finder reviews tend to point out is the number of ways you can discover people and let them know you are interested in them. It all starts on the main page, where you will see the following options:
new automatic matches
potential friends who are online
members near you
popular members/photos/videos/albums
VIPs
search
browse by country
Hot or Not
As you open member profiles, you will see a compatibility chart that will help you easily assess your chances of hitting it off. And if you decide to make contact, besides messaging and adding as a friend, you can first give a hint by hotlisting or sending a flirt to that person. And then it will be up to them to reply or completely ignore you.
To show the seriousness of your intentions, you can also send them a tip or even upgrade their profile to Gold if they have a free membership that keeps you from communicating with them. Additionally, messages allow sending digital flowers, gifts, or bling icons, all of which can be purchased in exchange for points. These points can be either earned for completing various activities or bought once you run out of them.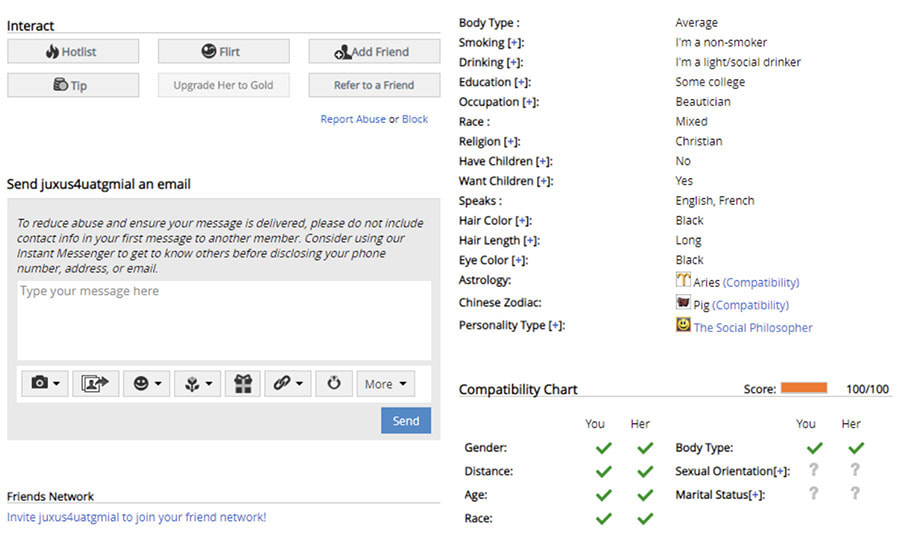 Also, as a paying subscriber, you get access to advanced search, which doesn't say enough about all the options you get to choose to fine-tune the results and find your perfect friend or lover.
And then, there are blog posts, as well as member magazine articles you can react to, member groups you can enter and chat rooms you can join. So, my FriendFinder review joins the list of those praising the site for all the ways you can interact with other members.
FriendFinder Special Features
I've already mentioned some of these features, but let's learn a bit more about them.
Video Intro
There's a touch of our modern age since Ihave a video camera in the palm of our hands. I'm used to all the selfies and stories people post, so it's neat to have a chance to introduce yourself in a video, as well as see others as moving pictures rather than static photos.
Hot or Not
This is a classical dating website addition at this point, letting you look through members' photos and marking those you like as hot. Those will then be notified about your choice and may find you hot as well, deciding to contact you or further interaction.
Magazines
The magazine section is free to all users who want to express themselves or just create a topic for discussion. This can be done by posting articles, short posts, opinions, polls, and tips on whichever topic.
Blog
This is a similar feature, only it allows having a personal blog dedicated to your subject of passion or even to your everyday life. This is a great way to showcase who you are and follow other people you find interesting.
FriendFinder App
There is allegedly a mobile app, but it's only available for iOS. This is disappointing since nowadays, a lot of people prefer to get notifications and interact with others using their mobile phones, which are not always an iPhone. However, there was still hope, as the site mentions that there is a mobile version of FriendFinder.com. It's not the same, but at least it's something. Or so I thought.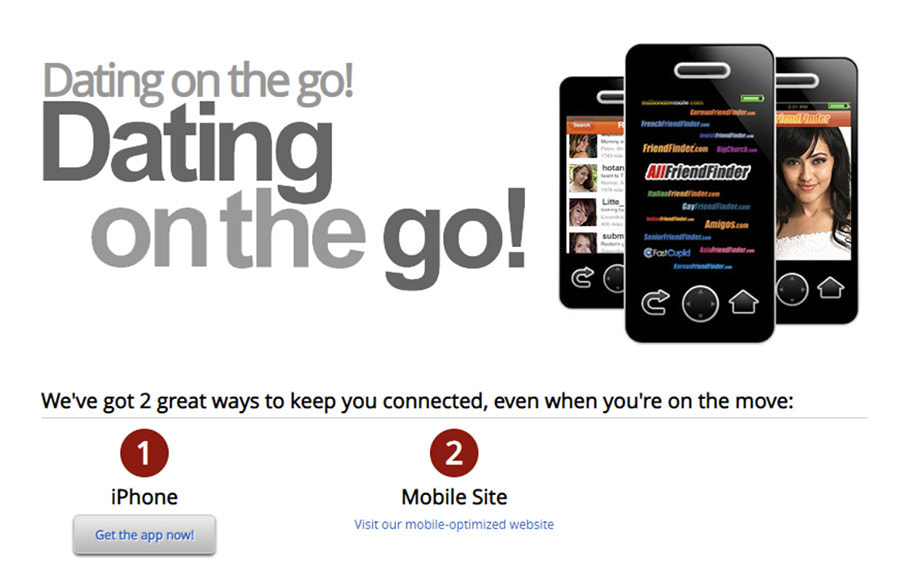 The functionality of the mobile version is seriously limited. I couldn't find a lot of features the desktop version has, for example, blogs, magazine, the Hot or Not game, and others. Besides, it turned out that it's really useless without a subscription. The profiles I could access on the desktop now suddenly offered me the order form before I could watch them. And even then, with a bunch of features and tools missing, all this version is good for is basically messaging and receiving in-browser notifications.
Hopefully, if I ever decide to update FriendFinder review of mine, there will be an app for more devices, and it will be a full substitution for the desktop version.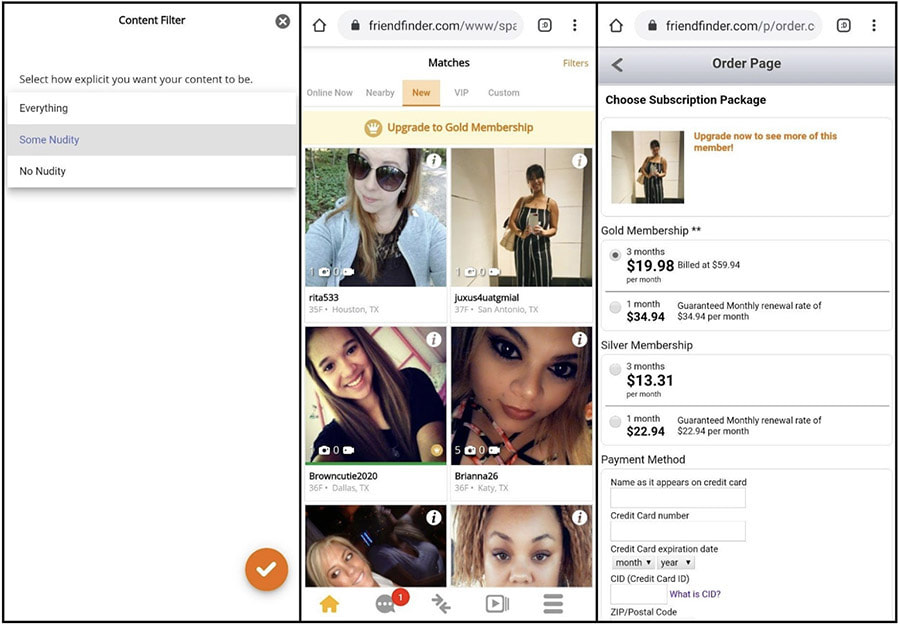 My Verdict
The site attracts users by being part of a network with a long history, allowing communication across its various platforms. It does have a neat, although outdated design and is easy to get around. There are obviously enough active members, and fake profiles aren't that numerous. Hopefully, FriendFinder solves that problem in the future by simplifying the verification process.
The cool thing is that you can get enough interaction with other members as a free user. If you decide to upgrade, there are two membership options, which is a good way to save money before you are ready to pay more and open more features. And even then, the price is average for this type of sites. So, all in all, Friend Finder is not exactly a dating site, but it can be that if you decide you want to get more than friendly chatting from some members. Various tools and fine-tuning options will help you find exactly what you are looking for at the moment.